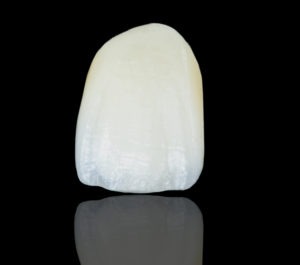 Porcelain veneers are wonderful cosmetic makeover restorations that can bring beauty and strength to imperfect front teeth. Cosmetic dentist Dr. James Fondriest can create gorgeous, high quality tooth covers in various styles with different veneering porcelains to fit the needs and desires of patients. Ceramics hold up to abuse much better than composite resin materials.
Different Types of Veneering Porcelains
Porcelain veneers are thin "jackets" or sheets of tooth colored ceramic that are bonded to the front tooth surfaces of your natural teeth. This restorative treatment is effective in addressing a variety of aesthetic issues.  Today, our team at Lake Forest Dental Arts explores the most common porcelain veneers, and how each can create a more attractive look for patients.
#1 e.max
Emax porcelains are the latest in cosmetic porcelain. They offer durability and a natural opalescent look for the patient. These veneers are generally made of pressed ceramic. They also come in thin layers, which prevents dentists from drilling teeth. After Dr. Fondriest takes impressions, the e.max veneers are then shaped in wax, to produce the desired shape and design. The wax veneers are then cast, and porcelain is then forced into the mold for the final e.max restoration. This veneer is a popular choice because of its exceptional strength. This porcelain is commonly used for ultra thin veneers.
#2 Empress
Empress veneer porcelains also possess characteristics of natural tooth enamel and can be produced with excellent fit. Two layers compose Empress veneers: a medium-strength pressed ceramic base coping (to provide moderate strength) and a glass layer on top. The Empress veneer is manufactured from a material called IPS Empress® Esthetic. This material is a lucite-reinforced pressed glass ceramic and is offered in a variety of natural colors, ensuring stellar bendability. Empress veneers offer tremendous versatility when it comes to treating cosmetic flaws. Some of the issues addressed by Empress Veneers include:
Chipped teeth
Gapped teeth
Dental stains
Discolored teeth
Uneven teeth
Crooked teeth
Teeth with varying sizes
Your Empress veneers are long-lasting restorative treatments, that will enable you to enjoy some of your favorite foods.
#3 Feldspathic
Feldspathic veneer porcelains produce perhaps the most striking results out of all of these options. Instead of a base being used, the ceramic is custom stacked by a highly skilled technician. Because these veneers must be specially designed and are more difficult to insert, they are more expensive than other options. Feldspathic veneers are known for their longevity, strength, endurance, biocompatibility, and esthetics.  They also offer patients exceptionally natural looking results. The color control is excellent.
#4 Procera
Procera crowns are composed of two layers: an aluminum oxide base coping which is custom milled and a feldspathic layer giving it a more esthetic and realistic look. These veneers can look lovely when made by a master ceramist, but they are thicker and require more tooth preparation. This porcelain is not used much as newer technologies have been developed.
#5 Zirconium
Zirconium has a design similar to Procera. Because the base coping is opaque, more reduction of the tooth is necessary to cover it with more translucent layers of porcelain. If placed incorrectly, zirconium can break easily. These particular veneers will offer the patient a natural appearance, with many shades to choose from.  Very few laboratories have the technology to make it possible to use zirconium for veneers. There are better choices.
#6 CEREC
CEREC (Chairside Economical Restoration of Esthetic Ceramics, or CEramic REConstruction) is a popular choice of veneer porcelain, due to its convenience. Onlays and crowns are milled in the dental office after the dentist prepares the teeth and takes digital images of them. The ceramic used for CEREC is one color, so it does not mimic natural teeth as closely as other restorations. Surface stains can make CEREC match natural teeth more closely, but they still lend opacity to the restorations and will wear off in time.
Additionally, another benefit of these veneers is the fact that they are made in a CEREC machine. After your teeth are prepared, an optional scan is taken. Next, a milling machine crafts the veneers right in the dental office, while you wait. Traditional veneers require impressions that must be sent to a lab. This process can take up to three weeks. CEREC veneers are manufactured, and ready for placement, on the same day. It is important to note that Dr. Fondriest does not place CEREC, but offers you information about this popular choice, for your understanding. There are better choices.
Different veneering porcelains require differing skill levels to use
Feldspathic veneer porcelains are the most difficult to use and are not used by mainstream dentistry. They are reserved for higher end and very skilled cosmetic dentists who are doing makeovers on patients who do not grind their teeth. Feldspathic porcelain does not have high strength.
Emax and Empress are relatively easy to use and beautiful. The vast majority of better dentists are using one of these. Emax is now trending ahead due to its added strength.
Zirconium and CEREC are the two easiest veneering porcelains to use. They tend to be used more frequently in average dental offices. Zirconium is almost never used for veneers. It is primarily used for crowns, bridges, and onlays. CEREC is used in offices representing the 20-65 percentile of quality. CEREC is a monolithic porcelain with very little ability for customization. High quality offices do not use this option.
Uses and benefits of veneers
Many patients wonder what are veneers? Sometimes it's easier to tell you what they do. Dental veneers can remedy several cosmetic flaws.
Some of those imperfections include:
Chipped teeth
Cracked teeth
Gapped teeth
Change color and shape
Uneven, or poorly shaped or sized teeth
Additionally, veneers have many benefits. Some of these advantages include:
Learn more about types of veneering porcelains available
In the distant past, only women were seeking cosmetic treatments but today, men are asking for veneers just as much. the same porcelains are used for both sexes.
Many patients find they can maximize the beauty of their natural smiles with cosmetic bonded veneers.  One new motivator to improve your smile is a newly published study that connects smiling to professional success.  We provide each patient with comprehensive dental care and treatments. Patients will be treated with care, compassion, and the utmost respect. For more information about the different types of porcelain veneers, contact us online, or call us by dialing (847)234-0517. We proudly serve the Chicago metro area, including the Northwest and North Shore suburbs.