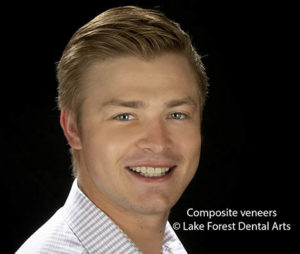 Composite veneers are thin shells, hand shaped with composite resin material, and bonded to the front surfaces of teeth. They can change the shape, size, color, and texture of a natural tooth. They can remove the need for white crowns, teeth whitening, braces, or porcelain veneers. This affordable treatment alternative to porcelain veneers can be done in one visit.
The porcelain veneer version is great, but it can be expensive, and because porcelain veneers are made in a lab, two or more dental visits are required. The more affordable option that can also deliver great results is a composite alternative. The results could change your life. Read on to learn about the details of composite veneers.
What are composite veneers?
Many patients wonder what are veneers? To understand how composite veneers are made, let's look at a material called composite resin. This liquid compound contains sand and minerals that create a shine that mimics tooth enamel. Composite resin is one of the most common materials used for restorations. If you have had a cavity filled with a tooth colored filling, you already have composite resin in your mouth.
Each veneer is custom shaded to blend with the color of other teeth. Some patients choose to whiten their teeth before getting them, so they can have a brighter, whiter smile.
While porcelain versions are made from a single block of porcelain, resin veneers are sculpted on the tooth itself, in the dentist's office. Similar to no prep porcelain veneers, very little or no tooth structure is removed.

Who needs veneers?
People who want porcelain and composite veneers usually have one of these complaints about their front teeth (those that show when they smile):
Small teeth
Dark or unevenly colored teeth
Minor chips or cracks
If your teeth are stained but not badly shaped, you may opt for in office teeth whitening. Damaged teeth may need a dental crown that can "cap" the tooth in a strong shell. Veneers can reshape a tooth to hide chips, but they cannot add the overall support of a crown, which is best for treating cracked teeth.
Are composite veneers right for you?
Patients should be in good oral health before cosmetic dentistry. Tooth decay or gum disease will need to be treated before you can have this type of veneer placed.
Other than health considerations, how can you know if they are right for you? Ask yourself these questions:
Benefits of Composite Veneers
This treatment offers great results without the need for major changes to your teeth. With traditional veneers, some tooth enamel is removed. No-prep and minimal prep veneers need only a tiny amount of tooth prep. Rather than making your tooth conform to premade shells, composite resin conforms to your natural teeth.
They are placed during just one visit. Porcelain veneers require multiple visits. Composite resin can be placed during one visit to our office. You can leave with your new smile the very same day you arrive.
Composite costs much less than porcelain dental veneers . This is because a lab isn't needed, and composite costs less than porcelain.
Benefits of composite veneers include:
Little or no tooth prep
Temporary veneers are not required because it can be finished in just one visit
Little or no anesthetic
No recovery time
Affordable
Great results
A dental laboratory is not required
Can last up to a decade
Instant smile enhancement
About the veneer procedure
Due to the simplicity of composite veneers, there is no need for numbing your teeth. Many of our patients enjoy the fact that they can go to work right after the procedure. During your first visit, the dentist will listen to your cosmetic concerns, ideas, and goals. If your mouth is healthy, we can schedule treatment.
At the clinical visit, your teeth will be prepped with an etching compound. Texturizing the enamel helps resin bond to the tooth's surface. The resin composite material will be shade matched to match neighboring teeth so that it looks natural.
If your teeth are dark or yellow, the resin can be made to brighten the treated teeth by many shades. At all times, a shade will be chosen that looks great. Some people opt to whiten their teeth before getting veneers. Then we make the veneers as bright as the whitened teeth, for an overall brighter smile.
The resin is applied in thin layers to add strength to the restoration. The dentist will sculpt the pliable material to improve the shape, size, and texture of teeth.  After each layer is placed, a special light will harden the material.
Once your tooth is the desired shape and size, Dr. Fondriest will polish the hardened resin to bring out a beautiful luster. The treatment will not be complete until you are fully satisfied with the results.
Maintenance
Composite resin is strong, but not as durable as natural enamel. It can break if you chew ice or bite very hard materials. Resin can also stain.
We suggest patients shy away from dark foods and drinks and use a straw for tea, juices, and colas. To keep your veneers and teeth in great shape, maintain good oral hygiene habits with regular brushing and flossing and preventive dental visits.
When used for a veneering process, the resin will lose its polish and start to acquire stains at five to ten years. You'll need to have them replaced as they weaken or stain.
Learn more about this type of smile makeover
Composite veneers deliver major results. If you want a smile that turns heads, meet with Dr. Fondriest to talk about them and other cosmetic procedures. To schedule your next dental care visit call (847) 234-0517.
Dr. Fondriest is a highly sought after cosmetic dentist. He serves clients from throughout the United States.