Before
Replace Composite Bonding

Bonding had been done many years ago to make the upper teeth look straight and to fill spaces. The patient was still unhappy with her smile and wanted more symmetry.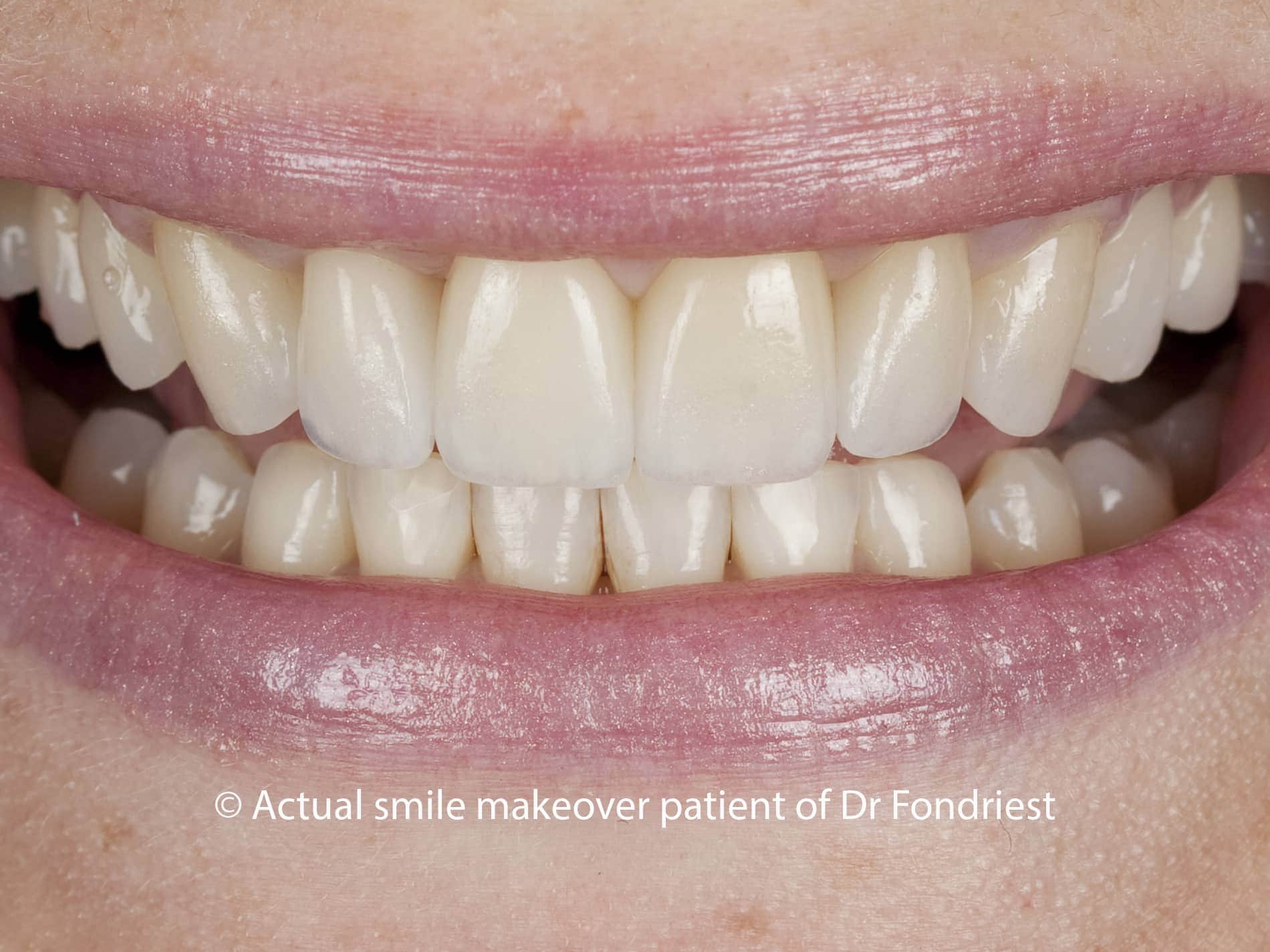 After
Ultra Thin Veneers used to create idealized shapes

Ultra thin veneers were placed on the upper front teeth to straighten and to create the look this patient wanted. Some composite bonding was reapplied to broaden her smile in the premolars.
Ultra thin veneers are quickly becoming one of the most highly sought after services in cosmetic dentistry today. Like regular porcelain veneers, they can change the symmetry and shape of your teeth, or correct misalignment. Ultra thin veneers are challenging to design but ultimately the most desirable veneers available.
Ultra Thin Veneers
Traditionally, porcelain veneers thinner than 0.5 mm thick are too brittle and break easily. Dentists typically reduce the enamel this much to make room for the veneers on the surface of your teeth. Dr. Fondriest now offers a newly developed ultra thin veneer that requires much less enamel reduction. The new low prep veneers are as thin as 0.2 millimeters. They are ideal for patients who want veneers but are wary of having enamel removed from the surface of their teeth.
Good Candidates for Ultra Thin Veneers
No-prep veneers offer a beautifully restored smile with a more conservative approach than traditional veneers. Our new veneers are thin ceramic sheets with translucent qualities that work much like a contact lens. They are an excellent option for patients with minimal, but pressing, cosmetic needs. Laying over the surface of your teeth, no-prep veneers allow the natural color of your teeth to show through. At the same time, they mask any imperfections or slight stains.
We work closely with our patients to plan their cosmetic dental work. The treatment plan is formed in a way that best meets their expectations and needs. No-prep veneers are best for patients who need slight improvement to the shape and alignment of their teeth. Some patients may require slightly more extensive tooth reduction in order to meet their cosmetic goals. Those without gaps between their teeth and no gum recession are ideal candidates for no-prep veneers.
How long does an ultra thin veneer take?
It depends on what type and what quality level of veneer you are getting.  The average dental office can deliver your teeth covers the same day or within two weeks. Only mass production labs can return a case in two weeks. If it is done in one day, the dentist makes it him/herself. Few dentists are excellent at doing ceramics. There is an old saying, "It is possible to be excellent at a few things, but being great at everything is unlikely"!  This applies to dentists trying to be technicians also.
A dentist who is an expert in esthetics will work with an expert ceramist to make veneers. The highest quality labs take more time. The very best lab artists are much in demand. It can take 4-20 weeks after the impression appointment to return the finished restorations. Because the teeth are not drilled down, no temporary veneers are required while waiting for the final product. When the restorations are completed, the cosmetic dentist will bond them to your teeth.
Benefits of Ultra thin Veneers
When it comes to replacing old dental bonding or other cosmetic problems with veneers, patients are offered an array of benefits. Some of the advantages of dental veneers for the replacement of old bonding include:
They provide a natural tooth appearance
Can be created in a relatively quick amount of time
Offer patients great durability
Provide stain resistant protection
Less natural tooth structure is removed
For many patients, ultra thin veneers are an excellent choice to replace old bonding. For example, a patient may have had bonding done, but express unhappiness with its effects after some time. Dental veneers can replace the bonding from this patient. They can match the look of natural, aligned teeth, while preserving oral health.
Why Dental Veneers Provide Durability and Longevity
Traditionally, veneers required extensive drilling of the natural teeth. Thanks to ground breaking and innovative technologies, we now have a simple and conservative way to replace bonding with porcelain veneers. Dr. James Fondriest will create dental veneers that are durable, and aesthetically pleasing, without compromising oral health.
Will ultra thin veneers stain or get darker over time?
Quality ceramic materials designed for laminates are very dense and highly polished.  These porcelains rarely stain.  They are also very color stable.  Higher quality versions have most of the pigments/colorants buried within the body of glass. When the surface eventually wears, there is no loss of the original shading.  Most of the milled in office "same day teeth covers" have surface stains to make them blend better.  This type of porcelain laminate will eventually get brighter as the superficial surface colors wear off.
Composite bonding is an excellent low cost cosmetic restoration
Composite bonding has been available for many years.  It can be used to enhance the cosmetic appeal of any tooth.  The benefit of using composite bonding material over porcelain is that it can be placed the same day. The the use of a lab technician is not needed.  The dentist can contour composite, which is a viscous tooth colored liquid plastic, into any shape needed.  The artistic talents of the dentist are challenged to recreate the natural morphology of a tooth.  There is a great variation in outcomes with composites.
Composite resins vary in their longevity and polish ability. Usually, a plastic filling will only appear polished for about 5 years. Although it can be re-polished, it never will look as nice as a newly placed restoration.  They are not meant for long term service. Many patients get tired of having to regularly replace their composite restorations. Eventually they opt for more permanent alternatives such as bonded ultra thin porcelain veneers.
Learn more about getting ultra thin porcelain veneers
Producing these minimally invasive restorations requires special porcelains that may not be available to the mass dental market. Extreme skill and training is required for this service. We often use this type of veneers to correct many of our patients' cosmetic dental issues. Schedule a consultation with Dr. Fondriest by calling 847-234-0517. We look forward to providing a one of a kind service for you.
Dr Fondriest is a  highly sought after cosmetic dentist. He serves clients from throughout the United States