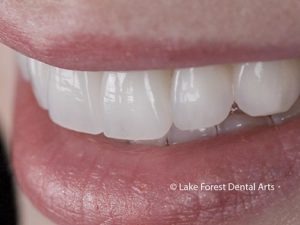 On television and in the movies, an ultra bright "Hollywood smile" is essential. Have you ever watched a film on Netflix only to wonder if editing created the perfect smiles? Digital movie magic can work plenty of wonders, but it cannot change smiles. Dental professionals play that role! Back in the early 1930's, a now famous dentist got a new idea. He thought to use tooth shaped pieces of porcelain and some glue to change an actor's smile. The standard for bright and beautiful smiles was reset with this new idea. Dr. James Fondriest discusses the placement of tooth covers or teeth covers and the treatment's rise to prominence.
Hollywood history of Porcelain tooth covers
Amazing actors did not always have amazing teeth, especially in the time before braces and early dental intervention became mainstream. However, audiences wanted to see what they always craved: Actors who looked perfect, right down to their smiles. To give them what they wanted, entertainment industry professionals turned to dentistry.
In the 1930s, dentist Charles Pincus introduced an excellent trick to temporarily enhance movie stars' smiles. Pincus would select thin strips of tooth shaped porcelain. He glued them over the not so perfect teeth of the Depression era actors. This provided a quick fix for crooked, gapped smiles and satisfied the public's desires. In recent years, a plastic version called snap on smile has been invented. The dentist would take an impression of your teeth and fashion these straighter plastic tooth covers to fit over your smile. They would be beautifully natural but would break easily.
New techniques were born
Pincus' quick fix cosmetic veneers provided only short term improvements in smiles. Over the years, this process has been perfected so that the teeth covers are more than just a temporary fix. Once a short cut to a total smile transformation was realized, better techniques were developed.
Dental professionals worked to make laminates feel comfortable and have the translucence and opalescence of natural tooth enamel. Now, dentists can achieve incredible results by recommending resin composite bonding or permanent tooth covers to many patients. And the outcomes are lasting and attractive. In fact, thanks to their durability and their natural appearance, teeth covers are now the superstars of smile makeovers today.
Trending changes in teeth cover designs
Until recently, an extensive amount of natural tooth preparation (reduction of enamel) was necessary prior to affixing permanent porcelain laminates.
Now, technological advancements allow cosmetic dentists to attach porcelain to a tooth with minimal, if any, tooth preparation. Chicago cosmetic dentist Dr. Fondriest, has teamed with world renowned ceramist Matt Roberts, to introduce the no-prep veneer systems. With the rise of ultra thin and strong porcelain, veneers can often be added directly to natural teeth with no preparation.
With proper care, stain resistant, custom made porcelain laminates can endure decades and still look fabulous.
Primary uses of tooth covers today
Permanent veneers are surprisingly common today. You probably know people in your personal or work life who have them. When properly placed and artistically customized, porcelain covers blend in seamlessly with your smile. The primary uses are:
To brighten or to cover stains on the front surfaces of teeth; a shortcut to teeth whitening
Replacing the missing gum tissue lost by gum disease  that causes the "black triangles" between teeth
Repair fractured  or chipped tooth structure
Correcting size, length, or symmetry
Improve oral health by closing spaces and preventing food impaction
Close gaps or spaces between teeth
Bite corrections
Worn down teeth
Cover a root canal access hole or the screw hole for a dental implant
Enjoy Star Quality Advantages
Proper placement of the porcelain covers can afford many advantages:
Improved self-esteem:
When your perfect smile earns you compliments all the time, you cannot help but feel a self esteem boost.
Improved dental hygiene:
After getting teeth covers, many patients become more invested in keeping their smile and gums as healthy.
Less reliance on orthodontics:
Having orthodontics is one of the better ways to straighten teeth. Porcelain covers can quickly change your smile to Hollywood perfect.
Like with all dental procedures, good oral hygiene such as brushing and flossing is important during and after treatment. When cared for as recommended, porcelain covers can last up to 25 years before they need to be removed or replaced.
Frequently there is no drilling:  
If you choose the no-prep versions, the dentist will not have to make any major changes to your tooth surfaces. Often there is no need for local anesthetic. This makes no-prep dental veneers a reversible treatment option. When choosing between and crown and a veneer, it is best to consider less tooth reduction. The increased technical difficulty often causes no prep veneers to cost more.
Want to look like a star?
We invite you to consider getting a more confident smile. Learn about your options in cosmetic dentistry Chicago.  Contact our boutique dental  practice to set up a consultation with Dr. Fondriest. Call our office at 847-234-0517.
Dr. Fondriest is a highly sought after cosmetic dentist. He serves clients from throughout the United States