Before
Dark metal showing at edges of crowns on back teeth

Clients love the ideas of having a new smile but shy from the thought that they will hurt their teeth or end up with a fake looking result. One of the biggest motivators to say "yes I want to go forward" is when they hear that we will not have to drill on their teeth. Another motivator is when they see the back dental crowns with black lines at the gum line.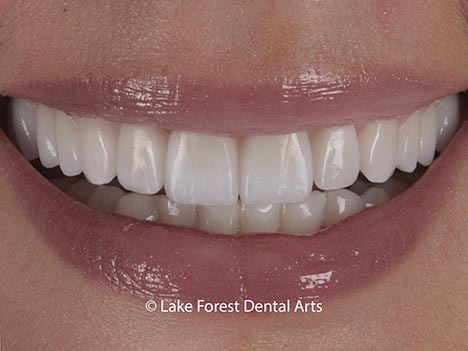 After
Smile Makeover using beautiful Emax crowns with small amount of drilling

Minimal preparation Emax restorations to improve an occlusal plane slant (canted upper teeth) and to remove the "dark lines at the gumline" on the back teeth.
Emax porcelain
Technology has come a long way in cosmetic dentistry. This especially applies to the area of porcelain technology. Emax is a beautiful, durable ceramic system being used for porcelain veneers and crowns. It is perfect in areas of the mouth with high esthetic demand. This new porcelain is becoming very popular due to its esthetics and the ability to save tooth structure. Read on to learn more about the benefits, minimum preparation possibilities, and advantages of Emax porcelain.
Traditionally, significant enamel removal was required to place porcelain crowns and veneers. Advanced dental laboratory techniques now allow dentists to place veneers with little to no preparation. Dr. James Fondriest performs this treatment for qualified patients at Lake Forest Dental Arts in Chicago, IL.
About This Case: You don't have to have your teeth drilled down to stubs
We hear these remorseful words daily: "I should have worn my retainer after my braces were removed." This patient had significant drifting of her teeth over the 20 years since her braces. She also had some dentistry of low quality. The crowns on her back teeth were not that old but already had recession and dark metal showing at the margins. Her goal was to have everything straight, clean and fresh. Looking at her "before" picture, her gum levels were uneven, the front incisors slanted to her left, the teeth were asymmetrically shaped.
We directed her to a periodontist to have a gum lift. The gum lift raised and leveled her gum scallops. Gums can be raised to lessen how much the gum shows in the smile. Because the eye teeth were pushed out a bit and the central teeth were angled, we had to drill a little but we didn't have to make temporaries for them because you couldn't see where we did drill. When the restorations were delivered from the lab, we bonded them to the teeth. The new smile was much brighter and was aligned well. The dentistry gave her the fresh healthy look that she requested!
What is Emax porcelain?
Emax a new type of porcelain made up of mainly lithium disilicate and quartz. What is so special about this ceramic is that it is both strong and aesthetic. Emax allows dentists to make restorations that are far less thick. Minimum preparation crowns and veneers are ideal for small changes in shape or alignment of your teeth. They also can be used to cover stains or discolorations. Learn more about veneers with minimal drilling. Less drilling on your teeth is always a good thing. Restorations made from this material are tough, durable and lifelike even though they are just a thin layer.
Natural teeth are fairly translucent. Crowns made from this material have the same appealing translucency. This guarantees the closest shade match to your other teeth. Because there is no metal in them, they eliminate the ugly dark line around the gum that is common with porcelain fused to metal crowns. When dentists use this material, you get an all ceramic crown that is long lasting and delicate in appearance.
Benefits of Emax porcelain
Matching the shade of a natural tooth is easier
It is an all porcelain system. Emax is more bio-compatible than metal or PFM restorations . There has never been an allergic reaction to this product.
When bonded, this glass ceramic has excellent durability and strength long term
The ability to be very conservative with tooth preparations. The dentist can do minimum preparation veneers and crowns.
Because it is bonded instead of cemented, it can be used to replace any part of a tooth and has fewer drilling restrictions.
Disadvantages of E max porcelain
Due to its high translucency, this porcelain isn't great at covering dark teeth
Due to a low flexural strength, this porcelain is rarely used for bridges. Anything beyond a one tooth bridge is considered ill advised. It will not take the torsional forces of a longer bridge.
Thin porcelain can crack under extreme chewing loads. This type of crown is not recommended for back teeth. PFM and zirconium crowns are more commonly used in the back.
Learn more about the advantages of Emax porcelains
Are you interested in enhancing your smile with Emax porcelain? Contact our Chicago, IL practice to find out if you qualify for minimum preparation emax veneers or crowns.
Dr Fondriest is a Nationally recognized and highly sought after cosmetic dentist. He serves clients from throughout the United States