Before
Fake, Lifeless, Opaque crowns

This patient had 28 crowns placed by her old dentist 3 years prior. The crowns were opaque and lifeless. The patient came to our practice for help not really trusting dentists after her previous bad experience. She actually made us replace her back teeth to her specifications before she would allow us to redo her front teeth. This image was taken after we redid the upper back teeth crowns.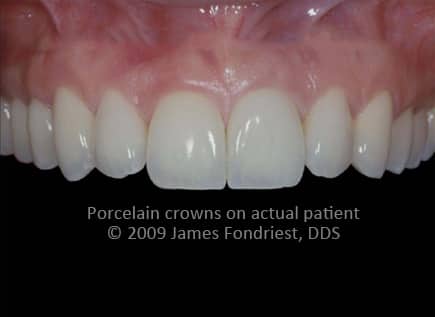 After
Natural appearance of Metal Free Crowns

All the upper teeth were crowns done to match exactly how her teeth looked when she was a teenager. The anterior six crowns were Procera™ all porcelain crowns. This type of ceramic has an aluminous oxide base coping and an attractive veneering porcelain stacked on the surface. The posterior crowns were PFM Crowns.
Procera all porcelain crowns
Procera crowns are actually an older technology.  Like zirconium today, Procera is not a good option for veneers. The majority of the most beautiful all porcelain crowns are now made with E Max.  We show you this example case for one very important informational purpose; it shows that when a master ceramist is involved, teeth can be made to be beautiful.  Even when the technology is dated.
Procera porcelain was one of the first porcelains that could be used in posterior teeth. It had more strength than the other porcelains of its time.  Today, the best porcelains for the posterior sections of the mouth are EMax and Zirconium. Dr. Fondriest prefers EMax over zirconium due to the abuse that zirconium casues to the opposing dentition over the long term.