Before
A patient wanting a "cleaner fresher brighter smile"

There are many reasons to have porcelain veneers done. this Gurnee, IL patient wanted to have brighter more attractive front teeth. She was concerned that so many of her friends had veneers done that looked artificial. She decided to have her front four teeth done with a special opalescent porcelain that offers realistic optical characteristics.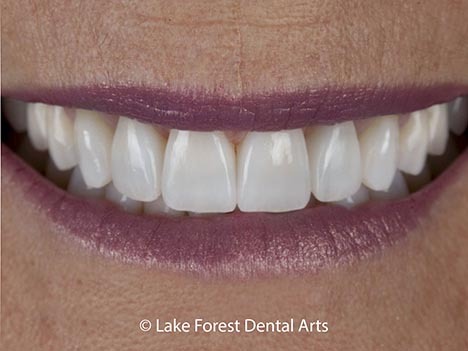 After
Creating a natural cosmetic result with new porcelains with natural optical characteristics

The front four teeth have been veneered with Ivoclar's newest porcelain with opalescent qualities. This porcelain has the capacity to make teeth appear brighter. It also allows the lab technician to add intrinsic stains commonly found in natural teeth. The subtle stains and incisal translucency added is what makes these veneers look believably natural.
Opalescence in natural teeth – Opalescent porcelain
Opalescent porcelain is a specific type of porcelain that offers more brightness, compared to traditional porcelain. This porcelain also allows the lab technician to add intrinsic stains commonly found in natural teeth. We see it more in front teeth. The subtle stains and incisal translucency added, are what make an opalescent porcelain veneer look believably natural. At Lake Forest Dental Arts, Dr. James Fondriest provides opalescent porcelain veneers to patients, while ensuring overall oral health.
Opalescence in Natural Teeth
Natural enamel has the optical property called opalescence.  Natural opals are aqueous disilicates which, similar to natural tooth enamel, act like a lot of tiny prisms when light passes through it.  Prisms bend different wavelengths at different angles.  The blue violets bend more than the longer red-yellow wavelengths.  When light enters a natural tooth, the red-yellows trans-illuminate through the tooth.  The blues tend to bend more and scatter within the body of translucent enamel that coats the crown part of a tooth.  The more translucent a natural tooth is, the more blue appearance there is. Teeth whitening will make it worse by making the tooth more opaque.
Most porcelains do not have the opalescent qualities that cause the surface to have a blue appearance.  There are many techniques to create a blue translucent appearance within artificial porcelain restorations but they are difficult to create.  Usually only the higher end technicians using the better porcelain systems, with the best training do a good job with these techniques. Opalescent porcelain veneers also offer patients an array of benefits. Some of those benefits include:
Natural looking teeth structures
Durability and longevity
How to Care for Opalescent Porcelain Veneers
Your opalescent porcelain veneers will require the same daily care that you should be giving to your natural teeth. Daily brushing and flossing will be needed to help keep your veneers in optimal condition.  Additionally, regular checkups and professional cleanings will help to maintain the veneers.
Include opalescent porcelain veneers in your treatment plan
Would you like to learn more about how opalescent porcelain veneers can dramatically improve your smile? We hope to provide you with the stunning and beautiful smile you've always wanted.
Dr. Fondriest's other before and after cases can be viewed in his smile gallery.  All of the photos on his website are of his actual patients, and Dr. Fondriest was the photographer. As a cosmetic dentist, he takes great pride in his cases. To schedule your consultation with Dr. Fondriest, call Lake Forest Dental Arts at 847-234-0517.
Dr Fondriest is a Nationally recognized and highly sought after cosmetic dentist serving clients from throughout the United States