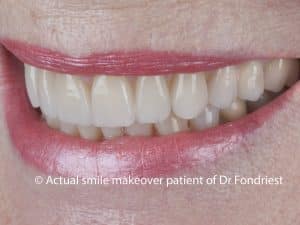 Do you worry that you may soon need restorative dentistry? More specifically, are you concerned that dental restorations must always be made of metal? For many years, patients that required dental work had no choice but to settle for smiles that were marred by obvious and sometimes uncomfortable metal restorations. Fortunately, that is no longer the case. Modern dental crowns can be made from a variety of materials, many of which share one common trait – they are designed to look natural and feel comfortable, so that patients can continue smiling confidently even after their restorative dental work has been completed.
What Are the Modern Alternatives to Metal Crowns?
Porcealin is the most popular material for modern dental crowns.  This is because of it's cosmetic benefits and also its durability. Many people don't' realize just how durable dental-grade porcelain is, much less that it has stain resistant properties. This is why many patients that opt for porcelain crowns are able to enjoy their restorations for more than ten years, with proper dental care.
Of course, porcelain crowns are also great options because they can be customized to look nearly seamless within a patient's smile. They also conduct less heat than their metal counterparts, which proves more comfortable for many patients, particularly during meals.
Do You Need a Seamless Smile Restoration?
If you are exhibiting warning signs of a dental problem, such as heightened sensitivity, discoloration or even pain, it's best to speak with your dentist promptly about how restorative treatment could restore and protect your oral health. Prompt treatment with modern dental crowns can prevent the issue form worsening. Plus, with seamless smile solutions available, there is no reason to fear restorative treatment.
Would you like to upgrade to modern dental crowns?
Restorative dentistry makes it possible to save fragile and damaged teeth, in most cases. Prompt detection and treatment is key, though. You can call Lake Forest Dental Arts in Lake Forest, IL, today at 847-234-0517 to schedule your restorative consultation.