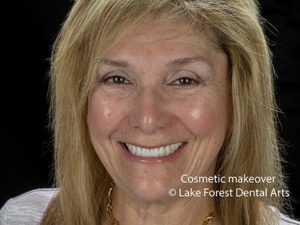 If you're blinking, shaking your head, and quickly glancing at your calendar because thinking about the winter holidays right now is causing you some confusion, rest easy: Yes, it's still August. As for why we're bringing up a time that seems so far into the future, well, there's actually a very good reason. In some cases, improvements for your smile are quick and you'll be in and out of our practice with just a visit. However, for many cosmetic treatment care plans, time and strategic planning often become an essential factor. If you promised yourself that this year, you'd finally have a beaming, glittering grin to show off at your holiday parties, then our Lake Forest, IL team suggests giving us a call ASAP. Learn more!
Enjoy Durable and Natural-looking Cosmetic Treatments
While there are a number of cosmetic treatment options available, porcelain veneers remain one of the most popular, year-after-year, because of how many imperfections they can help to address.
Veneers can be used to help hide inconsistencies in the size or shape of the teeth, as well as minor gaps between them. In many cases they can also be used to hide intrinsic staining, often caused by coffee drinking or tobacco usage, but perhaps simply the result of aging or even dental problems.
Porcelain veneers also represent a long-lasting cosmetic option, because of how durable and stain resistant dental porcelain is; in fact, this is why porcelain crowns are now regularly used as restorative treatment. Because they can last for many years, while still offering a secure and strong form of protection against wear and infection.
Don't Let Imperfections Stop You from Smiling
If you are bothered by aesthetic imperfections, it's important to consider the many cosmetic treatment options available that could help. You might actually be surprised just how quickly a cosmetic dentist could help you address many noticeable problems!
Staining is a common issue, due to the porous nature of the teeth's enamel. Over time most people struggle with some degree of discoloration, though certain products can certainly hasten dramatic staining. (For instance, tobacco products, red wine, coffee and sodas can all lead to deep discoloration.) Professional teeth whitening is most often recommend for dealing with major staining.
Inconsistencies in the shape or size of some teeth are also common. Over time, many teeth also begin to look worn along the edges, or misshapen due to wear. In many cases, cosmetic bonding provides a fast and durable solution for addressing inconsistencies. In some cases, though, particularly in the case of extreme wear, restorative treatment like a natural-looking porcelain crown might even be used to improve the smile's appearance and its health.
Porcelain veneers are another great option, and they can provide even longer-lasting result than bonding, thanks to the stain resistance of porcelain.
Minor gaps between the teeth, or slight overlapping can also be a cosmetic concern. While orthodontic treatment is necessary to address functional alignment problems, cosmetic dental treatment, like bonding or veneers, can sometimes be used to help address minor spacing issues.
To speak with your dentist about cosmetic smile updates, call us at 847-234-0517.
When You "Just Want Whitening"
Can you see a brightened effect on your smile overnight when you choose teeth whitening with us? Sure! However, when your goal is maximum improvement for your oh-so-special holiday moments, we understand. We also remind patients that in regard to this particular cosmetic treatment, we offer a system that is extremely effectively and an extremely safe route for your teeth. As is often the case, it's going to take a bit of time to accomplish both of these rare feats. For the optimally white grin you're desiring, treatment may take about 30 to 60 days of whitening. Talk with our team soon to make sure you're on a schedule that has you ready for winter 2018.
Don't Forget About The Details!
Remember that every patient has unique needs, wants, and more. If you're interested in significant changes, this could take time. Maybe you're hoping for a "smile makeover" that is purely esthetic in nature. When we rely on porcelain veneers, we need to take impressions, craft beautiful veneers, try them on your smile, and place them. When you have multiple needs, such as bonding, tooth replacement, braces, a gum lift, and particularly if you're interested in dental implants (which can take multiple months), you're beginning an artistic journey. So, let's make sure you have ample time to speak with us, explore your options, see us for the cosmetic treatment details, and arrive at the finish line of your goal for your smile by the holidays. Call us soon!
Get Your Grin Ready for the Holidays with Cosmetic Treatments
Contact us as soon as you can to get your consultation on the books, so we may plan for your smile to look lovely by the winter of this year. Feel free to schedule a visit with Dr. Fondriest by calling Lake Forest Dental Arts at (847) 234-0517. We also proudly serve residents of Chicago and all surrounding communities in the Chicago Metro area.