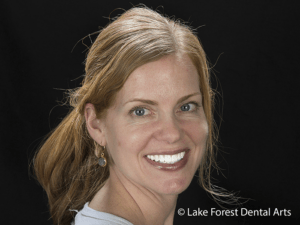 Get a nice white smile by whitening your teeth
Do you want a white smile? It's safe to say that the tooth whitening process is the most popular and requested cosmetic dental procedure today.
The foods and drinks we consume (especially red wine, coffee, tea, and soda), daily habits (such as smoking and the use of tobacco products), everyday wear and tear (from biting, chewing, and grinding), and the natural aging process all take a toll on the brightness of our smiles. Teeth whitening is an affordable and speedy way to correct the dullness, discoloration, and stains you see in your smile when you look in the mirror.
With the endless amount of over-the-counter teeth whitening products available, it may seem silly to have your teeth professionally whitened. Dr. James Fondriest, a cosmetic dentist in Lake Forest, Illinois, wants to warn you against using these products. With over-the-counter teeth whitening systems, you don't know what you're getting and how your smile will respond to treatment.
In-office bleaching is a short term solution for a white smile
Is it possible to whiten your teeth fast? Dr. Fondriest has another piece of advice, as well. In a world where it's common for cosmetic dentists to offer in-office teeth bleaching, Dr. Fondriest is always asked why he does not offer it to his patients. The answer is simple: Because in-office bleaching brightens teeth primarily by dehydration rather than stain removal, the benefits are short lived and must be followed up with tray bleaching to actually whiten the organic colorants in your teeth. Due to the lack of actual color removal and the possible negative side effects, such as gum tissue and pulp irritation, Dr. Fondriest does not offer or recommend the in-office tooth whitening process.
At-home bleaching more likely to achieve a long term white smile
To freshen your appearance with a whiter smile, Dr. Fondriest offers home teeth whitening that provides dramatic and efficient results. Stay tuned for more information about this top-notch way to whiten your smile.
Before a job interview, many people get a haircut and maybe a manicure. They buy a new suit and some quality resume paper. Consider, however, that the first thing people notice about you is your eyes – and the second is your smile. Beyond brushing your teeth, flossing, and chewing gum or squirting breath spray, what do you do to freshen up your smile before a job interview?
You might be interested to know, a study by Kelton Research found, job candidates who had their teeth whitened before an interview were more likely to land the job. Even better, they were often offered a higher rate of pay!
In the current economy, finding a job is hard. Getting a great salary is even harder. If you're preparing for success, call Lake Forest Dental Arts for a teeth whitening visit. As a cosmetic dentist, Dr. Fondriest offers a few solutions for teeth whitening, and he'll help you determine which is best for your teeth.
Frequently asked questions about the tooth whitening process
Question: What causes teeth stains to form?
Answer: Teeth stains can form for a variety of reasons. For example, drinks with dark pigments (such as coffee, soda, tea, fruit juice, and red wine), foods high in sugar, and smoking or tobacco use can all lead to discoloration. If you regularly enjoy these drinks, it is hard to keep a white smile. In addition, injury to the tooth, fluorosis, or the use of certain medications, such as tetracycline, can cause discolorations to form. Before recommending treatment we will need to assess the factors behind your discoloration.
Question: How does in-office beaching work?
Answer: First, we apply a protective coating over the lips and gums. We then place a powerful bleaching gel onto the teeth. Some dentists will use a curing light to activate the gel, lifting surface stains from the teeth. In some cases, teeth can be brightened by multiple shades. With this option, the entire treatment can be completed in a single visit. This bleaching method brightens teeth main ly by dehydration. It will be temporary.
Answer: Once you return home you can take steps to help your smile stay bright. First, cut back on drinks with dark pigments and stop smoking (if you do). We also recommend brushing your teeth twice a day and flossing once a day to control the amount of plaque that forms on the teeth. Finally, have your teeth cleaned twice a year.
Question: Will this address all forms of discoloration?
Answer: While the in-office tooth whitening process addresses most forms of discoloration, some stains may be permanent. Also known as intrinsic stains, they form the below and may be the result of injury or fluorosis. We can mask these stains with a lifelike dental veneer.
Store Bought Whitening Products
Have you bought whitening toothpastes or whitening kits from your local grocery store? More than likely, if you have used store-bought whitening products such as rinses, toothpastes, and gel strips, you were probably disappointed with their results. These products lack the potency to remove permanent tooth stains. In fact, store bought whitening products only address surface stains with abrasive ingredients. Many patients are surprised to learn that whitening toothpastes and whitening kits purchased from a grocery store can actually do harm to your teeth if used too often. Because of the concentration of abrasive agents, these products can damage your tooth enamel. We recommend that our patients use simple toothpastes that are approved by the American Dental Association and seek professional teeth whitening services to make their smiles white.
Do you have more questions about the tooth whitening process?
Call us today at (847) 234-0517 to schedule your cosmetic dentistry consultation or teeth whitening appointment with Dr. James Fondriest.