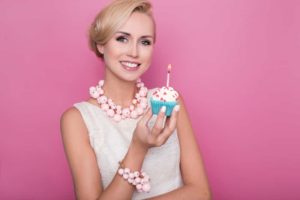 Do you want brighter teeth? Have you have bleached before and watched your teeth get darker again? Professionally supervised teeth whitening is a great way to get your smile bright. We can also teach you how to keep your teeth white after whitening. If you are tired of feeling embarrassed by the deep discoloration of your smile? Tired of wishing you had the kind of bright pearly whites you see in movies and magazines? The truth is, you don't' need magic or even to be a movie star, to enjoy dazzling white teeth. You might just need to visit your dentist. From preventive cleanings to professional whitening or teeth bleaching to porcelain veneers, there are a number of ways your dentist could likely help to leave your smile brighter and more beautiful! If you want to enjoy the kind of confidence that comes with a gorgeous smile, why not talk to your dentist about how treatment could help?
A Cleaning Might Help Brighten Your Smile
Dental cleanings do more than just help to prevent cavities and gum disease. Though important preventive measures meant to keep the teeth and gums healthy and free from infection, regular cleanings also help keep teeth looking their best, by helping to remove tartar buildup, which can otherwise create a visible yellow film on the teeth.
Enjoy Dramatically Brighter Teeth with Cosmetic Treatment
If your teeth have become deeply stained or discolored, though, the dentist might recommend a cosmetic treatment to help lighten the teeth. Professional home teeth whitening, for instance, can often lighten teeth between five and eight shades, by helping to break up surface stains and reveal lighter teeth underneath. One visit fast whitening of teeth is mainly by dehydration and it only temporary.
Porcelain veneers can also be used to improve the beauty of one's smile, though, particularly when the staining is permanent or intrinsic in nature. Porcelain veneers offer long-lasting enhancements thanks to the longevity and stain resistance of dental porcelain.
Keeping Your Teeth White After Whitening
Have you been given bleach maintenance instructions? You might think your teeth are going to stay white for some time after over-the-counter whitening but they may not stay white for as long as you hope. To help keep your teeth white, however, there are some things you can do. there are certain foods that are good and others bad for keeping your teeth white after whitening.
If you want brighter teeth then avoid certain foods
One way to help keep your teeth white after using an over-the-counter, at-home tooth whitening kit, or a professional dental whitening, is to avoid eating certain foods. Foods you should try to avoid include:
Red wine
White wine
Blueberries
Soy sauce
Red sauce
Dark sodas
These foods, and smoking, will stain your teeth.
Eat Certain Foods
Another way to keep your teeth white is to eat certain foods. By eating these foods you may be able to eliminate having to whiten your teeth all together. Foods you should eat to keep your teeth white include firm fruits and vegetables such as:
Apples
Carrots
Cauliflower
Celery
Green beans
These foods promote the flow of saliva which neutralizes acids and washes away harmful bacteria. They also clean your teeth by scrubbing them because of their firm texture. Dairy products high in calcium also help keep teeth white, such as cheese. Hard cheeses also help scrub food from your teeth. The lactic acid in dairy products helps prevent decay.
Frequently Asked Questions About Teeth Stains
Question: What are extrinsic stains?
Answer: These are stains that form on the surface of the teeth. Extrinsic discoloration is the most common form of discoloration and is often the result of the foods and drinks we consume. Foods and drinks high in sugar promote plaque buildup, which can make stains more apparent. When you consume drinks that have dark pigments, such as coffee, soda, red wine, or tea, you can also cause surface stains to appear. Finally, smoking and tobacco use can lead to discoloration.
Question: How do intrinsic stains differ?
Answer: Instead of forming on the surface, these actually occur in the dentin beneath the enamel. Intrinsic stains can be the result of injury to the tooth, fluorosis, or tetracycline use at an early age. These are often difficult to remove with traditional whitening, so we may instead mask them using bonding or veneers.
Question: How do I prevent discoloration?
Answer: To prevent stains, you need to watch what you eat and drink. In addition, you need to practice good oral hygiene in order to reduce the severity of plaque buildup and stains. We recommend brushing your teeth twice a day and flossing each night before going to bed. You should also make time for regular dental cleanings, which can completely remove plaque form the teeth and help make your teeth brighter in the process.
Question: What treatment options do you offer?
Answer: We have professional teeth whitening, dental bonding, and porcelain veneers to either remove or mask stains, helping you achieve a more beautiful and brighter smile! If you have any questions about our treatment options then please contact our office today.
Want to Enhance Your Smile?
Cosmetic dentistry can help improve your smile's appearance, quickly. You can schedule your cosmetic visit with Dr. Fondriest by calling us at (847) 234-0517. We welcome patients from the North Shore area of Chicago.