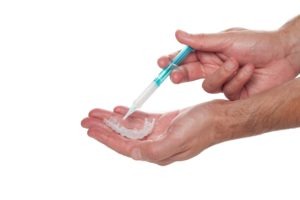 When you visit a store, you'll likely see a number of products offering at home teeth whitening. However, in order to receive dramatic results that last, you should see the dentist for a professional solution. We can provide at-home teeth whitening that can brighten your smile by multiple shades.
Frequently Asked Questions About At-Home Teeth Whitening
Question: Can you whiten your teeth overnight?
Answer: We can provide an at-home system that uses a special carbamide peroxide to break up and remove stains. Nite White Excel 3 involves wearing a tray filled with bleaching gel each night. You can notice results after the first night, but for optimal whitening you may need to continue wearing them for between 30 and 60 days. The trays will fit comfortably and you can enjoy a smile brightened by multiple shades.
Question: What if my teeth are sensitive?
Answer: We don't want tooth sensitivity to prevent you from gaining the smile you want. With Day White Excel 3, we can offer a home-based system designed for people with sensitive teeth. You fill the provided trays with gel and wear them twice a day for 30 minutes each session.
Question: What causes teeth stains?
Answer: Discoloration can form for a number of reasons. For example, foods high in sugar and promote plaque buildup, which make stains more apparent. When you consume drinks with dark pigments, such as coffee, red wine, tea, and soda, your teeth can become stained as well. Smoking and tobacco use can also lead to unsightly yellow or brown discoloration.
Question: How do I make my results last?
Answer: First, you can keep the trays and gel and use them for up to three years to occasionally touch-up your smile. In addition, be sure you're brushing your teeth twice a day and flossing each night before bed. Make sure you're also seeing us for routine checkups and cleanings, which can also help you enjoy a bright smile.
Learn more about at home teeth whitening
Our team can address minor and severe teeth stains with our cosmetic treatment options. To learn more, schedule a consultation by calling Lake Forest Dental Arts in Lake Forest, IL, at 847-234-0517. We also proudly serve residents of Chicago and all surrounding communities in the Chicago Metro area.