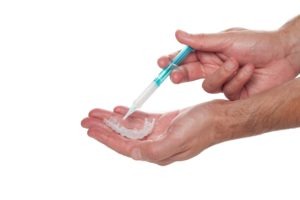 When you visit a store, you'll likely see a number of products offering at home teeth whitening. However, in order to receive dramatic results that last, you should see the dentist for a professional solution. We can provide at-home teeth whitening that can brighten your smile by multiple shades.
Have you considered completing a teeth whitening procedure recently? If you've answered yes, you're not the only one. In fact, having the whitest and brightest smile is the goal of many people and oftentimes, it leads to the endless use of over-the-counter bleaching kits. While whitening is perfectly safe to do, some limitations do apply. There are many people who bleach constantly, really to excess. Thus, before you begin rummaging through a sea of drugstore bleaching kits, read this article. It may provide some insight on the the teeth whitening process.
What to do before you start home teeth whitening
Consult with the dentist before home teeth whitening
Before you start a bleaching treatment, talk to Dr. Fondriest first. He can complete an dental exam to check if your teeth and gums can withstand a bleaching treatment. For example, if you have cavities, whitening isn't an option. Since a cavity is essentially a hole in your tooth, the bleaching formula can penetrate the tooth and cause great discomfort.
Furthermore, gum inflammation also delays the treatment since the bleaching solution only agitates and worsens the condition.
Additionally, your dentist can recommend the safest over-the-counter teeth whitening solutions that won't damage your oral health. Or you can opt to use an professional-grade at-home teeth bleaching kit directly from Dr. Fondriest.
Shop around.
If you're choosing to whiten at-home, don't pick the first whitening kit available. Most of those kits have weaker solutions and you must complete several treatments before noticeable results appear. Instead, shop around the whitening aisle of your local drugstore. Typically, solutions with a carbamide peroxide potency of 10% to 20% work best.
Moreover, check for the American Dental Association (ADA) seal. Dental products with this label have been deemed safe for teeth by the ADA.
Follow the instructions.
Make sure to read the directions on the packaging carefully and follow those instructions to a tee. Leaving the whitening formulas on longer than the allotted time, can cause the gum irritation. It's best to use the treatments correctly for multiple sessions rather than overusing the treatment once.
Patience is key with home teeth whitening
If you're looking for immediate results, the at-home whitening solution isn't the way to go—for such instances, try an in-office treatment instead. As aforementioned, the at-home route does take longer, therefore, patience is key. Give the treatment a couple of weeks before switching to different product. Note: Pregnant or nursing women shouldn't complete teeth whitening treatments because the chemicals can harm the baby.
Watch out for sensitivity.
A common complaint amongst patients who have had a bleaching treatment is the lingering sensitivity. This is stems from two issues: prolonged contact between the gums and the bleaching solution and a slight weakening of the enamel.
To resolve the gum sensitivity, simply dip a cotton swab in vitamin E ointment and apply it to the gum line. For your teeth, use a fluoride solution to restrengthen the enamel. Patients should also take care avoid acidic foods as this enhances the sensitivity issue.
Control the whitening urge.
Some patients tend to go a little overboard with whitening once they begin at-home whitening treatments, which relates back to following the instructions carefully. Realistically, teeth shouldn't appear whiter than the whites of your eyes. At first, use the bleaching as often as the packaging instructs; however, once your smile appears vibrant, touch-ups once a month is sufficient to maintain the brilliance.
Frequently Asked Questions About At-Home Teeth Whitening
Question: Can you whiten your teeth overnight?
Answer: We can provide an at-home system that uses a special carbamide peroxide to break up and remove stains. Nite White Excel 3 involves wearing a tray filled with bleaching gel each night. You can notice results after the first night, but for optimal whitening you may need to continue wearing them for between 30 and 60 days. The trays will fit comfortably and you can enjoy a smile brightened by multiple shades.
Question: What if my teeth are sensitive?
Answer: We don't want tooth sensitivity to prevent you from gaining the smile you want. With Day White Excel 3, we can offer a home-based system designed for people with sensitive teeth. You fill the provided trays with gel and wear them twice a day for 30 minutes each session.
Question: What causes teeth stains?
Answer: Discoloration can form for a number of reasons. For example, foods high in sugar and promote plaque buildup, which make stains more apparent. When you consume drinks with dark pigments, such as coffee, red wine, tea, and soda, your teeth can become stained as well. Smoking and tobacco use can also lead to unsightly yellow or brown discoloration.
Question: How do I make my results last?
Answer: First, you can keep the trays and gel and use them for up to three years to occasionally touch-up your smile. In addition, be sure you're brushing your teeth twice a day and flossing each night before bed. Make sure you're also seeing us for routine checkups and cleanings, which can also help you enjoy a bright smile.
Learn more about at home teeth whitening
Our team can address minor and severe teeth stains with our cosmetic treatment options. To learn more, schedule a consultation by calling Lake Forest Dental Arts in Lake Forest, IL, at 847-234-0517. We also proudly serve residents of Chicago and all surrounding communities in the Chicago Metro area.