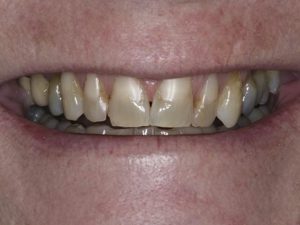 Do you have stained teeth? You're getting ready for the job interview you've been thinking about for weeks. But when you flash yourself a grin in the mirror, you see that yellowish or brownish discolorations make your smile look less than brilliant. Unfortunately, those discolored teeth can cause people to perceive you as unhealthy, unkempt, and unprofessional. While our teeth are susceptible to a wide range of stains, dentists have several safe and effective solutions to help you get the vibrant smile you need to complete your polished, professional look.
A Closer Look at Stained teeth
Tooth enamel is the strongest substance in the human body, yet a number of factors can cause it to become discolored. Before your cosmetic dentist suggests a given procedure, he will first need to determine the source of the staining.
Enamel stains fall into two categories: intrinsic and extrinsic.
Intrinsic stains come from within the tooth and can be caused by a number of factors, such as:
Damage to a tooth from an injury or root canal therapy can cause a tooth to have a greyish cast.
Overexposure to fluoride during childhood, referred to clinically as fluorosis, can prompt the formation of white spots on the enamel.
Taking certain antibiotics, namely tetracycline, can impart severe stains on the teeth.
Extrinsic stains, on the other hand, come from outside sources, most commonly:
Extrinsic stains can occur from inadequate brushing and flossing. The foods and beverages you eat have stain producing substances in them. Dental professionals suggest that maintaining a high level of hygiene and getting your teeth cleaned regularly will help keep a brighter tooth color.
Daily intake of coffee, tea (hot or iced), or dark fruit juices like grape juice or cranberry juice.
Regular intake of red wine.
Eating dark or acidic foods like tomato sauce, balsamic vinegar, soy sauce, and blueberries.
Smoking or chewing tobacco will leave signature brown stains on the teeth.
Extrinsic stains tend to accumulate over time. Many people don't even notice the stains until they compare their current smile to a photograph of themselves a few years prior. The contrast in the brightness of one's smile can be unsettling. Luckily, your dentist has several methods he can employ to brighten your smile.
Take Home Teeth Whitening Kits
The most popular cosmetic dental treatment in America is teeth whitening. While you could simply opt to purchase one of those over the counter whitening strips or toothpastes available at the grocery store, the results can be disappointing. Dr. Fondriest recommends using an at-home teeth whitening system offered at most dentist's offices to address extrinsic stains. These systems generally include custom-fitted whitening trays and pre-filled syringes of potent whitening gel. In many cases, these take-home formulations also include ingredients that will strengthen tooth enamel and reduce sensitivity. Dr. Fondriest advises his patients against using in office teeth bleaching systems. These methods tend to temporarily dry out the teeth to achieve a brighter look rather than actually removing the stains.
Cosmetic Bonding: A Small Procedure with Big Results
Intrinsic tooth stains that cannot be removed using a take-home whitening kit can be addressed with cosmetic bonding. Using the same composite resin material he uses to fill in cavities, Dr. Fondriest can mask even severe staining. This conservative and inexpensive dental procedure can be performed in the office, usually on the same day as your regular checkup and cleaning. During cosmetic bonding, your dentist will clean and prepare the tooth by applying a conditioning liquid. Next, he will apply the color matched composite resin to the tooth. Using a special light, allow the resin to cure and harden. Once ready, Dr. Fondriest will use a variety of instruments to shape the resin and polish it so that it gleams and blends in with the rest of your smile.
Porcelain Veneers: The Cosmetic Dentist's Gold Standard
Cosmetic bonding is a good solution for some patients. Composite resin can become scratched and accumulate stains and may need to be redone within a few years.
For patients looking for a more permanent way to mask their stained or discolored teeth, porcelain veneers offer an incredibly life-like and durable solution. These thin porcelain coverings are fabricated in a dental ceramics lab by a highly trained professional called a ceramist. Veneers are custom fitted to your smile and are permanently bonded into place. Strong, stain resistant, and offering the same translucence as natural tooth enamel, porcelain veneers can give patients with severe stains a gorgeous smile that can last for many years with proper care.
Learn more about how to treat your stained teeth
Learn more about the many tooth enhancements available at all costs and scopes of treatment. To schedule a consultation and learn if cosmetic dentistry is right for you, contact us at (847) 234-0517. A cosmetic dentist, Dr. James Fondriest proudly offers general, cosmetic, and restorative dentistry services to patients from the Chicago area.