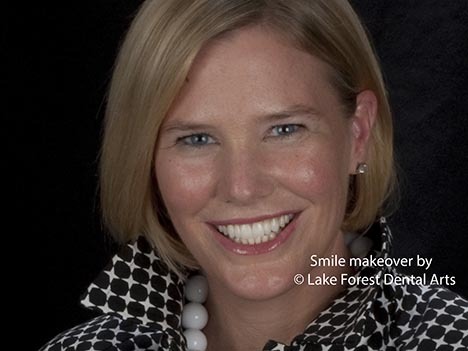 Cosmetic dentistry can help us look younger
When we age, we may look older but we never seem to feel older. So, why not have a smile that reflects how young you really feel? Over time, our smiles become stained and damaged, losing their youthful luster.  But that doesn't mean you can't still have the glowing smile of your youth. A healthy, beautiful smile improves your overall health, and cosmetic dentists can improve your smile with cosmetic dentistry. In today's blog, we explain how cosmetic dentistry can help you look and feel young again!
What is Cosmetic Dentistry?

Using the latest in dental care technology, Dr. Fondriest can brighten smiles marred by permanent stains and repair damage from injury or tooth decay.
Smile Makeovers
With a major smile improvement, Dr. Fondriest employs a combination of both our cosmetic and restorative dental procedures to restore your smile. In addition to teeth whitening and porcelain veneers, Dr. Fondriest can even use dental implants to provide natural looking tooth replacement for one or more missing teeth. When we lose teeth, the body stops supplying crucial doses of nutrients like calcium and phosphorus to the jawbone surrounding the missing teeth. Without these nutrients, the jawbone begins to dissolve. Loss of bone density not only increases the risk of further tooth loss, but alters the facial structure, as well. Over time, some patients develop jowls, sunken cheeks, or witch's chin. Dental implants prevent bone loss, preserving your facial structure.
Artistic Smile Design
Dr. Fondriest believes in the philosophy of artistic smile design. At Lake Forest Dental Arts, Dr. Fondriest takes the time to get to know you. He wants to understand your personality and smile goals. In addition to observing the state of your dental health, Dr. Fondriest also takes note of your facial asymmetries, lip drape, or how your mouth moves during speech. These factors allow us to provide natural looking dental work that reflects your personality and blends with your smile.
Cosmetic Procedures
Dr. Fondriest provides an array of cosmetic dental procedures. Our cosmetic services include:
At-home Teeth Whitening: Brighten your smile from the comfort of your own home using a custom-made whitening tray and special bleaching gel.
Tooth Colored Fillings: Dr. Fondriest repairs damage related to tooth decay with powerful and natural looking composite resin.
Cosmetic Bonding: Using composite resin, Dr. Fondriest erases permanent stains and repairs cracked or chipped teeth. Old leaky metal fillings can be replaced.
Porcelain Veneers and No-Prep Veneers: Dental veneers are thin shells of dental porcelain placed on the front teeth. Veneers are stain resistant and provide instant whitening. Veneers also close gaps between teeth, correct the appearance of misalignment, repair fractured or broken teeth, and with proper care, can provide decades of smile restoration.
Porcelain Crowns: A crown is a cap that fits completely over a damaged tooth. Porcelain crowns blend seamlessly with your smile while protecting and preserving your tooth.
Gum Lifts: Using innovative and comfortable laser dentistry, Dr. Fondriest can remove excessive gingival display and correct "gummy" smiles.
Restorative Dentistry
To repair smiles in need of extensive dental work, Dr. Fondriest offers the latest in dental restoration technology to transform your smile. Our restorative techniques include:
Dental Bridges: A bridge is a replacement tooth with crowns attached to each side. The crowns are placed on the natural teeth sitting on either side of the empty socket. The crowns anchor the new tooth into place, returning your smile to full function and appearance.
Dental Implants: A biocompatible post is anchored in the socket of a missing tooth and topped with a custom-made and natural looking crown. Dental implants can replace a single tooth or even be used to secure a full set of permanent dentures.
Learn more about how cosmetic dentistry will help you look younger
Are you interested in obtaining a better smile? We enhance smiles with our innovative cosmetic techniques. Talk to Dr. Fondriest today! We offer patients the latest in innovative restorative and cosmetic dental procedures. If you are looking for invisible restorations, schedule a consultation by calling us at 847-234-0517. Our office welcomes patients from the North Shore suburbs near Chicago.