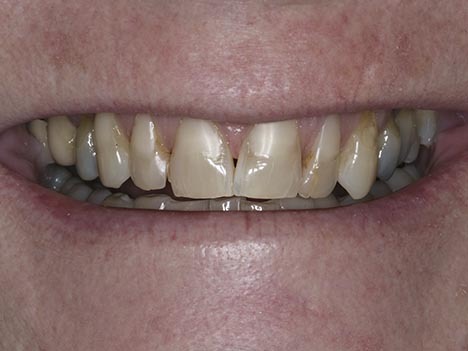 Before
Creating a younger fresher more symmetrical smile

This patient wanted a younger, fresher, more uniform smile without the blemishes and black lines at the gumline. Many of our new patients have recently had significant dentistry done. Sometimes these new patients express disappointment in the outcome this work. Even though their dental work had been competently done, it isn't what was expected. We regularly find that patients will want the work done again but following more closely their vision of beautiful.
After
Patient directed tooth shapes, translucency, and brightness

Prosthodontics is the specialty within dentistry focusing on doing crowns, veneers, and implants. This Chicago patient had the complete prosthodontic re-creation of her smile as per her wishes. The front crowns are E Max and the posterior teeth are porcelain on gold crowns.
Do you want a better smile? A beautiful smile always helps improve appearance and confidence. The truth is, prosthodontics can solve many of the smile issues you want fixed. Dr. Fondriest can explain what you need to achieve a beautiful and healthy smile.
Fix Dental Problems Before Cosmetic Issues
The Academy of General Dentistry reports that more people are concerned with getting a pretty smile than a healthy one. Before requesting a cosmetic treatment, you need to take care of your restorative needs. If you have holes in your teeth from decay, don't ask Dr. Fondriest to just cover it up with veneers. Cavities need to be filled in or crowned to prevent spreading to other teeth. If you have periodontal disease, you need to have a gum treatment as soon as possible. If you have headaches, misaligned teeth or cavities may the problem. Fixing your bite can help relieve your pain, but just covering the problem will leave the teeth—and the pain—in their current position.
Learning how to make my smile better
We understand that you may want the fastest, easiest solution to make your smile look better, but you need to know what procedures will work best. Dr. Fondriest can discuss your specific needs and solutions. For example, veneers can solve lots of dental issues, but other treatments work too. If you want whiter teeth, try bleach. If your teeth are too crowded, try straightening them.
You also need to understand that some cosmetic treatments work differently on different people. Everyone has a different facial structure that helps form the way their smile looks. If you tell Dr. Fondriest you want a smile like your favorite celebrity, he'll consider if that smile will fit your face.
You should also know how cosmetic procedures can change your life. A study showed that tooth implants increase libido. This is probably because people feel more confident without missing teeth. Cosmetic enhancements can improve your appearance and confidence, but you need to understand each procedure before you invest in it.
Don't choose cosmetics to just cover your problems—you have to actually fix them. Once your teeth are healthy, Dr. Fondriest can enhance your smile. Schedule a visit with our dental office to discuss how cosmetic treatments can change your grin. Contact us at (847) 234-0517 to set up an appointment. We welcome patients from the North Shore area of Chicago and surrounding communities.
Learn how to get a better smile
For more information about prosthodontics, and learn about a specific treatment, schedule a consultation with Dr. Fondriest by calling 847-234-0517. We look forward to providing you with specialized care and create a smile makeover that will last for years to come.
Dr Fondriest is a Nationally recognized and highly sought after cosmetic dentist. He serves clients from throughout the United States