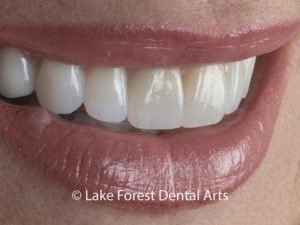 The Veneer Before and After Experience
Our website is full of porcelain veneers before and after photos. We would love to add your photo to our treatment example gallery. Many patients are stunned to see their transformation. Your cosmetic dentist takes all of the photos for our website. Nothing is altered or borrowed from another dentist. You are seeing our very own Lake Forest Dental Arts patients. The before photos feature yellow, worn, chipped, and misshapen teeth. Beyond being unsightly, these cosmetic issues can cause problems when chewing. Damaged teeth may also be more sensitive.
The procedure
What you don't see in between the before and after moments are the careful steps our doctor takes to revamp your smile. After the first meeting, we will take careful measurements of your teeth. This information will be sent to a trusted dental lab that will make your veneers.
Once your restorations arrive back at our office, your next visit will be scheduled. If you do not require prepping, your tooth will be cleaned, and etched, and your custom porcelain shells will be placed.
Your veneers or laminates will be held in place with a strong bonding cement that can last many years. The whole process only takes a few visits.
From the moment you leave our office, you will know what it feels like to be a celebrity. Every time you flash your smile, heads will turn. Photos will become fun again, and you may find yourself smiling more often.
Magazines are full of plastic surgery and/or veneer before and after photos of celebrities. If you have always wanted a great smile, read on to learn about this unique cosmetic option. 
How do laminates work?
By reading this blog, you are one step closer to enjoying the "after" of your veneer before and after experience. Before, your life was full of insecurities about the appearance of your smile. Life before cosmetic treatment means photos with half smiles and unease during group photos. Life after treatment is often full of renewed confidence and new personal and professional opportunities. Making this all possible is a unique treatment called veneers. 
There is no single material that laminates are made from. Simply put, the restorative option is a very thin shell of some material that covers the front of your teeth. They can be made from porcelain. The strong material can last well over 10 years. Your veneer can also be made using bonding. Tooth bonding is the same white resin that is used to fill cavities. Bonding can be artfully molded to address a wide range of problems. This option is one of the more affordable options. 
Whether you opt for composite or porcelain, you will enjoy a drastic before and after experience. Both options can be made to match or even whiten your current smile. 
Am I a candidate for veneers?
Before you can enjoy your veneers before and after experience, we need to make sure they are right for you. This simple process involves sharing your personal goals. Dr. Fondriest is known for his ability to patiently listen to his patients' goals and dreams. 
There are practical considerations. A laminate can only be placed on a healthy natural tooth. If your teeth have become decayed, you may be a better candidate for a dental crown. A crown completely covers a tooth in a ceramic cap. 
Candidates for veneers before and after experience want to address teeth that are:
Crooked teeth

Short

Misshapen

Misaligned
Discolored
Porcelain laminates can correct a smile that is a little crooked. If your dentition is misaligned, you may benefit from dental crowns or braces. If you have a gap in your grin, you may be a better fit for braces.
Our office is proud to offer minimal and no-prep braces. These are great options for anyone who does not like needles. Without the need to drill, our doctor does not need to use anesthesia. 
Not every patient is a candidate for no-prep laminates. At all times, our dentist will work to give you a conservative treatment that preserves as much of your natural enamel as possible. If you require multiple esthetic benefits, you may be a candidate for a smile makeover. 
What about the "after" of the veneers before and after experience?
Maintaining your restorations is fairly easy. You should treat your new porcelain shells like you would natural teeth. Never use them to tear open packages or to pry open objects. Take basic steps like wearing a mouthguard when playing active sports. 
Porcelain is stain resistant, but everything else can still stain. This means that you should cut back on staining foods and drinks like coffee and red wine.
While they are very strong, the dentin underneath can still suffer from decay. Patients should brush twice a day and visit our office for cleanings and checkups twice a year.
Schedule Your Consultation Today
You are going to love your smile transformation. As you can see from our veneer before and after pictures on this site, dentistry offers tremendous results. We have hundreds of satisfied patients who are enjoying their smiles to this very day. 
The fact is, there is a significant difference between telling someone something and showing them. Review our "before and after" pictures and then decide. Then call our office at (847) 234-0517 to begin your dental work.