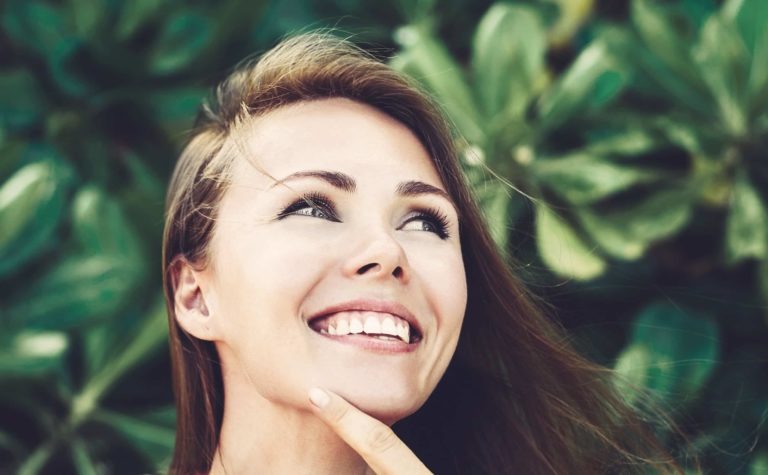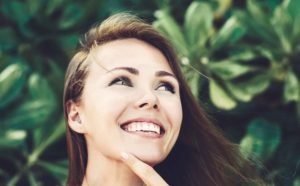 There are many different issues that custom designed porcelain veneers can address, but not many patients realize that they can straighten crooked teeth. The beauty of porcelain veneers is that they can completely reinvent the appearance of your teeth by replacing the blemished tooth structure on their front surfaces. This means the highly lifelike shells of porcelain can correct several different types of concerns in nearly an instant. 
In minor cases of tooth misalignment, veneers can straighten your smile without having to realign your teeth with braces. This is one reason that cosmetic veneers are sometimes called "instant orthodontics." Fixing things like chips, cracks, and discoloration, veneers can also help improve teeth that seem out of alignment. This is as long as they don't require orthodontic realignment. Misalignment may be due to issues such as overlapping or uneven edges. In such cases, your dentist may be able to recommend an appropriate number of veneers to fine-tune the contour of your smile. The goal is to straighten crooked teeth and improve its appearance while minimizing the amount of dental work you need. Not every issue with crooked teeth can be resolved with veneers. Severe decay may require the placement of a dental crown to protect the structural integrity of a tooth. A missing tooth may require a dental implant or dental bridge. 
Crooked Teeth: A Problem for Your Oral Health and Self-Esteem
Misaligned teeth can leave individuals embarrassed to smile or show their teeth in public. Beyond leaving individuals insecure about their appearance, crooked teeth can cause significant dental problems. Crowded or crooked teeth are more difficult to clean, which can lead to higher incidents of decay and cavities.
Cooked teeth have even been linked to jaw pain and TMJ disorder. If you have lived with misaligned teeth for years, you may be surprised to learn about the health benefits of straightening your smile using porcelain veneers or orthodontic treatments. There are health benefits to straightening misaligned teeth. Orthodontic treatment with traditional metal braces, Invisalign (invisible braces), lingual braces, or doing veneers allows for better cleaning.
How Porcelain Veneers Work
A porcelain veneer is a thin shell of dental porcelain that your dentist customizes to closely mimic the size, shape, color, texture, and luminescence of your healthy tooth. Once created, the veneer can be permanently bonded to the tooth's front surface, which your dentist will prepare by sculpting away a small amount of tooth enamel. Typically, the main benefit of porcelain veneers is their ability to effectively improve smiles that exhibit multiple types of tooth blemishes on several different teeth. Veneers commonly address:
The length or width of a tooth

Can straighten crooked teeth

Broken teeth, chips or cracks

Discolored teeth

Gaps between teeth
When Veneers Can Correct Tooth Alignment
Before explaining how veneers can straighten teeth, it is important to understand the varying types of teeth misalignment (malocclusions). Not every type of alignment problem can be addressed with veneers. During your consultation, Dr. James Fondriest will examine your teeth while asking about your cosmetic goals before explaining which crooked teeth can be corrected using veneers. 
Overcrowding
:
Overcrowding can occur due to lack of space. This results in teeth that overlap and appear cramped. Overcrowding is one of the most common forms of tooth malocclusion.
Overbite
:
Patients whose top front teeth completely obscure their front row of bottom teeth are said to have an overbite.
Spacing
:
Patients who have significant visible space between teeth are said to have spacing issues. Another common term for this condition is gapped teeth.
Crossbite
:
This condition occurs when all of your bottom teeth do not rest inside your top teeth when your mouth is closed. 
Twisted teeth
:
A tooth that is twisted requires a certain amount of rotation to bring its surface in alignment with neighboring teeth. Overcrowding is a common cause of tooth twisting.
Which is better for straightening crooked teeth, veneers vs. orthodontic treatment?
The main advantage of veneers over orthodontics for addressing crooked teeth is that veneers are a relatively quick fix that addresses significant cosmetic issues. While orthodontic treatments can easily require several months or even years to complete, veneers can offer a smile correction in seven to 10 days. Many of our patients prefer veneers over orthodontic treatments because the porcelain shells allow them to forgo years of diet restrictions and periodic tightening of metal braces. Plus, veneers do not require the use of unattractive attachments, bands, and wires. 
If you only require placement of a few veneers, you can save money by forgoing timely orthodontic treatments. One benefit of braces is that the results do not have to be replaced or updated. Porcelain veneers can last 15-20 years or longer when properly taken care of while the cosmetic results from braces will last a lifetime. During your consultation at our Lake Forest office, Dr. Fondriest will explain the potential benefits of either treatment. 
Find Out if Veneers Can Straighten Crooked Teeth
In minor cases of tooth misalignment, an appropriate number of strategically placed veneers may be able to straighten your smile and help you avoid the need for braces. To learn more, schedule a consultation by calling Lake Forest Dental Arts in Lake Forest, IL, at 847-234-0517. We also proudly serve residents of Chicago and all surrounding communities in the Chicago Metro area.
Dr Fondriest is a Nationally recognized and highly sought after cosmetic dentist. He serves clients from throughout the United States