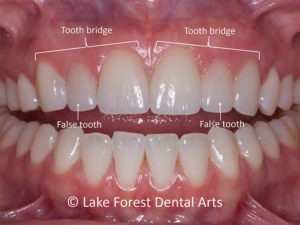 Problem: "I've lost some teeth and need to have them replaced. I am missing two upper lateral incisors. Will a tooth bridge be the best choice for me, or is another option better?"
Solution: "A tooth bridge, also called a dental bridge, fixed bridge, or bridgework, replaces lost teeth following tooth decay or gum disease. However, partials and implants also replace teeth. You need to learn all the options so you can make an informed decision."
To answer your question, this article will:
explain options for replacing teeth
tell you how long different bridges should last
lead you toward finding the right dentist for your needs
What is a tooth bridge?
A dental bridge is a fixed dental prosthetic, which simply means that it replaces lost teeth and cannot be removed. They replace one to three adjacent teeth, but those lost teeth must be in a row. In other words, it fills in the gap created from one or more missing teeth. It features two crowns, one on either end of the appliance. These are called abutment teeth. One to three solid replacement teeth, called pontics, are connected between the crowns. The pontics appear like a natural tooth.
The crowns on either end are secured to healthy, natural teeth in the patient's mouth. The crowns permanently hold the replacement teeth, so the patient can bite and chew food, and speak clearly. Tooth bridges are often made with porcelain fused over a metal base, a material called PFM. The porcelain looks like tooth enamel, so an all white smile is maintained. The metal beneath the porcelain gives the prosthetic strength, durability, and longevity.
What are my options for replacing lost teeth?
A tooth bridge replaces missing teeth in a row. If you've lost a tooth or teeth in different areas in your mouth, you may need a different prosthetic. Some patients need bridgework and a different prosthetic such as a partial denture to replace all missing teeth. A partial denture replaces two or more teeth in various areas of the mouth. Partials feature replacement teeth (pontics) secured to a base. Hidden clasps clip onto healthy teeth to hold the partial in place.
A full denture replaces all the teeth on the top or bottom arch. Full dentures are best for patients who have only a few remaining teeth or very poor oral health. All teeth must be removed before a denture can be worn. Top dentures normally stay in place with natural suction, while lower dentures require adhesive.
A dental implant can replace a single tooth or support bridgework, partial dentures, or a full denture. Implants are small posts that the dentist places into the sockets where teeth have been lost. Crowns, fixed bridgework, partial denture, or full denture can be attached to implants.
How long does a tooth bridge last?
If you have good oral health and don't injure your dental work, it can last 5 to 15 years. Dental work can't last forever, but with quality materials and a talented ceramist, it will last many years. Good oral hygiene will extend the life of your dentistry. Maintaining the teeth on either side of the gap will ensure that your bridgework lasts well over a decade.
Bridgework made of all metal usually last longer than those with porcelain. But for a natural appearance, all-porcelain or porcelain fused to metal is preferred.
Are there options for different types of tooth bridges?

Yes! Here are the different types of tooth bridges:
Traditional: It features two crowns with one to three pontics between them. The pontics are the false teeth that bridge the gap between the existing natural teeth.
Cantilever: To replace teeth in the front of the mouth or when only one healthy tooth is available, a cantilever bridge may work. This type of prosthetic has a dental crown on just one end, instead of both ends.
Maryland Bridge: More conservative than the traditional bridge, it does not have crowns. Instead, wings at either end of the pontic row attach to the back of healthy teeth. The wings are bonded well and hold the false tooth in place.
Implant-secured: Patients who do not want crowns or wings on healthy teeth can opt for two dental implants to hold their restoration in place. Dental implants actually replace the roots of lost teeth, so they provide a solid, long-lasting tooth replacement option.
Most patients opt for a traditional or implant-supported bridge. For a traditional version, two of your teeth will need to be prepared. After removing natural tooth structure, you will be fitted with a temporary bridge while your new restoration is fabricated. Once your new restoration arrives back at our office, Dr. Fondriest will ensure that it is a great fit before placing it using a strong cement.
An implant-retained bridge requires oral surgery to place one or more titanium posts in your jaw.
How can I find a dentist to replace my lost teeth, taking into consideration what I want?
If you're near the Chicago area, talk with Dr. James Fondriest, a respected and experienced cosmetic restorative dentist in Lake Forest, IL. He takes time to thoroughly examine his patients, then listens to their concerns, goals, and questions.
Many cosmetic dentists offer a complimentary consultation, so you can chat about your situation for 15 to 20 minutes before deciding whether the dentist is right for you. At the first actual visit, you will have a thorough exam.
The dentist should sit down with you, show you his or her findings, and talk about treatment options. A great dentist will answer all of your questions, show you images and before-and-after photos of other cases, and make sure you feel confident with your treatment plan.
Ultimately, what you want for your smile is the most important aspect of your treatment plan.