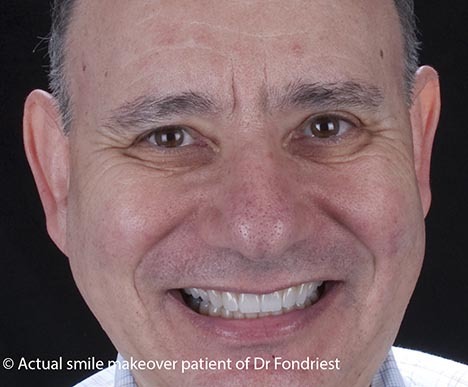 Crowns are a useful tool in restorative dentistry for a variety of reasons:
Covering a decayed tooth when a filling alone can't strengthen it
Covering a misshapen or discolored tooth
Holding together a cracked tooth
Covering a dental implant
Securing a bridge
Three basic options for crowns exist:
Metal
Porcelain
Porcelain-fused-to-metal (PFM)
Dr. James Fondriest uses porcelain crowns and porcelain-fused-to-metal crowns in his North Shore dental office, because they look more aesthetically pleasing and natural. The PFM crowns are made of a metal substructure with ceramic layered over it. Whether Dr. Fondriest chooses porcelain or PFM crowns depends on the situation.
PFM crowns are the best option for:
Because PFM crowns have a metal base, they are stronger than porcelain alone. The metal is also more pliable than porcelain and allows for a tighter fit over the tooth than all ceramic crowns.
All dental restorations must be replaced eventually, but (depending on their quality and the care you give them) your crowns can last between seven and 40 years. Longevity, and aesthetics, of PFMs depend on the dentist and lab tech. Dr. Fondriest uses a true ceramic artist for his PFM crowns. The caliber of a PFM depends on the materials used to make it. The PFMs that Dr. Fondriest and his chosen lab produce are made of 14+ carat gold and high-quality porcelain.
PFM crowns made with gold are a better option than crowns made with base metal alloys for several reasons
The porcelain is more transparent and natural looking
The warm color of the gold is easier to mask with ceramic
Gold casts much better than the alternative metals, and it fits more closely to the tooth
Gold is more biocompatible (integrates with natural tissue)
Less tooth reduction is needed to make the tooth attractive
Though you see an increase in cost along with the increase in quality, Dr. Fondriest does not roll lab fees into the final cost of the procedure. You know exactly what you are paying for, and you can trust that the results are well worth the investment!
For more information on porcelain-fused-to-metal crowns, call Lake Forest Dental Arts at 847.234.0517. Dr. James Fondriest is a cosmetic, restorative, and general dentist in Lake Forest IL. Dr. Fondriest serves patients from the greater Chicago area.