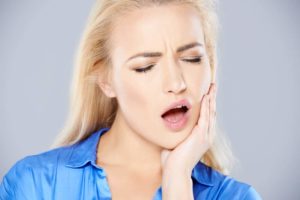 Dealing with the symptoms and frustrating side effects of a disorder is truly a challenge. When it comes to TMJ disorder, for instance, most patients find that the jaw popping, occasionally jaw locking, and the different types of associated discomfort present a serious daily struggle. However, what is not so cut and dry in most cases – and what become ever-present on most patients' minds – is why this is happening. So, how much do you know about what's happening with your TMJs? We invite you to test your knowledge about the disorder's causes (and maybe learn a new fact or two). Keep in mind that whatever the cause of your jaw strain, we offer TMJ treatment to ease your TMJs back to improved function and comfort.
TMJ Treatment Quiz
True or False: There is only one specific cause of TMJ disorder that doctors have identified.
True or False: Your jaw joints are often sore and malfunctioning as the result of a serious injury or long-term stress and strain.
True or False: There's no validity to the idea that a poorly balanced bite may result in jaw strain – it's just something people say because it makes sense logically.
TMJ Quiz Answer Key
False. There are a variety of reasons you may suffer from TMJ disorder, most of which we can treat with TMJ treatment. Doctors cannot pinpoint a specific cause or isolated factor that leads to problems with jaw function. Instead, there is a varied, diverse list of contributing issues that may result in jaw joint discomfort.
True. A severe impact that damaged your jaw joint or its surrounding structures may result in TMJ disorder. Or, you may stress your jaw joints for an extended period of time with teeth grinding (bruxism) or daily stress.
False. A very simple cause of TMJ problems, which we can address with TMJ treatment, is an unbalanced bite. When you are missing teeth or if your smile is poorly aligned, you may make small adjustments to the way you bite down or rest your mouth throughout the day – by compensating for poor balance, you may place stress on your TMJs.
ABOUT YOUR LAKE FOREST, IL DENTIST:
Aside from providing dependable general and restorative dentistry services to our community, Dr. James Fondriest also holds respected academic appointments at the Pankey Institute in Key Biscayne, FL, and the Spear Institute in Scottsdale, AZ, and he is an adjunct Associate Professor in the Department of Prosthodontics at the University of Florida Dental School. At Lake Forest Dental Arts, Dr. Fondriest combines his impressive array of experience with modern technology and caring, compassionate, knowledgeable staff, and we proudly serve patients from Chicago and all surrounding communities. To schedule a consultation, call our office today at (847) 234-0517.