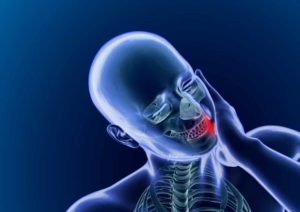 Jaw pain isn't as common as tooth discomfort, but it's common enough to be a serious, chronic problem for millions of patients. However, unlike toothaches, the specific cause of persistent jaw pain isn't always clear, and therefore, you might not immediately know how best to treat it. Fortunately, your dentist does. A thorough examination will reveal the exact cause of your condition, which is most often TMJ disorder, and then help you find a custom-designed treatment plan to find permanent relief.
The Common Cause of Jaw Pain
The most common epicenter of chronic jaw pain is one or both of your TMJs, or temporomandibular joints. These joints are where your lower jaw connects to the temporal area of your skull, and where they open, close, and move as needed. While they're typically highly resilient, TMJs can often become damaged or inflamed due to excessive pressure or injury. When this happens, you can find it increasingly more difficult to bite and chew comfortably, especially if your jaw joints keeping popping and clicking when you move them. You can also suffer from pain and soreness in your jaw, facial muscles, neck, shoulders, and more.
What Can I Do About It?
If your jaw hurts, then you may find temporary relief with remedies like an ice pack, an over-the-counter pain reliever, or a gentle massage to your TMJs. However, if you have TMJ disorder, then the only way to actually relieve it is to have your dentist diagnose and treat it professionally. A thorough examination will help your dentist pinpoint the exact nature of your disorder, and then design that most appropriate way to correct it.
Ask Your Dentist About Treating Jaw Pain
When your jaw hurts consistently, the best way to treat it may be to address your underlying TMJ disorder. To learn more, schedule a consultation by calling Lake Forest Dental Arts in Lake Forest, IL, at 847-234-0517. We also proudly serve residents of Lake Bluff, Chicago, Libertyville, Gurnee, Highland Park, Vernon hills, Winnetka, Wilmette, Kenilworth, Bannockburn, Ravinia, and all surrounding communities in the Chicago Metro area.