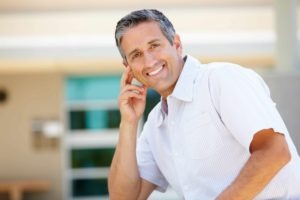 If you decide to address smile discolorations by picking up an over the counter whitening product from your local pharmacy or grocery store, you may be underwhelmed by your results. Store bought products can help you remove the stains that are on the surface of your enamel, leading to some improvement, but you can feel bothered by the staining particles that persist. In many cases, your dentist can recommend a professional teeth bleaching treatment to remove harder to reach stains, and make bigger overall changes. Does this mean a professional whitening treatment is going to be the solution for you? This approach can tend to extrinsic stains, or those stains that result from foods, drinks, or tobacco products. However, a different tactic can be called for when you are trying to deal with intrinsic discoloration.
Dealing With A Frustrating Accumulation Of Stains On Teeth
If you are seeking treatment for discoloration caused by teeth stains, your dentist can offer you a professional whitening treatment that you can take home. The kit provided to you can give you what you need to evenly apply the bleaching agents used to make smile improvements. If you are worried about dental sensitivity, your dentist can provide you with a whitening treatment that can accommodate your concerns.
Some Smiles Discolorations are Caused By Internal Tooth Issues
Intrinsic discoloration refers to problems within a tooth that can affect its color. This problem can result because of a tooth injury, or as a side effect of certain medications. If your goal is to address intrinsic discoloration, porcelain veneers can be effective at covering flaws. Your dentist is also able to hide blemishes by performing a dental bonding treatment. In addition to helping with your smile color, veneers and bonding treatments also provide effective coverage for issues with a tooth's shape or size.
How Your Dentist Can Enhance Your Smile's Natural Beauty
Even if you have a perfectly symmetrical and healthy smile, stains or discolorations can greatly detract from its attractiveness. Considering your smile is one of your greatest assets, it is important to keep it looking its best. Plus, a stain-free smile can make you feel – and look – considerably younger.
Many cosmetic dentists offer a variety of professional whitening options catered to fit your needs. If you don't have sensitive teeth and want quick results, for instance, they may recommend a maximum strength gel that should be worn nightly until ideal results have been achieved, such as Nite White.
Patients concerned with sensitivity, however, may be given a whitener that allows them to spread out the whitening treatment, by wearing it for only thirty minutes, twice a day, such as Day White Excel 3.
Both treatments can help drastically whiten smiles using a carbamide peroxide gel, which ranges from 7.5 to 22 percent strength. Your cosmetic dentist can help you determine which is the best treatment for you based on the degree of staining, your time constraints, schedule, and level of dental sensitivity.
Taking Care Of Smile Discolorations
If you want to do something about smile discoloration, bring the matter to Dr. Fondriest's attention. You can receive help with problems that affect the brightness of your teeth, so you can look forward to showing off terrific esthetic improvements. To schedule a consultation, call our office at 847-234-0517. In addition to helping residents of Lake Forest, we also proudly serve residents of Chicago and all surrounding communities in the Chicago Metro area.