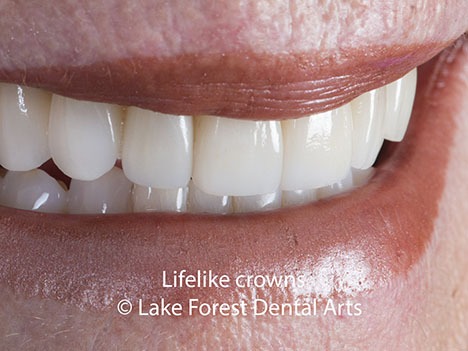 We all want strong, confident smiles, but after a lifetime of use, our teeth are sometimes left cracked, chipped, or broken. This does not preclude the possibility of getting a beautiful smile. Dr. Fondriest can repair damage and roll back the clock on your teeth with lifelike crowns.
Consider a More Seamless Restoration
While some dentists still offer all metal restorations, most patients and dentists, alike, prefer the more natural looking restorations, such as composite resin fillings or porcelain crowns. These are designed specifically to be nearly seamless, allowing patients to smile confidently without fear that people will only notice their dental work.
Plus, the materials used to create these restorations conduct less heat than metal, making them more comfortable than metal, for most patients.
What Are Porcelain Crowns?
Like metal dental crowns, a porcelain crown is a specially designed cap that fits over a damaged tooth. It keeps the remaining tooth structure intact, adds support, and prevents further damage. Patients often prefer them because they resemble their natural teeth. These lifelike crowns are an excellent restorative dental procedure for patients who have:
Cracked or chipped teeth or advanced tooth decay
Misaligned or crooked front teeth
Permanent teeth stains
Replacing old or chipped restorations on teeth or single tooth dental implants
Lengthens worn down teeth
Replacing old fillings, inlays and onlays, dental bridges
Are ceramic crowns as good as metal versions?
Custom fitted crowns are considered more biocompatible than metal crowns. When gums recede, crowns with metal  sometimes leave an embarrassing black line visible at the gum line.
Ceramic restorations are strong, resistant to stains, and long lasting. Aesthetically speaking, Emax ceramic crowns appear to be real teeth.
How does the process of getting a lifelike crown go?
The first step is a consultation with Dr. Fondriest. This appointment is for Dr. Fondriest to help you decide what restorations will be the correct choice for your needs. The process usually requires two visits.
During the initial visit, Dr. Fondriest will prepare the tooth to make room for the porcelain covering. Next, he will take detailed impressions of the damaged tooth and and all surrounding teeth. This impression will be sent a special off site lab, where an expert ceramist will create your restoration to Dr. Fondriest's specifications. In the meantime, a temporary crown will be crafted for you to wear until your custom made lifelike crown is ready.
At the next visit, Dr. Fondriest will check the fit and color of the new crown to make sure it blends with your natural teeth. Then, using a special bonding agent, Dr. Fondriest will secure the restoration. When the procedure is done, your smile will be transformed.
Schedule a consult to learn more about Lifelike Crowns
We invite your to schedule a second opinion with Dr. Fondriest, today! Call our office at (847) 234-0517 to schedule an appointment and discuss whether lifelike dental crowns are right for you. We provide high quality dental care to patients from Lake Forest and the surrounding communities of Chicago.