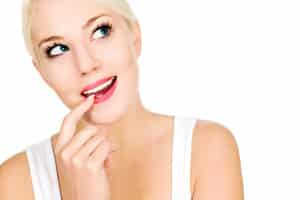 If you have done any research at all, you likely already know that there are a number of cosmetic dental treatments that can help hide dental imperfections and highlight the natural beauty of your smile. Still, it can be difficult to determine which treatment is right for you, particularly if you have never spoken to a cosmetic dentist before. At first glance, cosmetic bonding and veneers may seem incredibly similar, as both can effectively hide imperfections like disproportionally sized or shaped teeth. But on closer inspection, they each have unique benefits and a few drawbacks. So determining which is right for you is simply a matter of weighing those distinct pros and cons.
Struggling to Hide Your Dental Imperfections?
While staining can often be addressed with professional teeth whitening, in the case of permanent or intrinsic discoloration, veneers can be a great option. Teeth veneers can also be used to help correct inconsistencies in the teeth, such as their shape or size. They can even be used to help hide minor gaps between some of the teeth, though they're not a substitute for orthodontic treatment in the case of functional alignment issues.
Is Cosmetic Bonding the Ideal Solution to hide dental imperfections?
Both bonding and veneers offer can be effective solutions to a number of esthetic issues, such as teeth that appear too small, misshapen, permanently stained or even spaced with gaps between them. But bonding offers two important benefits when compared to veneers. It is more affordable and faster. In fact, most patients can have bonding completed in under an hour!
That's because it relies on the dentist's own abilities to craft a composite resin onto the teeth, in a way that hides any noticeable imperfections. This material bonds well with teeth, and looks natural, creating a fast and affordable solution for crafting smile improvements.
When Do Veneers Shine?
However, where porcelain veneers really shine, is in their durability and, subsequently, their longevity. Because veneers are crafted of durable dental porcelain, they often last far longer than the results of bonding, which can chip, crack, or stain over time. Often old composite veneers are replaced with veneers.
In fact, porcelain is 90 percent as strong and stain resistant as your teeth's natural enamel, which helps veneers age naturally, and makes them easy to care for, as well. See a recent veneer before and after case.
Can Veneers Help You?
There are a number of benefits of porcelain veneers. For instance, modern veneers are incredibly thin and require very little preparation of your natural teeth. This results in a natural-looking smile, while preserving your teeth's health and strength.
In fact, we offer no-prep veneers, which are even thinner than their counterparts, and therefore require no reduction of your teeth's enamel to create authentic-looking contours. This is a great option for patients who have healthy teeth, but who wish to make cosmetic improvements.
Perhaps best of all, dental porcelain is durable and stain-resistant, making it a long lasting treatment option. It's able to cover stains, while still maintaining teeth's natural sheen.
The veneers can usually be applied without any anesthesia, making the entire treatment minimally invasive.
Whether your issues are with the shape or size of your teeth themselves, or spacing issues between the teeth, veneers can correct them, leaving you with a beautiful smile you'll be proud to show off.
For patients willing to invest more money and time, upfront, veneers are a wonderful cosmetic treatment that's truly a great long-term investment in one's smile.
Dr. Fondriest is a Nationally recognized and highly sought after cosmetic dentist. He serves clients from throughout the United States