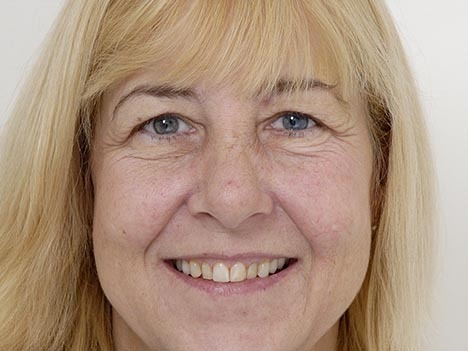 Before
Uneven length and teeth with different colors

The patient had teeth of different length, brightness, and shapes.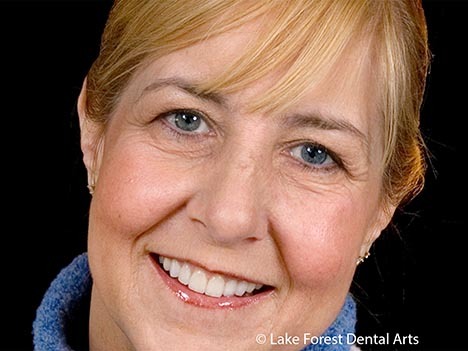 After
Creating the perfect smile

The patient had a combination of veneers and crowns that were created to blend in with her natural teeth. Cosmetic correction of uneven display of teeth can be accomplished with porcelain veneers or crowns.
Correcting Length, Shape, Brightness, and Alignment of Teeth with Veneers
For patients with imbalanced, discolored and misaligned teeth, cosmetic bonding or dental veneers may prove to be  worthwhile options. If you've been thinking about how you could enhance the look of your smile, while maintaining your overall oral health, Dr. James  Fondriest  of Chicago, IL is ready to talk to you, about creating a stellar smile by correct tooth shapes with veneers.
What are Dental Veneers?
Dental veneers are tooth-shaped jackets or shells, that are made of porcelain. Veneers are shaped and styled to appear like natural teeth, and are then bonded to the front surfaces of existing teeth. As they are individually made to match the style of your existing teeth, veneers offer the patient a natural appearance. They also help to cover cosmetic imperfections, while enhancing the brightness of your smile.
Benefits of Dental Veneers
Dental veneers offer an array of long-lasting and aesthetically pleasing benefits. Some of those benefits include:
They offer a natural tooth appearance
Stain-resistant
Quick Procedure
Durable
Gum tissue tolerates the veneer better
Candidates for Veneers
Many individuals may wonder if they're a candidate for veneers. Candidates for veneers are individuals with:
Chipped or cracked teeth
Teeth that are misaligned or crowded
Discolored teeth
Enough tooth enamel
Have good overall oral health
How Veneers Can Correct Imperfections
Veneers can correct a variety of imperfections of the teeth. Some of those imperfections include:
Lengthening: While teeth may appear short and flat due to grinding, veneers can lengthen the teeth, offering a more streamlined appearance.
Reshaping: After the teeth have been examined, veneers are created and shaped to match other teeth.
Brightening: Veneers can brighten a smile, due to their natural tooth-color appearance. Your dentist will examine your teeth and choose a veneer that is brighter, yet natural looking in color.
Alignment: For teeth that are gapped, crooked or uneven, veneers can provide alignment, as their thin structures help to mask imperfections.
Learn more about how to correct tooth shapes with veneers
If you are interested in learning more about dental veneers to help correct issues with your teeth, contact our Chicago, IL practice at 847-234-0517 to schedule a consultation with Dr. Fondriest. We look forward to providing you with personable and quality service.