Before
Uneven length and teeth with different colors

The patient had teeth of different length, brightness, and shapes.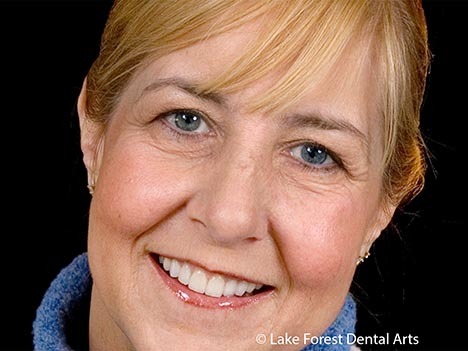 After
Creating the perfect smile

The patient had a combination of veneers and crowns that were created to blend in with her natural teeth. Cosmetic correction of uneven display of teeth can be accomplished with porcelain veneers or crowns.
Correcting Length, Shape, Brightness, and Alignment of Teeth with Veneers
For patients with imbalanced, discolored and misaligned teeth, cosmetic bonding or dental veneers may prove to be  worthwhile options. Have you been thinking about how you could enhance the look of your smile with cosmetic dental procedures? Ask your cosmetic dentist if he/she can correct your tooth shapes with veneers.
What are Dental Veneers?
Dental veneers are tooth shaped jackets or shells, that are made of porcelain. Veneers are shaped and styled to appear like natural teeth, and are then bonded to cover the front surface of teeth. As they are individually made to match the style of your existing teeth, veneers offer the patient a natural appearance. They also help to cover cosmetic imperfections, while enhancing the brightness of your smile.
Benefits of Dental Veneers
Dental veneers offer an array of long lasting and aesthetically pleasing benefits. Some side benefits when you correct tooth shape with veneers include:
They offer a natural tooth appearance
Stain resistant
Quick Procedure
Durable
Gum tissue tolerates the veneer better than composite resin
Candidates for Porcelain Veneers
Many individuals may wonder if they're a candidate for veneers. Candidates for veneers are individuals with:
Chipped or cracked teeth
Teeth that are misaligned or crowded
People who want to upgrade from composite veneers
Discolored teeth
Enough tooth enamel
Have good overall oral health
The smile design process
As we age, gravity pulls the facial mask down. As our face droops, the lips cover more of the teeth. Your smile doesn't look as good. If we lengthen your teeth with a dental face lift, it brings back the impact of your smile. It effectively makes you look younger.
When we design the shapes of your new teeth, we consider many styles of smiles. A properly done smile design will match the veneers for your face shape.
How Veneers Can Correct Imperfections
Veneers can correct a variety of imperfections of the teeth. Some of those imperfections include:
Lengthening: While teeth may appear short and flat due to grinding, veneers can lengthen the teeth, offering a more streamlined appearance.
Reshaping: After the teeth have been examined, veneers are created and shaped to match other teeth.
Brightening: Veneers can brighten a smile, due to their natural tooth color appearance. Your dentist will examine your teeth and choose a veneer that is brighter, yet natural looking in color. Teeth whitening can help to give you that bright white smile.
Alignment: For teeth that are gapped, crooked or uneven, veneers can provide alignment, as their thin structures help to mask imperfections.
Repairing Broken or Chipped Teeth
Teeth can become damaged from biting on foods like hard candy or ice or from unconsciously grinding your teeth. Teeth also can become more brittle with age and more likely to crack or chip. Fortunately, there are many simple procedures that can repair damaged teeth. Dental bonding uses a resin that looks just like your enamel and fills in the damaged areas. More superficial damage can be covered up by a veneer to create a smooth and perfectly shaped tooth. It will be hard to see the difference between a repaired tooth and the rest of your smile.
An Imperfect Tooth
Sometimes a tooth can be too long or short and give your smile an uneven look. In some instances, we can correct this common cosmetic issue with bonding or veneers. In other cases, a crown might be the solution to even up a single tooth and create a flawless smile. Chicago, we invite you to learn more about the many facets of cosmetic dentistry.
Learn more about how to correct tooth shapes with veneers
If you are interested in learning more about cosmetic dentistry to help correct issues with your teeth, contact our Chicago, IL practice at 847-234-0517 to schedule a consultation with Dr. Fondriest. We look forward to providing you with personable and quality service.