Before
"Composite Bonding" can stain, chip, and wear

The composite resin bonding on this patient's front teeth had been done 6 years earlier and had chipped and stained. The patient did not like the shapes of her front teeth and wanted her lateral incisors lengthened. Although bonded composite can be a phenomenal conservative low cost service, it is frequently considered a more temporary solution when the goal is to permanently change the shape, length, brightness, arrangement of front teeth. Porcelain veneers are stronger long term solutions that will not attract stains like composites. Most composite bonding can be expected to have an attractive service life of only 5-10 years.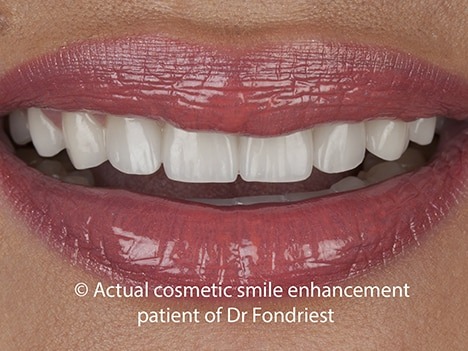 After
Replacing old composite bonding with porcelain

This patient wanted a "white and bright" smile with square teeth. She also wanted her front edges to be straight or more uniform. We made them appear just like a magazine photograph that she brought in. Now, when she comes in for hygiene visits, her teeth are not covered with coffee and wine stains. She isn't constantly worried that something is going to chip off either. By the way, after we did her veneers, she lost 20 lbs. No, veneers don't cause weight loss :) She just felt so much better about herself. SHE IS HAPPY! So are we.
How long does composite bonding last?
When artfully done, composite bonding on your front teeth looks beautiful. It is a less expensive way of creating a nice smile. Composite bonding will not last forever. Composite is held together with plastic and will wear and chip over time. Typically, they look great for 4-5 years before needing to be touched up. The shine tends to wear off at first and then stains form at the edges. The plastic is about 1/3rd the strength of a natural tooth so they can chip. Normally patients are replacing old composite bonding at 10 years.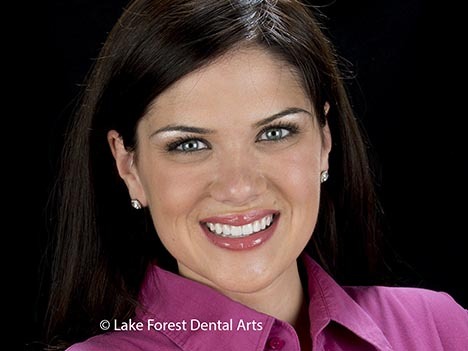 The lifespan of bonding materials also depends on your oral habits. You can extend the life of your bonding by taking proper care of your teeth. Avoid chewing on pens, hard candy, ice and similar crunchy things that can crack the composite material. Refrain from biting fingernails or using your bonded teeth as an opener.
Other things will shorten the length of service of bonding. If you grind your teeth or your bite is off, the plastic fillings can easily be overloaded. Longevity is influenced by the location of the restoration on the tooth. Placing composite on the edges of front teeth is considered higher risk. Front teeth do the cutting, ripping and tearing of food. These forces can break bonds. Because dental bonding is weak, some dentists use it only for small cosmetic changes and for correction of teeth in areas of very low bite pressure.
Why replacing old composite bonding yields stellar results
Cosmetic bonding, often referred to as dental bonding, is an economical, minimally invasive option for smile enhancement. For many patients, this treatment is all they require to achieve their aesthetic goals. Others may wish to upgrade their appearance with porcelain veneers, which are custom-made, ultra-thin restorations that adhere to the front surfaces of the teeth. At Lake Forest Dental Arts in Chicago, IL, Dr. James Fondriest can replace old composite bonding with veneers to help you achieve the smile you desire.
What is the Process Like?
Dr. Fondriest will use special dental instruments to remove your old composite bonding. Next, the teeth are cleaned up for your new restorations. It may be necessary to remove small amounts of enamel. This will increase the bonding surface and help your restorations adhere properly. In some cases, however, little to no natural tooth structure needs to be removed. Once the teeth are prepared, impressions are taken and sent to a ceramist at a dental lab. There, your custom porcelain veneers will be crafted.
Once your restorations are complete, you will see Dr. Fondriest for a second appointment. During this visit, dental etch and a mild conditioning liquid will be applied to the teeth. Finally, the veneers are bonded into place, and any necessary adjustments are made.
Upgrading composite bonding to porcelain veneers
Composite restorations can be very beautiful if done well.  Even the very best don't last forever.  Usually the luster is lost on a composite filling after an average of 5 years and the total life span averages only 7 years. Use of composites is problematic for contact sport athletes or if you grind your teeth.  Dr. Fondriest discourages use of composite bonded veneers for these patients because plastic is only 30% the strength of natural teeth.  If your natural teeth can wear or chip, then plastic will not be a god replacement material.  The porcelains commonly used for veneers approach the durability of natural teeth and tend to much more likely to hold up than composite.
To learn more about replacing your old composite bonding
Interested in replacing your old composite bonding? Schedule a consultation with Dr. Fondriest by calling 847-234-0517. We can design a personalized treatment plan to deliver the look you've always wanted.
Dr Fondriest is a Nationally recognized and highly sought after cosmetic dentist. He serves clients from throughout the United States