Before
Smile re-alignment can be an additive-reductive process

Often times patients request veneers when their teeth are significantly crowded, rotated, or poorly spaced. It is beneficial to limit the amount of tooth structure removal when doing cosmetic veneers. Far less tooth structure is lost if an orthodontist is employed to fix tooth alignment prior to doing the veneers. This patient just finished orthodontics. The orthodontic goal was to improve her occlusion and to align the tooth roots and to create a natural symmetry of the gum tissue. The front worn tooth edges were left uneven because that is much more easily fixed with veneers.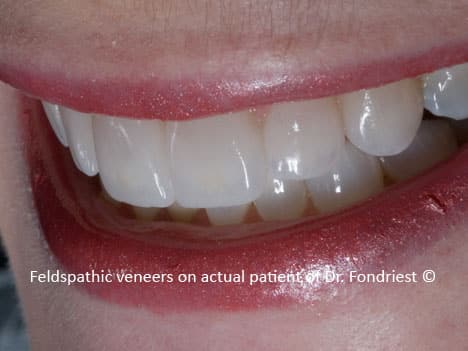 After
Pre-prosthetic alignment of teeth to lessen amount of tooth preparation

Treatment consisted of subtle teeth reshaping, lower tooth surface smoothing, bleaching, and 6 Feldspathic veneers were done on the upper front teeth. She wanted very smooth surface texture and natural coloration of her new veneers.
Why get braces before veneers?
Does less drilling sound like a good reason? Dr. James Fondriest frequently recommends getting short term braces before veneers. This might involve just 4 months of brackets or Invisalign to quickly unravel crowded teeth. If the goal is to align the teeth, moving them will be better in the long term than drilling large amounts of enamel away.
An artistic smile design offers a comprehensive makeover that can boost your confidence for years to come.  Having some simple short term use of braces can make a significant difference in the outcome of a Before and after example of a dental smile makeover.  An example of a 4 month localized orthodontic procedure would be placing braces on the lower front 6 teeth only.  The lower front teeth may not show as much in your smile but the lower teeth hit on the backsides of the upper teeth.  If the lower teeth are uneven, then we would have to make the backsides of your new upper veneers or crowns uneven also.  This leaves your new cosmetic investment slightly more vulnerable to instability or future movements.
Braces do more than straighten teeth
Most people associate a straightened smile with a cosmetic enhancement. While nicely aligned teeth improve your image, correct bite alignment is better for your smile in more ways than one. Evenly spaced teeth allow for better oral hygiene than crowded, crooked, or misaligned teeth. While doing veneers will give you a beautiful smile, they won't always improve your overall health that braces will.
Crooked teeth create dental issues that veneers won't fix
When your teeth are too close together, your smile not only looks crooked but also hides bacteria and plaque from your brushing and flossing. Food can become lodged between teeth that are too close together and attract infection and acid erosion. Additionally, with a misaligned bite, some teeth may be compensating for the function of other teeth, creating excessive tooth wear.
Misaligned Bite Leads to Teeth Grinding
Compounding the tooth wear problem, malocclusion, or a bad bite, often causes TMJ disorder and bruxism. These dental issues involve jaw hinge pain and teeth grinding. Since your teeth do not match up correctly, your jaw constantly struggles to hold the teeth in the correct position, causing jaw muscle strain. Bruxism occurs as a result of back teeth touching at awkward angles, stimulating the jaw muscle to clench and grind teeth together.
What is Orthodontics?
When trying to close the spaces between your teeth, oftentimes doing minor braces helps tremendously. Orthodontics is a specialized branch of dentistry that focuses on the correction, occlusion, and the alignment of teeth. Orthodontic treatments can also help with a patient's overbites, underbites, and jaw misalignment.
With proper examinations, treatment and care, orthodontics can have wonderfully lasting effects on patients. We often suggest taht our patients get braces before veneers.  Sometimes the outcome is so nice from braces, they don't do the veneers.
Kinds of Orthodontic Treatments
Orthodontic treatments have come a long way and offer patients an array of options to correct dental issues. Some of the most common orthodontic treatments include:
Metal braces
Ceramic braces
Lingual braces
Invisalign®
Self-ligating braces
Benefits of Orthodontics
Having braces before veneers has many benefits. Some of those advantages include:
Aligning the teeth allows the dentist to drill less when doing your crowns
Close gaps between teeth
Straighten misaligned teeth
Improve speech
Properly align jaw for comfortable biting and chewing
Do I need braces to straighten slightly crooked teeth?
Straightening crooked teeth often requires either Invisalign or regular braces. Regular braces consist of brackets that are bonded to your natural teeth and arch wires that provide tension to move them. While highly effective, braces can sometimes cause adult patients to become more self-conscious about showing their smiles. The technology of Invisalign continues to improve and now is offered for the majority of cases. If your teeth are only cosmetically misaligned, then your dentist may be able to help you avoid conventional orthodontic braces by improving your smile's appearance with porcelain veneers.
Having braces before veneers is an ideal combination treatment
Quite frequently, orthodontic treatments may need to be worn, before receiving additional restorative treatments, such as veneers, whitening, or cosmetic bonding. Dr. James Fondriest sees many patients who have been referred by orthodontists. Once the teeth are aligned with orthodontics, there can still be spaces, or other issues with the teeth. In such an instance, orthodontics may be the first step in a corrective and restorative treatment program, ending with cosmetic dentistry such as veneers. Dr. Fondriest will thoroughly examine your teeth and offer you options for improving your oral health and your smile.
Learn more about having braces before veneers to improve outcomes
Getting braces before veneers isn't mandatory. The majority of cases we do don't require it. Minor tooth misalignment absolutely does not require or benefit from orthodontics. Your smile can still be beautiful!
If you have worn orthodontic treatments and now are seeking a dentist for additional corrective and restorative treatments, contact our Chicago, IL practice, and schedule a consultation with Dr. Fondriest by calling 847-234-0517. We look forward to providing you with quality, personalized care.