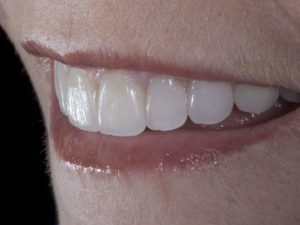 Upgrade Your Smile with Porcelain Veneers
Smile improvement is a combination of science and art. Cosmetic dentistry is the branch of dental care that focuses on improving your confidence in your smile by erasing embarrassing blemishes and revamping your smile's overall appearance. However, maintaining excellent dental health also relies largely on preserving as much healthy tooth structure as you can whenever possible. If you have more than one blemished tooth, striking the right balance between beautiful and healthy can prove even more challenging, especially if the imperfections vary in nature. For instance, if all of your teeth are slightly stained, then a professional teeth-whitening treatment can brighten their color. If some teeth are stained, some chipped, and one or two of them are oddly spaced, then treatment will be more involved than simple teeth whitening. As a common staple for many patients' smile makeovers, porcelain veneers from cosmetic dentist, Dr. James Fondriest, are designed to address one or several teeth with multiple issues, improving your smile with only one procedure.
Making and Placing Porcelain Veneers
Porcelain is a popular cosmetic dental material that is often crafted in a trusted dental lab. Also commonly called ceramic, dental porcelain is tinted to match a patient's natural tooth color. The slightly translucent porcelain is also layered to mimic the light-reflecting abilities of tooth enamel (the clear protective layer surrounding teeth). Veneers are wafer-thin shells of porcelain that are sculpted to improve the faces of unsightly teeth. During an initial examination, Dr. Fondriest will carefully analyze photographs, models, and radiographs (X-rays) to plan the porcelain veneer placement process. Preparing the teeth involves removing a minimal portion of tooth enamel, about 0.5 mm, to accommodate the thin shells of porcelain. Then, Dr. Fondriest will take impressions of the teeth and send them to the lab, where expert technicians will craft the appropriate number of veneers according to the patient's precise specifications. Once completed, the veneers are carefully bonded to the fronts of unsightly teeth. Typically, porcelain veneers are completed and ready for permanent placement within two weeks, though more time may be needed depending on each patient's needs and preferences.
What Can Veneers Fix?
The beauty of dental veneers is that they can effectively treat more than one cosmetic dental condition. As fabricated teeth fronts, tooth veneers offer patients a wealth of benefits in a number of different situations. Some of the more common issues that can be addressed with one or more porcelain veneers include;
Conceal severe tooth stains or intrinsic (internal) discoloration that does not respond to teeth whitening
Fill in "black triangles," spaces between teeth called diastemas, caused by odd spacing of teeth
Cover a tooth with excessively worn tooth enamel
Realign slightly crooked teeth without the need for orthodontic treatment
Reshape slightly misshapen teeth that can disturb a smile's symmetry. Significantly changing contours can create difficulty in keeping clean. Poorly cleaned veneers can cause your breath to smell.
Restore minor chips and surface cracks that aren't severe enough to threaten the tooth's health and integrity
The Final Touches to a Smile Makeover
Depending on the severity of your smile's condition, porcelain veneers may not be enough to completely restore your smile's beauty. Patients with significantly poor oral health may require a full smile improvement, which may include orthodontic treatment and other restorative dentistry procedures. Because of their diversity and discreet appearance, veneers are often used as the finishing touch to a smile makeover, providing a newly restored smile with a lifelike new face. Dr. Fondriest will perform a comprehensive examination to determine the extent of damage to your smile, and then consult with you about your goals and expectations before determining the appropriate course of treatment.
Learn more about how to upgrade your smile
Our goal is to give you the best cosmetic dental treatment for you. Dr. James Fondriest also holds highly-respected academic appointments at the Pankey Institute in Key Biscayne, FL; the Spear Institute in Scottsdale, AZ, and is a former Adjunct Associate Professor in the Department of Prosthodontics at the University of Florida Dental School. Dr. Fondriest combines his impressive array of experience with modern technology and caring, compassionate, and knowledgeable staff, and we proudly serve patients from Chicago and all surrounding communities. To schedule your smile restoration or smile consultation, call our office today at (847) 234-0517.