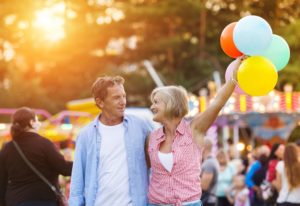 Have you considered smile correction treatment? Did your last date with friends include a lot of hiding behind your water glass, because you were so embarrassed by your teeth? Have you shied away from re-entering the dating scene, because of insecurity you feel due to the size, shape or shade of your teeth? Have the gorgeous results of the years you spent in braces been undone by the decades? Has your daily cup of coffee taken a toll on your teeth, leaving them looking dingy instead of vibrant and white? There are a number of reasons a person might wish to seek cosmetic dentistry, to improve his or her smile. However, if you are concerned by a number of imperfections with your teeth or gums, it might be time to schedule a serious consultation with your cosmetic dentist about how a complete, artistic smile makeover could leave you feeling proud of your pearly whites, once again!
Are Several Cosmetic Issues Causing You Concern?
In the case of a single imperfection, such as one disproportionate tooth, or staining on several of your teeth, the cosmetic dentist might be able to effectively improve the issue through a single cosmetic treatment. However, for many patients with various concerns about their smiles, smile corrective treatment with a complete smile makeover is often a great solution. If many teeth are out of position in the front of the mouth, we might think of tongue thrust. This requires the help of an orthodontist.
During an initial consultation the dentist can first discover what imperfections are causing you concern, then discuss your goals for your smile enhancements. Finally, the dentist can devise a customized plan for improving your smile's overall appearance, while still creating natural-looking results you'll be proud to show off.
An example of a smile concern
When we age, our face droops, the teeth are covered more by the upper lip. Your smile won't look as good. If we were to lengthen your upper teeth with a dental face lift, it can bring back the impact of your smile. It effectively makes you look younger.
How could smile correction treatment help?
In many cases, a smile makeover begins with whitening treatment to noticeably lighten all the teeth. Then, a procedure like bonding or contouring might be used to help improve the uniformity of the teeth's sizes and shapes. Veneers are another way to correct inconsistencies in the teeth, one with great and long-lasting results thanks to porcelain's stain resistance and strength.
In some cases, the gums might actually be the cause for concern. In these situations, the dentist may recommend gum lift to improve the symmetry of the gumline and enhance the shape of the teeth that are visible.
Dr Fondriest is a Nationally recognized and highly sought after cosmetic dentist. He serves clients from throughout the United States