Before
How nice can you make my smile? That is what this patient asked. She was newly divorced and had not been very selective with her previous dentists. She wanted to go on Match.com and find a new mate but her smile needed major work. After an implant, a gum lift, and porcelain crowns, she was happy with her smile.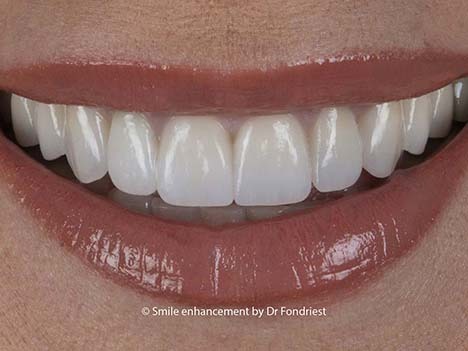 After
This patient really wanted a healthy nice smile and was highly motivated to achieve her goals with a "smile makeover" or "full mouth reconstruction". The gummy smile on her right side was corrected with a small gum lift. She then had mixed crowns and veneers done on her front teeth, an implant crown on a premolar on her upper left side, and we evened and smoothed the edges of her lower teeth.
Get a Smile Makeover Chicago
A smile makeover includes the rebuilding, replacing or making over many of the teeth in the mouth. It combines a bit of engineering with cosmetic dentistry. Dr. Fondriest provides comprehensive full prosthodontic reconstruction, using the most innovative practices and methods. Our Chicago area office is actually well know as a premier destination for getting a full mouth reconstruction.
When such a large amount of dentistry is planned, you want good design and a lot of pre-planning. Good planning and design increase the chances the finished smile will look like healthy natural teeth. Patient involvement is very important. We custom tailor your smile transformation to meet your goals. While the finished full smile makeover offers great improvements in aesthetic appeal, the predominate underlying goal is to improve the overall oral health of a patient.
What Happens During A Smile Makeover Chicago?
In the past, when the term full mouth reconstruction is used, there may have been images of pain and discomfort that may come to mind. Times have changed. Thanks to advances in methods and dental materials, a smile makeover is far less difficult. In most cases, it actually has become more of a fun project. Who doesn't want to design their own new smile!
The example patient above decided to fix everything. She did everything she could to improve the long term health, bite, and appearance of her smile. Some aspects of this treatment include:
Learning better oral hygiene and treating gum disease
Replacing the outdated dentistry in your mouth
Addressing any tooth decay in your mouth
Fixing a bad bite
Replace missing teeth with dental implants or bridgework
Contouring and healing swollen gums and tissues
After a thorough evaluation of your smile, Dr. Fondriest will discuss the options available and co-create a plan with you. Once an outline is done an estimate of the time and costs is made of your full mouth reconstruction.
Cosmetic Treatments used during a full mouth reconstruction
Depending on your specific needs and desires, there are several treatments used during a teeth makeover. Smile makeover treatments include:
Inlays and overlays
Root canal therapy
Orthodontics
Dentures
Finding high quality cosmetic teeth makeover treatment- Becoming a knowledgeable consumer
When a patient decides to have their smile redone, we invite them to share their dreams, desires and expectations with us.  Reality is that there are medical and dental experts that can do just about anything today if the patient is willing to go thru the steps to have it done.  Due to  Dr. Fondriest's extensive teaching and lecturing history, he has built friendships and relationships with many of the top medical and dental specialists in the world. Our office can offer access to these top doctors through referrals.
Many general dentists offer advice based on their understanding of what is possible.  In many cases, the advice limits treatment to the level of education of that doctor. All patients should think of themselves as dental consumers. When getting a smile makeover in Chicago, we suggest that you get a second opinion. Make sure that you benefit from learning "ALL" of the treatment options available.
What is the cost of a full mouth reconstruction?
A teeth makeover could cost anywhere from a couple thousand to $150,000. Cosmetic treatments vary greatly in scope. Will plastic or oral surgeons be involved? How many teeth need crowns or veneers? How about braces? Will your doctor spend 5 hours or 200 hours working on your case?
Some smile transformations can be done with teeth whitening and a few simple cosmetic procedures. Simple tooth reshaping can yield tremendous changes to your smile. A bad bite doesn't always need major work to fix. Finding a dentist with a conservative nature is in your best interest.
Dental professionals use different cosmetic and restorative techniques to achieve similar results. Cosmetic dentistry is a creative and an artistic service. There are so many ways to reach a goal. The only way to determine what the costs are for you is to have a consultation.
Get your smile on with a smile makeover Chicago!
Do you want a more confident smile? If you would like to learn more about the smile makeover process at our Chicago, IL area practice, schedule a consultation by calling 847-234-0517. Taking your goals and desires into account, we can help create a stellar smile you can be confident about, for years to come.
Dr Fondriest is a Nationally recognized and highly sought after cosmetic dentist. He serves clients coming from throughout the United States.