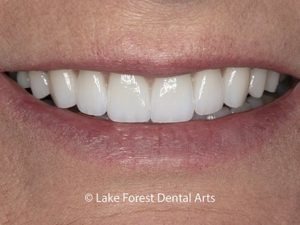 Do you know easy it is to fix your smile? Patients who want to improve their smiles often worry and get overwhelmed when there are several cosmetic issues to be addressed. Fortunately, most patients are surprised to learn that they can enjoy a healthier looking and more attractive smile with just a single procedure – porcelain veneers. Recently, we discussed how veneers can help some patients avoid orthodontic treatment with the help of one or more custom veneers. Today, we examine how else porcelain covers can fix your smile by discussing a few issues that they commonly address.
Addressing Changes to Your Smile
A perfect smile can lose some of its luster over time, especially if a person exhibits poor dental habits. One of the most obvious changes can be to the color of teeth. A bright smile can dull because of the buildup of stains, as well as because of a gradual wearing away of enamel layers. While stains are easy to see, this is not the only type of gradual cosmetic change patients need to worry about. Years of friction can lead to a wearing down of teeth. When this happens, your smile can start to look uneven, or less healthy. The right cosmetic procedure can address these concerns. Professional whitening treatments are regularly counted on to fight stains. For other concerns like wear and tear, porcelain veneers can cover up esthetic problems.
Fix Internal tooth discoloration in your smile
When your teeth don't respond to teeth whitening, the stains are likely buried deep beneath the surface of your teeth. Internal stains can occur for several different reasons, such as over consumption of fluoride as a child or the use of certain antibiotics. Some stains indicate internal tooth infection or damage. If the stains are benign in nature, your dentist can cover them with porcelain veneers.
Chipped or worn teeth
Because porcelain tooth covers or veneers are made from strong porcelain, they can effectively rebuild the tooth structure of chipped and/or worn down teeth. Placing a dental crown over each damaged tooth requires more drilling than with veneers. Veneers offer a more conservative option that minimizes how much of your tooth structure must be modified.
Multiple smile concerns
Veneers can address multiple smile concerns such as chipped and discolored teeth, at the same time. Each veneer mimics the front surface of a tooth and is carefully bonded to the tooth to recreate its appearance. The ability to completely revamp the visible parts of multiple teeth means veneers can completely makeover smiles even in some complex cases.
So your smile isn't perfect, can I cover my teeth over?
Smile enhancement is surprisingly common today. You probably know people in your personal or work life who have them. When properly placed and artistically customized, porcelain covers blend in seamlessly with your smile. Only you will know your secret!
Dr. Fondriest can help you determine if you are a prime candidate to receive porcelain tooth covers. In general, candidacy favors patients who present one or more of the following conditions:
Slightly crooked teeth: Teeth that are only a bit rotated can be made to look straighter with minimum preparation and no-prep porcelain tooth covers.
Gaps between the teeth: Have a gap between one or more of your front teeth from gum tissue recession or gum disease? Porcelain veneers can be created to close the gaps and give you a smile without wide divisions between teeth.
Discolored natural teeth: Sometimes, teeth become stained or discolored and cannot be whitened, even with safe, professional teeth whitening treatments. In these cases, porcelain covers may be used to cover the teeth and bring the smile back into balance.
Broken or Chipped teeth: Did a trauma years ago end in a chipped or broken tooth? As long as your natural tooth is structurally stable, you may be a candidate for porcelain veneers.
Large Decay: Porcelain tooth covers can change the appearance of teeth that have been significantly blemished by decay.
Crowded teeth: Slight overlaps between teeth can also be addressed with the right types of veneers. In some cases, patients who thought they would need orthodontics can skip braces with placement of porcelain veneers.
Find Out if Veneers Can Fix Your Smile
With the ability to address several different oral health and cosmetic issues with highly lifelike results, porcelain tooth covers can be the optimal way for fixing your smile. To learn more, schedule a consultation by calling Lake Forest Dental Arts in Lake Forest, IL, at 847-234-0517. We also proudly serve residents of Chicago and all surrounding communities in the Chicago Metro area.