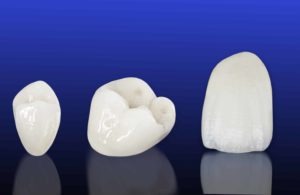 Today's dentistry is an art form. In addition to ensuring your good oral health and bite function, modern restorations also help preserve your natural tooth structure prevent further issues from developing. For instance, dental crowns, which are often crafted from highly lifelike dental porcelain, can be fashioned according to precise measurements of your tooth. A crown completely caps your tooth, and because it functions just like a healthy, natural tooth, it may be the best option for addressing several different types of dental issues.
What can a crown do for my tooth?
Because of their diversity, dental crowns are among the most frequently recommended restorative dental treatments. By capping your tooth, the crown can restore its strength after it's been cracked, fractured, or broken, or after the tooth has received root canal therapy. When made from lifelike porcelain, a crown can also serve as a cosmetic enhancement for blemishes that are too severe for something like teeth-whitening or tooth bonding.
How much of my tooth will you have to prepare?
In order for a dental crown to fit comfortably over your tooth and within your smile, your dentist will first have to prepare the tooth by carefully sculpting down some of its structure. To make the process more comfortable, you may qualify for dental sedation in addition to local anesthesia.
Will the crown really look natural?
Dental porcelain is one of the most realistic dental materials and can be custom-designed to closely mimic your specific tooth's appearance. Besides the color and shade of your tooth structure, porcelain is also semi-translucent; when it's layered, it can reflect light in the same way as your tooth enamel.
Find Out if a Crown Is Your Best Option
These days, dental crowns can do several things for your smile, from fixing your tooth structure to improving your smile's appearance, and much more. To learn more, schedule a consultation by calling Lake Forest Dental Arts in Lake Forest, IL, at 847-234-0517. We also proudly serve residents of Chicago and all surrounding communities in the Chicago Metro area.