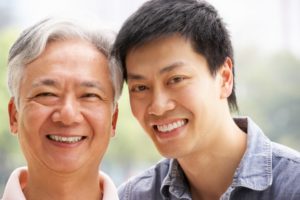 Now that your kids are all grown up, do you find yourself spending more and more time trying to care for your aging parents? This can be a stressful shift in roles for many people, yet an important one. While major medical decisions may be at the forefront of your mind these days, it is also important to consider your parents' oral health. Healthy and complete smiles can inspire confidence, make chewing more comfortable and efficient, and also help contribute to one's overall well being. If your parent is struggling with an ill-fitting denture or an incomplete smile, perhaps it is time to talk to a prosthetic dentist about how a dental implant could help.
Don't Watch a Loved One Struggle with an Ill-fitting Prostheses
Many people don't realize that over time dentures can become less comfortable, and often downright ill-fitting. This is often due to changes in the jaw that can occur as a result of aging, and particularly tooth loss. It can also be due to general wear on the denture, itself. For these reasons, most dentists recommend replacing dentures every three to eight years, though this is just a general guideline.
Help Improve Your Parent's Comfort and Confidence
If your parent has been complaining about an uncomfortable denture, or an incomplete smile, of if you or a caregiver has noticed a change in appetite or difficulty chewing, it could be time to schedule a consultation with the dentist about how a dental implant could help.
Implants help to provide added security for replacement teeth, by helping to replace both a missing tooth and the healthy tooth root that once held it in place. This is accomplished by surgically inserting a piece that mimics the tooth root into the jawline, where it not only stabilizes the replacement tooth, like a denture, but it also helps to supply nutrients to the jaw. This actually helps to preserve the jaw's remaining structure over time, making it a highly desirable prostheses for those whose smiles can support an implant.
Could Your Loved One Benefit from a Dental Implant?
If you or a loved one is in need of prosthodontics, talk to your dentist about how a dental implant could help. Call Lake Forest Dental Arts in Lake Forest, IL, today at 847-234-0517, to schedule an appointment.