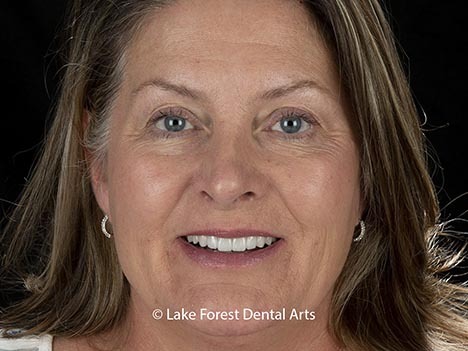 When was the last time you sat down to enjoy a meal, without fear that your denture would shift about uncomfortably as you tried to chew? What about smiling? Does it feel like ages since you actually smiled confidently, without feeling concerned that your friends or family would fixate on your incomplete smile? If so, it could be time to talk to your prosthetic dentist about how prosthetic treatment could help to complete your smile both beautifully and securely. Dental bridges and dental implants, for instance, are just two of the many prosthetic options available, that can help to inspire confidence after adult tooth loss. Tooth implants cost a lot. Are teeth implants worth the cost?
We recommend dental implants as a way to replace missing and damaged teeth. Implant crowns are a secure, long lasting option for those who have lost teeth to accident or periodontal disease. While dental implants have a high success rate, they are not for everyone. Certain health conditions and lifestyle choices may limit your ability to receive implants successfully. The following is a general guide to patient candidacy for dental implants. Please remember, this is only a guide. Dr. James Fondriest works closely with his patients to determine the best dental procedures to meet their individual needs.
Don't struggle with an ill fitting prostheses
Many people don't realize that over time removable dentures can become less comfortable, and often downright ill fitting. This is often due to bone loss or changes in the jaw that can occur as a result of aging, and particularly tooth loss. It can also be due to general wear on the denture, itself. For these reasons, most dentists recommend replacing dentures every three to eight years, though this is just a general guideline.
Are teeth implants worth it to improve comfort and confidence
If your parent has been complaining about an uncomfortable denture, or an incomplete smile, of if you or a caregiver has noticed a change in appetite or difficulty chewing, it could be time to schedule a consultation with the dentist about how a dental implant could help.
Implants help to provide added security for replacement teeth, by helping to replace both a missing tooth and the healthy tooth root that once held it in place. This is accomplished by surgically inserting a piece that mimics the tooth root into the jawline, where it not only stabilizes the replacement tooth, like a denture, but it also helps to supply nutrients to the jaw. This actually helps to preserve the jaw's remaining structure over time, making it a highly desirable prostheses for those whose smiles can support an implant.
Candidacy Requirements for Tooth Implants
Surgically placed in the jaw, the posts mimic the roots of natural teeth. Dental implants are made from biocompatible titanium and encourage the fusion of bone to implant posts. Dental implants are considered very safe ways to create a secure base upon which a dental crown is attached. This replaces a missing tooth in its entirety. There are certain health requirements patients must meet in order for bone to attach itself successfully to an implant post.
You must have proper jawbone density to receive implants. If a patient does not have enough bone tissue, the placement procedure will not succeed. There are still options for those with bone deficiency, however. A bone graft can restore bone tissue. Once the graft heals, a local specialist can place the implant.
Patients who wish to receive them must have healthy gums and teeth. Those with periodontal disease are not ideal candidates because the gum and bone tissue surrounding the implant will not heal properly. If you suffer from gum disease, but still wish to receive a dental implant, you must first undergo periodontal treatment to reverse the effects of the disease. After proper treatment, patients can usually receive implants.
You must be in good overall health to receive implants. Certain medical conditions inhibit proper healing at the site of the implant. You should disclose all pre-existing medical conditions to Dr. Fondriest in order to determine your candidacy for implants. Even with diseases like diabetes, which slow the healing process after surgery, patients might still receive implants successfully.
The Basics of Having Mouth Implants
A dental implant consists of a titanium post that is placed in the jaw.  The implant itself looks like a tiny screw and is constructed from sturdy, biocompatible titanium. After careful planning for angle and positioning, an oral surgeon inserts the implant into your jawbone.
The bone tissue then heals around the implant, a process requiring anywhere from three to six months to complete. Once the implant has fully integrated with the bone, your dentist places the implant restoration. Your dentist can then attach a restoration to this post; he will place either a crown, partials, or full dentures, depending on your level of tooth loss. This method of tooth replacement looks, feels, and functions like a natural tooth.
Many patients are curious as to how a dental implant functions. Essentially, a dental implant can:
• Support the placement of one or more tooth restorations without negatively affecting the surrounding teeth.
• Makes a denture more secure and comfortable by providing a solid attachment point.
Are Teeth Implants Right For You?
Dental implants are an ideal option for people who have good overall oral health. The presence of advanced gum disease may eliminate you as a candidate for dental implants. Also, an adequate amount of bone in the jaw is necessary to support the implant.
Why Teeth Implants are Worth the Wait
So, you've lost a tooth. It's not an ideal situation but instead of mourning for your missing tooth, you've done your research and decided that replacing it as soon as possible will preserve your oral health in the long run. You've read up on dental bridges but you have concerns that the enamel preparation involved may put your remaining teeth in jeopardy. You've also heard about dental implants, but the conflicting stories – some require months to place, some can be placed in a day – have left you feeling confused.
The Hand-Crafted Restoration Advantage
Hand-made porcelain crowns are created by highly skilled, experienced craftsmen known as ceramists. Ceramists use a variety of ceramic materials to create these strong, exceptionally realistic restorations. Most crowns consist of a harder, more durable interior layer with a second, more esthetically pleasing layer on top. The materials used on the exterior layer are chosen for their outstanding light transmission which lends them a translucence that perfectly mimics natural tooth enamel. Ceramists then score, stain, glaze, and fire the crown to give it additional strength and realism.
Find out if teeth implants are worth it to you
Implants are an excellent option for patients requiring a replacement tooth. However, not everyone is an ideal candidate for a tooth implant. We provide the following information to see if a dental implant is the right procedure for you. If you have any additional questions about dental implants, you should set up a consultation with Dr. Fondriest. To schedule an appointment, call our Lake Forest dentist office at 847-234-0517.
Dr Fondriest is a Nationally recognized and highly sought after cosmetic dentist serving clients from throughout the United States