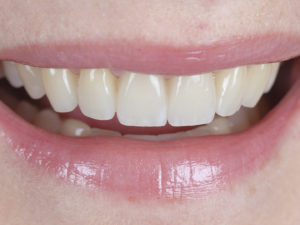 A smile transformation can enhance your overall appearance and give your confidence a boost. Also referred to as a smile makeover, a transformation combines multiple cosmetic procedures into one comprehensive treatment.
Since the dawn of modern dentistry, individuals have had the desire to improve the aesthetics of their smile. Today's advanced methods and materials allow for truly remarkable, lifelike results. In fact, modern restorations are difficult to distinguish from natural teeth.
In this article, we will discuss the smile transformation planning process in more detail. We will also explore benefits, candidacy, and commonly combined procedures so you can be well-informed of your treatment options.
What to Expect during Your Smile Transformation Consultation
The first step to any dental treatment is a consultation. During this appointment, you and your dentist can talk together about your personal cosmetic goals. Your dentist will perform a full assessment of your teeth as well as your gums, jaw joints, and other orofacial structures. This evaluation helps determine the overall state of your oral health. Your dentist will determine if your needs are strictly cosmetic in nature, or if health and function need to be restored as well.
Once this initial information has been gathered, the treatment planning process can begin. In the sections below, we'll discuss the various steps of this process so you can know what to expect.
Digital smile design is part of every smile transformation
Your dentist should take plenty of clinical photographs. In many cases, he or she will upload these photos into a sophisticated smile design software program.
The images are then altered to mimic what your smile would look like after proposed treatment. This step is crucial for accurate treatment planning and opens up the conversation about long-term goals. In this case, a picture really is worth a thousand words.
Scans and X-rays
In addition to clinical photographs, your dentist will also order scans and x-rays. The type of radiographs necessary will depend on your specific situation and goals.
These images are absolutely crucial to the treatment planning process. Radiographs allow your dentist to visualize the underlying structures and detect any potential issues.
Modern technology, such as cone beam scanners, allow your dentist to plan treatment accurately and effectively. Advanced software even allows for the planning of virtual restorations. This allows your dentist to determine how a particular treatment would work before the patient is even in the chair.
Impressions
Dental impressions will be required for most smile transformations. Impressions are used to create a working dental model of your teeth. These models are often sent to dental labs for the fabrication of custom restorations.
Traditionally, impressions were taken using an alginate material. Today, however, many dental practices utilize digital impressions.
To capture the necessary images, your dentist uses a special wand with a camera attached. As the wand is moved slowly over the surfaces of the teeth, the image files are uploaded into a computer software program.
Once the images are stitched together, a virtual dental model is created. This model can then be emailed to dental labs or referring doctors.
Collaboration
Sometimes a smile transformation requires collaboration with several doctors. For example, you may be receiving veneers at a cosmetic practice, but you may need to see a gum specialist first for a gum lift or other procedure. In some cases, patients may benefit from having an orthodontist on the team.
In these cases, clear, concise communication is essential. All members of the team will meet and discuss your case together, ensuring optimal, long-lasting results.
Deciding on a Treatment Plan
Oftentimes, there is more than one treatment option available to meet your needs. For example, if you want to conceal cosmetic imperfections like chips, cracks, or stains, you may be able to choose between cosmetic bonding or porcelain veneers. Those who are missing a tooth can choose between a bridge or a dental implant.
All treatment options should be thoroughly discussed with you before any dental work is done. The dentist will take your overall health and personal preferences into account. Together, you and your dentist can determine which option will best serve your unique needs.
Commonly Combined Procedures
No two smile transformations are the same. Each treatment is tailored to the needs of the individual. Here are just a few of the cosmetic dentistry procedures that patients can choose from:
Tooth implants
Implant bridge
Porcelain veneers
Tooth colored composite resin used to make composite veneers
Benefits of a Smile Transformation
There are several advantages to undergoing a makeover. Benefits include:
Boosted self confidence
A more attractive and beautiful smile
Improved oral comfort
Healthier teeth
A younger looking face
Straighten crooked front teeth
Exploring Candidacy: Is a Smile Transformation Right for You?
Transforming your smile can transform your quality of life. If you look at your teeth every day and wish they were straighter, whiter, or more attractive, then you are a great candidate for a smile transformation.
Candidates for cosmetic work have teeth that are:
Misshapen
Discolored teeth
Crooked
Gapped
Chipped
Worn
Learn More about Planning for Your Smile Makeover
A new completely natural smile can make you look younger and give you the confidence you need to take on the world. If you are ready for a smile transformation, contact us for more information.