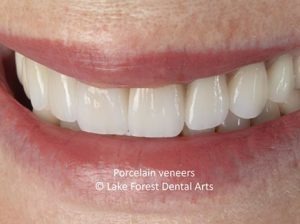 We understand how important a beautiful smile can be. We want our patients to enjoy attractive smiles that boost confidence and reflect good oral health. With one restoration, porcelain veneers, we can completely alter the appearance of a tooth, addressing multiple cosmetic concerns. Do you have questions about veneers?
What Is a Porcelain Veneer?
A porcelain veneer is a thin shell that is made from highly lifelike, customizable dental porcelain. Each veneer is designed and crafted with the utmost care, using advanced digital imaging equipment to ensure the most precise results.
How Can They Improve My Smile?
A porcelain veneer is designed to mimic the front surface of your tooth, and can be bonded to the tooth to recreate its appearance. Because veneers are designed to completely cover your teeth, they can address a wide variety of cosmetic and restorative issues, including severe teeth stains, chipped and worn edges, and slight tooth misalignment, to name just a few.
Will They Be Obvious?
Many people have seen bad veneers. They question if their porcelain veneers will be obvious. Your porcelain veneer is not only tinted to match your tooth's color, but also semi-translucent, just like natural tooth enamel, so that it reflects light to the same degree as your healthy, natural teeth. Once in place, your veneers will blend in almost seamlessly with the rest of your smile.
What issues can these restorations address?
A veneer can mask permanent teeth stains and help reshape a malformed or damaged tooth. We can also use them to correct the appearance of minor misalignment and also to close gaps in the smile. They are shaded to match surrounding teeth and blend seamlessly with your smile. In addition, the porcelain material is durable and stain-resistant.
How are they placed?
First, we prepare the tooth by removing a very thin layer of enamel. Detailed impressions are then taken and used by a dental lab to fabricate the restorations. Once complete, the doctor checks the fit before placing the restorations using a powerful bonding agent. The entire procedure takes about two visits.
What are no-prep veneers?
No-prep veneers are much thinner than traditional porcelain veneers, which means we don't need to remove layers of enamel before placing. Unlike other restorations, these can be made extremely thin without becoming brittle or cracking.
How do I care for them?
You should care for your new restorations just as you would your natural teeth. We expect you to brush your teeth and floss every day. We also suggest having your teeth examined and cleaned once every six months. Doing so allows the doctor to monitor your new restorations and helps protect your teeth from tooth decay and gum disease. If you have any further questions about our veneers, then please contact our office today.
Are veneers more resistant to dental problems?
Even though they are naturally stain-resistant, you can take steps to ensure they remain natural looking and continue to provide quality restoration. For example, be sure you brush your teeth and floss daily. Also make time to see us for routine checkups and cleanings, these steps help maintain your new veneers and protect the rest of your smile as well.
Are dental veneers custom made for your smile?
High quality dental veneers are artfully blended into your smile. Yes, they are very customized. Your cosmetic dentist will prepare the teeth receiving them and take detailed impressions. The impressions will be used at a dental lab to design and create the completed restorations. We create them using a lifelike porcelain material, which can be shaded to match your teeth and also mimics the appearance of natural tooth enamel.
Do You have more Questions About Veneers?
It's okay if you aren't exactly happy with your smile's appearance. After all, cosmetic blemishes affect everyone's smile at some point in their lives. However, if you want to improve your smile's appearance, then you should also consider how cosmetic treatment affects your oral health. In the case of porcelain veneers, your dentist can create a complete smile makeover while minimizing the amount of tooth structure that must be altered. If you want to improve your smile while optimizing your long-term oral health, then ask your dentist about porcelain veneers, and whether or not they're your best smile improvement option.
If you want a straighter, more attractive, and healthier looking smile, then find out if porcelain veneers are the right option for you! To learn more, schedule a consultation by calling Lake Forest Dental Arts in Lake Forest, IL, at 847-234-0517. We also proudly serve residents of Chicago and all surrounding communities.