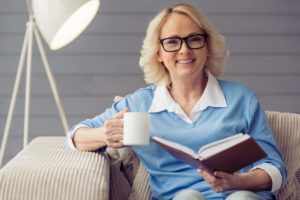 Is your smile aging a bit? When was the last time you posed confidently for a photograph? Does it feel like years or even decades? Over time, many people notice their smiles beginning to look aged. This can lead to insecurity, and in some cases could be indication of underlying dental problems. Fortunately, cosmetic dentistry makes it possible to address most signs of aging. That means you could enjoy a younger-looking and simply more beautiful smile.
Don't Ignore or Settle for Smile Imperfections
The aging process causes many smile imperfections. Whatever your cause for concern, you don't have to ignore or settle for imperfections in your smile. In most cases, cosmetic treatment makes it possible to address flaws with natural-looking and beautiful results.
For instance, professional teeth whitening can often help to address years' worth of staining on teeth. Cosmetic bonding and porcelain veneers can hide minor wear along the edges of teeth, or inconsistencies in teeth's shape or size. They can also help to hide minor gaps between the teeth, in many cases.
Enjoy a Great-looking Smile Through Restorative Treatment
Of course, in some cases the cause of your aesthetic concerns could actually be indicators of underlying issues, such as discoloration due to enamel erosion, or wear that has made teeth fragile and sensitive. In these cases, the dentist might actually recommend a seamless restorative treatment to address both the cosmetic concerns and more importantly the oral health threats. Tooth-colored fillings, for instance, can address most cavities with natural-looking results, while porcelain crowns are often ideal for treating damaged teeth, susceptible to infection.
Cosmetic Treatment Can Improve Upon Many Imperfections
Our smile will change with age. Some of the most common symptoms of aging, where the smile is concerned, include highly visible staining of the teeth, excessive wear along the bottom edges of the teeth, and spacing problems that can either begin or grow worse over time.
Some teeth can even begin to look small, due to enamel erosion or other damage, leading to inconsistencies in the teeth's size and shape, which can leave the smile looking asymmetrical, and simply aged.
Address Those Noticeable Signs of Aging Smiles
Fortunately, in most cases, cosmetic dentistry offers treatment options that can help to revive the smile and to restore a person's confidence. Professional teeth whitening, for instance, can generally help to lighten teeth by several shades. Cosmetic bonding and porcelain veneers can be used to address inconsistencies in teeth's shape, size, and even minor spacing problems, so long as they are aesthetic in nature, and don't pose functional problems for the smile.
Want to update that aging smile?
If you could benefit from smile updates, call Lake Forest Dental Arts in Lake Forest, IL, today at 847-234-0517 to schedule your cosmetic consultation. We also proudly serve residents of Chicago and surrounding communities.