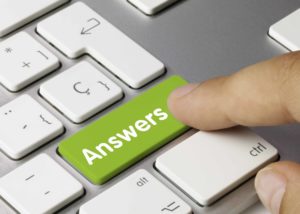 What are the things you're uncertain about when it comes to getting bonded fillings? What you probably know without a doubt is that you would really love for your smile to look more beautiful. What you may not feel so certain about, however, is if bonding is going to help you accomplish your plans, what it will mean for the future of your smile if you choose it, and more. Start with our Q&A session and then schedule a visit with us.
Questions and Answers
Question: When I come in for bonded fillings, do I need to know whether this is the best treatment for my smile? What if there's something more appropriate that I'm not recognizing?
Answer: You don't need to know a thing about it. All you need to do is show up for your consultation, tell us what you'd like to achieve, and then we can tell you whether it's bonding or another cosmetic treatment that will work best.
Question: Are bonded fillings an uncomfortable treatment in any way? How should I prepare for this experience? Will I need any type of anesthetic?
Answer: This is a completely comfortable experience. You don't need to do much! Show up with a clean smile and we will take it from there.
Question: What can you tell me about bonded fillings and time? Does the procedure take much time to complete? Will my newly improved smile results last very long or is this akin to a quick fix, while I consider other treatment options like veneers?
Answer: First, it usually takes one brief visit to complete your bonding. Next, you can usually expect the results to last at least 10 years, if not more!
Question:  Are dentists still do silver fillings?
Answer:  Yes, but not very many. Bonded fillings don't last as long as silver and are harder to do. the problem is they are ugly and some are worried that mercury is a chemical component.
Greatly Improve Your Smile With Bonded fillings
Schedule a consultation to discuss how cosmetic bonding may improve the beauty of your smile, while we answer your every question! Feel free to schedule a visit with Dr. Fondriest by calling Lake Forest Dental Arts at (847) 234-0517. We welcome patients from the North Shore area of Chicago.