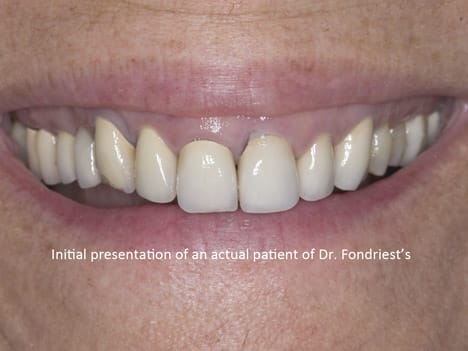 Before
This sweet lady had many bad experiences in dental offices as she grew up. Unfortunately, her advanced gum disease was creating a "long-in-the-tooth" look. Many teeth had chipped from night grinding and she had been told she was going to loose a front tooth. The more she delayed the worse her dental condition became. She was very reluctant to get care but a trusted friend encouraged her to drive up from Chicago to get help from her dentist (Dr. Fondriest) who specializes in doing this type of prosthodontic dentistry. This patient's dream was to keep her teeth and not have to worry about her smile again.
After
This patient required gum surgery to treat the gum disease, a gum lift to get rid of the gummy smile, an implant to replace her right lateral incisor (a tooth colored zirconium implant abutment was used to camoflage the dark "titanium metal implant" from showing through the thin and translucent gum tissue), and nine porcelain crowns to improve alignment of her front teeth and to make them look brighter and more natural. Now she plans to have her bottom teeth done!
Do you need a total prosthodontic makeover? Prosthodontics is a sub-specialty within dentistry that takes a comprehensive view of the remaking of a broken down smile. Family dentists are trained to fix one to three teeth at a time. Cosmetic and prosthodontic dentists are trained to do a more comprehensive overview of the smile. This includes assessing the face, lips, and gums that form a "picture frame for the smile". If there is asymmetry in this picture frame, then the smile will appear unbalanced. Reconstructive dentistry will address the imbalances as well as repairing the teeth. Sophisticated dentistry takes on the big picture analysis and remaking of a smile.
When you hear a friend saying that they want a smile makeover, they are really looking for prosthodontic reconstructive dentistry. Usually, a general dentist is not qualified to do this type of dentistry. The well trained cosmetic or prosthodontic dentist will take much time taking pictures of your face and smile to analyze. Often opinions are requested from other dental specialists such as orthodontists and gum specialists. This smile design process hopefully artfully designs your new smile.
Not all prosthodontists and cosmetic dentists do prosthodontic makeovers regularly
A photographic analysis is performed with all reconstructive dentistry. The doctor needs to be able to make measurements of your teeth, gums, etc. in the planning process.
The advanced training that cosmetic dentists and prosthodontists receive teaches them to take pictures after treatment also. This is so they can evaluate their own work and get better. Cosmetic dentistry is an art that your dentist develops at with each finished case. Demand to see before and after pictures of any dentist that you are considering for your prosthodontic makeover.
Reconstructive dentistry has an artistic component
Your prosthodontic makeover will have the most favorable results when you pick an artistic doctor. Prosthodontics is a highly analytical subspecialty that makes many treatment decisions based on mathematic formulas. Makeovers can be tremendously complicated and decisions are made based on anatomical averages. Dr. Fondriest has mentored many prosthodontists to trust their artistic side also. He has found that the best outcomes come when the doctor has an artistic talent and understands balance and symmetry.
Other artistic talents are required to make a cap or a tooth veneer appear natural. Making porcelain look like real teeth requires a talented ceramist. While some dentists choose to make their crowns in their office, the quality never approaches what a master ceramist can create. Most higher end dentists have specially trained ceramists make the crowns. Talent and education levels of ceramists vary greatly. You will be lucky if your doctor works with a master ceramist.
While the specialty of prosthodontics covers a broad spectrum of corrective dental treatments, some of the most common include:
Benefits of prosthodontic reconstructive makeover dentistry
A prosthodontic makeover will offer an array of benefits that are long lasting. Some of the advantages include:
Better speech
More streamlined biting and chewing
Natural appearance
Comfort
Maintenance of jaw health and bone structures in the mouth
Prosthodontists often work closely with dental labs, crafting lifelike restorations from newest most innovative materials. Furthermore, these dentists help to ensure a stellar result that will blend with the remaining teeth. They receive better outcomes from the simple to the very most complex of treatments. These specialists are there to create results that address the dental and facial problems patients face.
A healthy smile has a profound effect on confidence. If you are considering a smile makeover, it is beneficial to having several opinions.
Benefits of Reconstructive Dentistry for Gum Problems
A prosthodontic makeover can have a lasting positive impact on addressing gum problems. Some of those benefits include:
A treatment plan from a specialized dentist
A thorough examination of the teeth and a screening for gum disease
Complete restorative dental care that addresses health issues and problematic gum growth
Learn more about getting a partial or full mouth prosthodontic makeover
Learn more about the process of getting a prosthodontic makeover. We invite you to come in for a second opinion in our Chicago area office. Schedule a consultation with Dr. Fondriest by calling 847-234-0517. We look forward to providing you with specialized care.
Dr Fondriest is a Nationally recognized and highly sought after cosmetic dentist. He serves clients from throughout the United States. He is a Board Certified General Dentist.