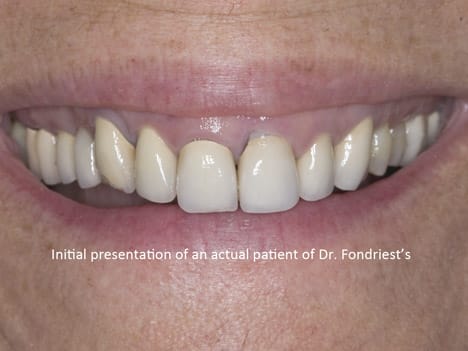 Before
Gum Disease - "Long-in-the-tooth" look, Excess Gum Growth, Gum Lift

This sweet lady had many bad experiences in dental offices as she grew up. Unfortunately, her advanced gum disease was creating a "long-in-the-tooth" look. Many teeth had chipped from night grinding and she had been told she was going to loose a front tooth. The more she delayed the worse her dental condition became. She was very reluctant to get care but a trusted friend encouraged her to drive up from Chicago to get help from her dentist (Dr. Fondriest) who specializes in doing this type of prosthodontic dentistry. This patient's dream was to keep her teeth and not have to worry about her smile again.
After
Example of "Prosthodontic Dentistry" or "Full Mouth reconstruction" and Gum Lift

This patient required gum surgery to treat the gum disease, a gum lift to get rid of the gummy smile, an implant to replace her right lateral incisor (a tooth colored zirconium implant abutment was used to camoflage the dark "titanium metal implant" from showing through the thin and translucent gum tissue), and nine porcelain crowns to improve alignment of her front teeth and to make them look brighter and more natural. Now she plans to have her bottom teeth done!
Looking for a Total Prosthodontic Makeover?
Oftentimes, prosthodontic reconstructive dentistry is recommended for patients who desire a cosmetic makeover. At Lake Forest Dental Arts, Dr. James Fondriest offers artistic smile design to achieve these comprehensive results. Prosthodontics is a subspecialty within dentistry. It focuses on more complex treatments. Often, other specialists are involved with the same patient at the same time. an example might be that a root canal specialitst and gum specialist are helping to fix the teeth. When a dentist does a residency in prosthodontics, they are called a prosthodontist.
Why Prosthodontic reconstruction dental treatments yield most favorable results
Prosthodontics is the branch of dentistry that addresses the restoration and replacement of broken, damaged, or lost teeth. Prosthodontists are highly trained specialists, having mastered all elements of the creation of a stellar and natural-looking smile. Makeovers can be tremendously complicated. When the teeth underneath the crowns are dark, the dentist will choose a more opaque type of porcelain to conceal the darkness. It is more difficult to make opaque porcelain appear as natural teeth. This patient had old root canals under her front crowns and the tooth stumps were almost black.
Common Prosthodontic Treatments
While the specialty of prosthodontics covers a broad spectrum of corrective and restorative dental treatments, some of the most common include:
Benefits of Prosthodontic Reconstructive Dentistry
Prosthodontic dentistry offers an array of benefits that are long-lasting. Some of the advantages include:
Better speech
More streamlined biting and chewing
Natural appearance
Comfort
Maintenance of jaw health and bone structures in the mouth
Prosthodontists often work closely with dental laboratories, crafting lifelike restorations from sturdy, and innovative materials. Furthermore, prosthodontists help to ensure a stellar restoration that will blend with remaining teeth. From procedures that require minimal restoration, to services that are layered and require extensive reconstruction, prosthodontists are there to create treatments that address the dental and facial problems patients face.
A healthy smile has a profound effect on confidence. Whether you're seeking to correct a minor imperfection, or a Complicated Smile Makeovers, it is to your benefit to contact a trusted dental professional.
Why Prosthodontics Successfully Corrects Extreme Gum Growth
Prosthodontics is the area of dentistry that addresses missing, or damaged teeth, as well as treating imbalanced facial structures. One of the most prevalent issues many individuals face is that of excessive or uneven gum growth. At Lake Forest Dental Arts in Chicago, IL, Dr. James Fondriest provides complete prosthodontic treatments that will usually address the problem of a "gummy smile".
In addition to a gum lift, which eliminates excessive gum tissue, custom restorations may be added to achieve optimal balance and symmetry.
Reasons for Overgrowth of Gums
While poor dental hygiene may be a contributing factor of gum overgrowth, there are other reasons. Those reasons include:
Medications
Overcrowded teeth
Illnesses
Hormonal changes
Benefits of Reconstructive Dentistry for Gum Problems
A prosthodontic makeover can have a lasting positive impact on addressing gum problems. Some of those benefits include:
Treatment from a specialized professional
A thorough examination of gums and teeth
Comprehensive care, that addresses health issues and problematic gum growth
Contact us
If you would like to learn more about treating your excessive gum growth with a prosthodontic procedure at our Chicago, IL practice, schedule a consultation with Dr. Fondriest by calling 847-234-0517. We look forward to providing you with specialized care.
Dr Fondriest is a Nationally recognized and highly sought after cosmetic dentist. He serves clients from throughout the United States