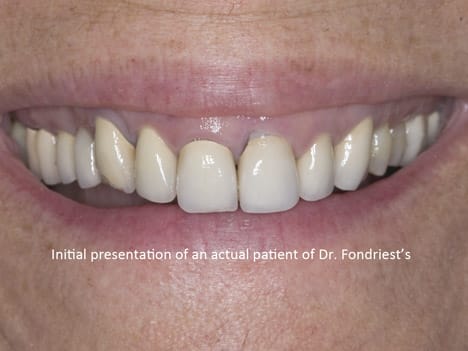 Before
Gum Disease - "Long-in-the-tooth" look, Excess Gum Growth, Gum Lift

This sweet lady had many bad experiences in dental offices as she grew up. Unfortunately, her advanced gum disease was creating a "long-in-the-tooth" look. Many teeth had chipped from night grinding and she had been told she was going to loose a front tooth. The more she delayed the worse her dental condition became. She was very reluctant to get care but a trusted friend encouraged her to drive up from Chicago to get help from her dentist (Dr. Fondriest) who specializes in doing this type of prosthodontic dentistry. This patient's dream was to keep her teeth and not have to worry about her smile again.
After
Example of "Prosthodontic Dentistry" or "Full Mouth reconstruction" and Gum Lift

This patient required gum surgery to treat the gum disease, a gum lift to get rid of the gummy smile, an implant to replace her right lateral incisor (a tooth colored zirconium implant abutment was used to camoflage the dark "titanium metal implant" from showing through the thin and translucent gum tissue), and nine porcelain crowns to improve alignment of her front teeth and to make them look brighter and more natural. Now she plans to have her bottom teeth done!
What is "Prosthodontics"?
Mosby's Dental Dictionary says that prosthodontics is the part of dentistry pertaining to the restoration and maintenance of oral function, appearance, and health of the patient by the replacement of missing teeth and contiguous tissues with artificial substitutes. Although this sounds like what most dentists do, most general dentists do it one tooth at a time so as to not drastically affect the bite. The level of difficulty rises dramatically when more than one or two teeth are involved. Prosthodontics usually refers to a more comprehensive or large picture view of the entire mouth. It usually refers to facilitating or directing a more complicated treatment mix of dental procedures such as providing crowns, veneers, dental implants, bite adjustments, gum surgeries, etc.  These services are often orchestrated by a team of specialists to correct tooth alignment, gum display, symmetry, recession, disease, missing teeth, or unsightly appearance of something in the smile.  Dr. Fondriest is a highly respected educator in the field of prosthodontics and is in high demand as a lecturer at national and international dental conferences.