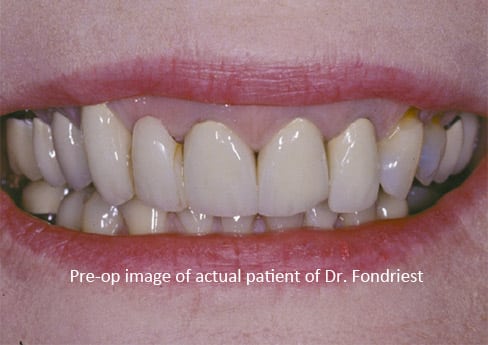 Before
The crowns and bridgework that had been completed only 5 years earlier was chipping, had gum recession, and had exposed metal margins. Frequently, dental implants are now used to replace missing teeth. When there is not enough room in the jaw to place an implant or the patient does not want to have an implant, fixed (non-removable) bridgework can be used.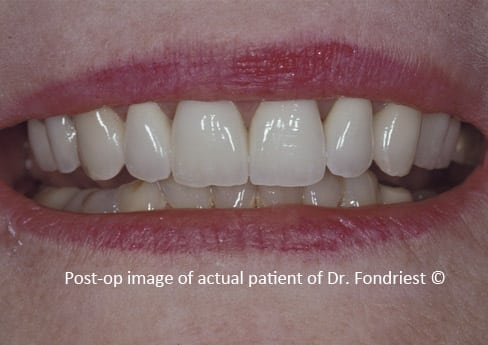 After
Rather than having implants placed where she was missing front teeth, the patient elected to have a new porcelain on gold (PFM) bridge with PFM crowns placed on all of her other upper teeth. The patient brought in a picture of how she wanted her new upper teeth to be shaped.
Dental Bridges vs Dental implants
It is fairly common to be missing one or both of the adult lateral incisors (one out of 50 people).  These are the smaller neighbors to the upper front two teeth. These teeth normally erupt at age 7 but proper x-rays taken by your family or pediatric dentist can forecast the lack of development of these teeth at age 4-5. An all porcelain bridge is a restorative dental treatment used to address tooth loss. In some instances, a bridge may be used when a dental implant is not possible. Above are before and after pictures of a new style all porcelain bridge.  There are good reasons to use a fixed bridge as an alternative to an implant.
Choosing the best alternative: dental bridgework or dental implants for replacement teeth
Dental bridges are a better choice when there are specific dental imperfections
Porcelain bridges are chosen as an alternative to dental implants when braces are not done
It is very common to plan for implants when a young adult is missing their upper lateral incisors. Placing an implant supported crown in this location is the ideal single tooth replacement option. Usually, an orthodontist is involved to make sure that the tooth roots of the adjacent teeth are aligned properly. If there is not enough room between the adjacent teeth for a natural tooth to fit in, there will not be enough room for an implant.  With inadequate space to fit the implants in, the dentist may then decide as we did above, that an all porcelain bridge will be the restorative treatment that will provide the alignment and uniformity needed.
When the lateral incisors do not develop, the other adult teeth often drift into the space. Braces are needed to keep the two front teeth from separating (forming a gap) or having the eye teeth tipping forward. Prior to the development of implants, it was common for orthodontists to move the eye teeth into the missing tooth positions.  This led to more abusive bite relationships in the back teeth.
The other option was for the orthodontist to maintain the normal tooth positions leaving a space where the missing tooth was supposed to be. A dental bridge was then later made to fill the gap/s.
A bridge is better with bone loss
No matter what type of dental implant is selected, if there is not enough bone to cover the implant, it will not be strong enough for a lifetime of use. Bone grafting can be done which can widen the boney ridge, but it can't add vertical volume. Doing a removable partial denture is an alternative option but as the name implies, it is not permanently placed.
When is a dental implant the best alternative?
Congenitally missing lateral incisors
Today, with the refinements of implant dentistry, a dental implant has become a viable alternative to a bridge. Implants can be placed about 1-2 years after the person's jaws have stopped growing.  For young women, this is around age 18 or 19.  For young men, this age is 20-21.  Traditional orthodontic treatment can be finished by the age of 12-17 years. This means that usually, orthodontic treatment is completed on kids long before they are old enough to have implants placed.  There are very specific retention recommendations to maintain the correct tooth placement while waiting for future implants to be placed.
After braces management of missing laterals
Retainers are often used to hold teeth in the proper arrangement after braces until the jaws are done growing.  Standard retainers are not appropriate to maintain the space for future implants. It is common to need to wait 6-7 years after braces are removed before the implant can be placed.  The roots can drift into the location where the implant is to be placed.  The only way to fix this is to redo the orthodontics. The average width of a lateral incisor is 6.5mm. The orthodontist must leave at least 6mm of space between the central incisors and the eye teeth from the clinical crown to the tip of the roots.  This gives room for the surgeon to later place the implant.  Standard orthodontic retainers will hold the space at the crown level but offer no retention of the root positions.
The best way to make sure that adequate room for the implant is maintained is to use a "Maryland bridge".  A Maryland bridge provides a temporary crown that is bonded into the lateral position between the central incisor and the eye tooth.  The temporary crown has metal wings on each side that attaches to the backside of the proximal teeth.  This effectively maintains the exact parallel relationship of the central incisor and eye tooth that the orthodontist created.
Learn more about treatment options and choosing a bridge as an alternative to an implant
If you are contemplating bridgework as an alternative to dental implants to replace natural teeth, contact our Chicago, IL practice, and schedule a consultation with Dr. Fondriest, by calling 847-234-0517. Dr. Fondriest and his staff look forward to providing you with quality service.