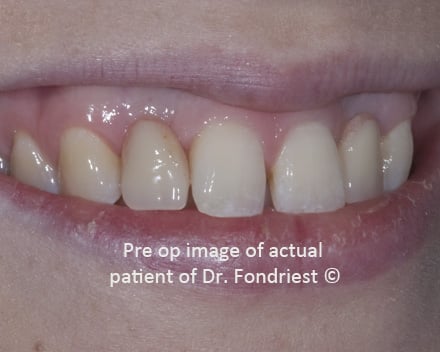 Before
Congenitally missing lateral incisor teeth

This patient from Milwaukee, Wisconsin was missing her upper lateral incisors. These teeth never developed and spaces where left when her baby teeth fell out. She had worn a retainer (sometimes called a flipper) that had false plastic teeth as substitutes. She had been told by many doctors that there was not enough room or "bone ridge volume" for implants. What this means is that the smallest implants available were still too big to fit between the roots of the existing teeth. She considered undergoing orthodontics for a second time to create more space. She decided that she did not want to do that again due to her family plans of relocating in the coming months. The decision was made to make two "porcelain fused to gold bridges" that would be permanent replacements for her missing teeth. This patient wanted us to put all of the normal surface textures and micro-blemishes found in normal natural teeth.
After
Replacing missing teeth with "fixed" Porcelain fused to gold bridgework

Fixed dental bridges with porcelain fused to gold was employed to replace her missing teeth. The false teeth (called "pontics") were made to look as though they were growing out of the gum ridge. The gummy smile that existed prior to treatment was improved by a simple gum lifting surgery done by one of our partner specialists. After the gum lift and bridgework were completed, there was only a small amount of gum tissue showing above the upper bridges with the largest smile. Studies show that 70% of the time, the upper lip will rise to the tops of the central incisors and not more thus displaying minimal gum tissue.
Understanding what a PFM bridge is
A PFM bridge or Porcelain fused to metal bridge is a restorative dental treatment that includes a cast metal crown with porcelain covering it. The tooth colored ceramic is baked on top of a metallic alloy framework called a coping, ensuring ultimate durability.
When Using a PFM bridge is Beneficial
There are times when porcelain fused to metal bridges are a better choice than an all porcelain bridge or other ceramic restorations. Some of those circumstances include:
When the patient clenches or grinds their teeth
The patient has strong jaws or the bridge is in the back of the mouth
The abutment teeth are mobile.
When a long bridge are required ( more than one missing teeth)
Creating natural beauty with natural porcelain surface textures and chroma gradients on a PFM bridge
If you look closely at the photograph of this example of fixed porcelain fused to gold final bridgework, you will notice that the maxillary centrals (upper front middle teeth) are brighter than the lateral incisors and the laterals are brighter than the canines or eye teeth.  Normal dentitions exhibit chroma gradients, a characteristic which yields a three dimensionality to the dental arch and overall smile.  Making all the front teeth the same value or level of brightness is a mistake that many "cosmetic dentists" make.
Recreating nature with realistic surface morphology
A benefit of taking the photographs at a side view or at 45 degrees is that we see more detail in the light reflections off of the surface of the PFM bridge porcelain.  The complicated surface morphology that the master laboratory ceramist placed is fairly representative of what exists in nature.  It literally takes hours of concentrated efforts to carve these natural and beautiful textures into the porcelain.  Only a small percentage of ceramists take the time to provide this very impactful naturalizing of their restorations.
Securing A PFM Dental Bridge
Receiving a permanent restoration to replace a lost tooth will give you back your complete smile, and make it easier to practice routine dental functions. A dental bridge can be permanently secured without oral surgery, allowing you to address a gap created by tooth loss. Your dental bridge is held in place with two dental crowns, which are set on the teeth surrounding your missing tooth called an ovate pontic. In addition to having functional value, your bridge can appear lifelike, to eliminate any cosmetic concerns. When you seek help with tooth loss, you can also discuss further treatments with your dentist that can help you enjoy your best smile.
Working With You To Make Sure Your Smile Is Properly Restored After Tooth Loss
Properly restoring your incomplete smile will have great cosmetic value, particularly if your absence is closer to the front of your smile. With a porcelain fused to metal bridge in place, you can have a natural looking restoration that makes biting, chewing, and speaking more comfortable.
Because PFM bridges do not require oral surgery to place, this approach can be especially beneficial to patients who are not good candidates for dental implant placement due to health concerns.
Service life of a porcelain fused to metal bridge
Generally a porcelain fused to gold bridge will last up to 15 years. It is important to realize that nighttime grinders and athletes have more mechanical trauma to their teeth and dentistry. With great hygiene and with low mechanical abuse to a person's teeth, PFM crowns and bridges can last up to 30 years. The high noble metal substructure in these restorations is very biocompatible.
Considering the circumstances surrounding the need for a porcelain fused to gold bridgework, some dental insurance companies may help the patient to offset some of the costs.
Learn more about the benefits of a PFM bridge
For patients looking for major restorative dentistry or smile changes, porcelain fused to metal restorations may be a good first step. Learn more about our approach to artistic smile design. You can make arrangements for care that will give you back a full set of healthy and attractive teeth.
If you think you are a candidate for a PFM dental bridge, contact our Chicago, IL practice at 847-234-0517 and schedule a consultation with Dr. Fondriest. We look forward to providing you with stellar service.
Dr. Fondriest is a Nationally recognized and highly sought after cosmetic dentist serving clients from throughout the United States