Before
Orthodontic Spacing of teeth for implants

When a tooth is lost or missing, a dental implant is an excellent way to fill the space. An implant has the same basic shape as a normal front tooth root. Sometimes, if the proximal teeth are too close together, there is not enough room for the implant to fit in between. If orthodontics to rearrange the teeth is not an option, then a dental bridge may be the best option. This patient did not have room for implants and bridges had been created long ago to replace her missing lateral incisors. It was time to get a nicer more attractive smile and this patient did not want orthodontics the second time around either.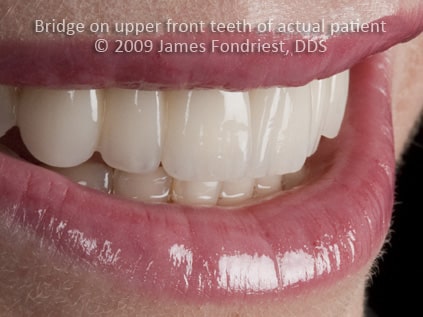 After
Zirconium all-porcelain bridge

The new replacement all porcelain bridges for the upper front teeth gave the patient a believably natural smile. Only her dentist and hygienist woud know she was missing front teeth! Zirconium was used to make these bridges strong.
When Roots Are Too Close Together to Use a Dental Implant
Dental bridges are corrective and restorative dental procedures that address missing teeth. Known as top choice among patients as well as dentists, dental bridges are known for their durability, and undetectability. Dr. James Fondriest provides comprehensive dental bridgework for patients, ensuring that the end result is that of an aesthetically pleasing smile.
Congenitally missing lateral incisors occurs at a rate of 2% in young adults.  This means that the second tooth from the midline is missing.  Missing lateral incisors presents difficulties for the orthodontist and the restorative dentist. Without the tooth present, the eye teeth (also called cuspids or canines) will move into the open space.  Most orthodontists prevent this movement and try to maintain the exact or a pinch more space so that an implant can be placed.  To be sure, the restorative dentist is asked to sign off on the space before the braces are removed.
The restorative dentist must confirm that the proper space is present both at the crown and the end of the roots.
Dental Bridgework Instead of Dental Implants
In some instances, dental bridgework may be used in place of dental implants. While implants are a viable option, certain aspects of a patient with unique dental issues, may warrant the use of a dental bridge. For example, if the proximal teeth of a patient are too close together, then there will not be enough room for an implant to fit in. Orthodontics may also not be an option for the alignment, and rearrangement of the teeth.
Kinds of Dental Bridges
There are four kinds of dental bridges. They include:
Traditional Bridges: These kinds of bridges consist of up to two pontics (artificial teeth) and are used when there are natural teeth on opposite sides of the gap that needs to be replaced.
Maryland bridges: Maryland bridges are known as a viable alternative to traditional bridges. These bridges are held in place by bonding special resin wings to the backs of the adjacent teeth.
Cantilever bridges: While cantilever bridges are like traditional bridges, the artificial tooth is supported by an abutment on only one side, instead of both.
Implant-Supported Bridges: The implant-supported bridge is used when the patient has more than one missing tooth. These restorations are secured by implants and provide comfort and a natural look for the patient.
Space maintenance for implants until the patient is old enough
Orthodontics is usually completed by age 16 but implants generally are not placed until growth is past complete at 21 years of age or older.  Retainers can be used to maintain this space but they don't prevent the root tips from drifting.  The only way to maintain the space of both the clinical crowns and the roots is by doing a Maryland bridge.  This temporary bridge is connected (bonded) to both the centrals and the eye teeth.
Are the Roots too close to place implant?
If you are interested in learning more about your options for replacing missing teeth and have questions about dental bridges and implants, contact our Chicago, IL practice, and schedule a consultation with Dr. Fondriest, by calling 847-234-0517. We look forward to providing you with quality care and service.