Before
Gummy smile - Unnatural tooth proportions - Square teeth

This north shore Chicago client recently had her entire dentition restored with unattractive and ill-fitting crowns. The treatment was aggressive and very poorly planned not addressing many occlusal, periodontal, and cosmetic issues. The poor fit of the dentistry made it more difficult to clean which made the periodontal disease worse. The patient was not satisfied with the cosmetic results but did not have an understanding of what was wrong. She had told the previous dentist that she did not like her gummy smile and the large boney defect above her upper right teeth. Her recent dentistry did not help with either of her chief complaints.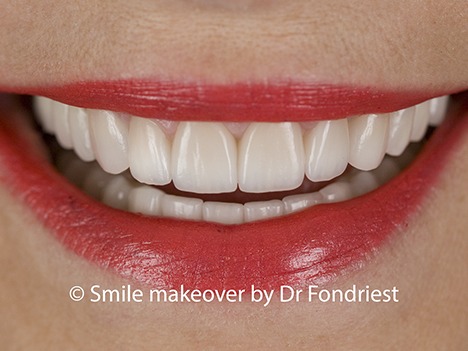 After
Crown lengthening to correct a gummy smile

This patient really wanted a healthy nice smile and was highly motivated to achieve her goals with a "smile makeover" or "full mouth reconstruction". The gummy smile was corrected by perio-plastic surgery and the bone defect was improved by additional crown lengthening and recontouring. The prior treatment that was only 3 years old had already caused the loss of 4 teeth that needed to be replaced with implants. The short and squatty crowns were replaced with new Empress crowns with the appropriate "length to width ratios".
Can I raise the gum line to fix my gum display?
A gummy smile is when too much gum shows above the top teeth. Surgeons can fix a gummy smile with crown lengthening, commonly called a gum lift. Crown lengthening is an elective surgical cosmetic procedure to raise the gum line. It is frequently done to help patients who have a gummy smile or uneven gums. Although there are many causes of gummy smiles, most patients with extra gum noticeable in their smile can have it altered with one relatively simple procedure.  Normally, the upper lip will rise with a smile to the tops of the upper teeth.  More specifically, to the highest points of the gingival scallops or arches.  It is said that you have a gummy smile when a smile exposes a lot of gum above the teeth.
Gum lifting is a procedure that removes and reshapes the gums. Crown lengthening is a surgical procedure in which gum and bone tissue are removed from around a natural tooth. The soft tissue is carefully shaped to idealize the smile. Initially, the procedure raises the gum exposing the roots. No tooth structure is removed. The cosmetic dentist then refashions the teeth to cover the roots.
Individuals with large gum display often have teeth that appear small. For those individuals, gum tissue covers the top third of the tooth than is normal or aesthetically pleasing. When a smile does not display gum tissue that is even, balanced, and congruent with the upper lip, people may be plagued with low self esteem and a lack of confidence.
Crown lengthening surgery can raise the gum line
Surgery to fix a gummy smile is now a commonly performed procedure usually done by periodontal specialists. Your cosmetic dentist or prosthodontist will choreograph and oversee the gum lift procedure with the surgeon to make sure the outcome is what was planned.  After your gum lift, Dr. James Fondriest will help to create a smile you can be proud of as part of the smile design process.
In this case example, the patient did not like the artificial "Chiclet" appearance to her crowns and didn't like her gummy smile.  She also did not like the fact that the edges of her upper teeth were always digging into her lower lip. A major cause for these crowns to appear artificial is that they are no longer than they are wide.  Natural unworn teeth tend to average a width 75-85% of their length.  To improve the length to width ratio, teeth should either be lengthened or the gum line should be raised.  The choice was easy to make for this patient. The gum surgery gave us a more normal shape and allowed us not to have to add more length to the teeth. The old crown edges were already resting on the lower lip which is not normal.
Crown lengthening to create normal tooth proportions – Length to width ratios
Tooth proportions do vary between young and old and grinders and non-grinders.  Studies show that the normal horizontal width of a upper central incisor tooth averages 80% of its length.  There is a range of this "length to width ratio" that dentists try to stay within of 75%- 85%.  When designing every anterior cosmetic makeover, the thoughtful cosmetic dentist will tend to use a lower ratio for female clients yielding a more "feminine look" and a higher ratio for males yielding a more "masculine look". The former dentist in the case example above violated the range by making short squatty upper central incisors (her front teeth). The crowns had ratios of 105% or greater. Prior to redoing the squarish crowns, crown lengthening was done to raise the gum line.
When Is Perio-plastic surgery recommended by your cosmetic dentist?
A gum lift is a cosmetic procedure that not only raises the gum tissue but it also can sculpt it.  When the gum line is not symmetrical and uniform it draws attention to the eye.  If cosmetic dentistry is going to be done, your dentist will commonly recommend creating a more proportional smile. Typically during the smile design process, photographs will be taken of your smile and detailed measurements will be taken at various levels of a smile. Customarily, gum lifting encompasses contouring the upper 10 front teeth, since those are the most visible during a smile. A gum lift is deemed necessary for patients who have:
When the gum above your top teeth becomes distracting in your smile
Gums that are uneven, unbalanced, or are disproportionate
Teeth that appear smaller, due to excessive gum tissue
When the gum display is so great, that it causes a distraction