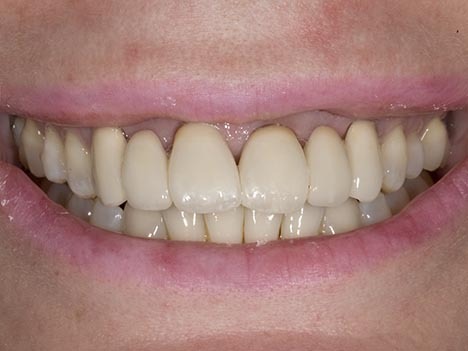 Before
Our patient wanted an upgrade on her smile

This Lake Bluff, IL patient was looking for a job and wanted to look her best. She had 2 old dental bridges on her upper front 6 teeth. The teeth in the old dentistry were angled and were unnatural. Implants would have been an excellent option to fill the spaces between her eye-teeth and her central incisors but there wasn't space to fit the implants in. We hope that you like the new all porcelain bridges we made for her.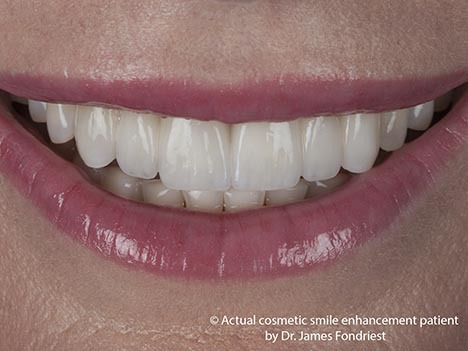 After
All porcelain bridges just made her smile!

The new dental bridges had a more uniform and natural look. These bridges were made of zirconium. This newer version of porcelain created the translucency and appearance of enamel in natural teeth.
All porcelain bridges
All porcelain bridges are used as a prettier version of traditional bridges supported by metal. The strength and beauty of dental porcelains has been increasing. The all porcelain version is becoming very popular for front teeth. Metal supported PFM bridges are still preferred in back teeth. The all porcelain bridge before and after images above are using the newest type of zirconium.
About all porcelain bridges
This type of bridge is a great alternative to a dental implant. Not only are dental bridges a common procedure, but they also close gaps in your smile and improve your overall oral health. Additional benefits include:
They repair and improve smiles and the ability to effectively chew food
Helps to maintain the shape of the face
They keep other teeth from moving or shifting out of place
They can fix the bite
Improve speech and get rid of lisps
Types of Dental Bridges
Bridgework varies in their designs. They all provide improve function. They vary in how long they last and their uses. The types of bridges include:
Traditional bridges: As the most popular kind of tooth bridge, traditional porcelain fixed bridges can contain up to two pontics (or artificial teeth). They are held in place by teeth on either side of the gap created by the lost teeth. They normally are supported and anchored by at least 2 remaining teeth. Most all porcelain bridges are of this design.
Maryland bridges: A false tooth is connected to the backs of the adjacent teeth with resin wings. As a result, the enamel of the abutment teeth is not altered. Maryland bridges are normally only used to replace a front tooth.
Cantilever bridges: Similar to conventional bridges, cantilever bridges are supported by only one adjacent natural tooth.
Implant-supported bridges: Implant supported bridges are used when the patient has more than one missing tooth.
Cost of all porcelain bridges
The cost of dental bridgework can vary but some factors that affect pricing include:
Number of teeth need to fill the gap(s)
The types of materials used
Intricacies of the procedure
Additional treatments needed, if applicable
Quality of the dental laboratory
Benefits of Bridges with no Metal
An all porcelain bridge is a treatment that is used to replace missing teeth. This restoration is supported by either the natural teeth or dental implants.
In many instances, a beautiful bridge made without metal may prove to be a better option for a smile. Implants require a good to great surgeon to make them as pretty. Although dental implants are strong, they require more surgery to make the gums look good. Creating an implant takes much longer to do.
How is an All Porcelain Bridge Placed?
Placing these bridges requires two office visits. During the first visit the patient being prepped and has impressions. The impressions are then sent to a dental lab where the bridge is made. A temporary bridge is made to wear as the final product is being created.
Once the bridge is made, the patient returns for the second visit. At that time, the bridge is tested for fit and color. Once the patient says that the bridge is comfortable, the bridge is then cemented.
Learn more about improving your smile
If you are interested in learning more about improving your smile or replacing missing teeth, with implant crowns and bridges contact our Chicago, IL area practice. Call at 847-234-0517 and schedule a consultation with Dr. Fondriest. We have many all porcelain bridge before and after examples to share. We look forward to hearing from you soon.
Dr. Fondriest is a Nationally recognized and highly sought after cosmetic dentist serving clients from throughout the United States