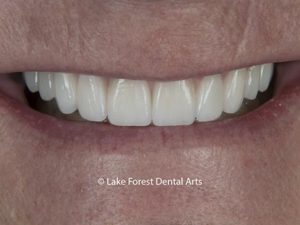 Modern patients and dentists prefer realistic esthetics and frequently opt for beautiful zirconium crowns. There are two main types of zirconia crowns that are used for different situations. One type is for cosmetic situations and the other is for high stress situations. This type of porcelain has only been mainstream 6 years however they have nearly replaced the alternative super strong gold crowns.
Dental crowns have been used in human dentistry for nearly 2600 years, and they're a versatile tool in the restorative and cosmetic dentist's toolkit. From ancient times until early in the 20th century, people who needed a tooth crowned had to opt for an alloy of gold or another malleable metal. Although metal crowns last for a long time and will not damage the surrounding teeth, they are highly conspicuous.
Different Types of Zirconia Crowns
Zirconium crowns have uses across the restorative and cosmetic dentistry practice. They can be used to reinforce a cracked or broken tooth, mask a severely stained or misshapen tooth, or restore a dental implant. Thanks to their supreme strength and durability,  this type of cap is getting more and more popular.
Monolithic Zirconium crowns:
This type of dental porcelain contains zirconium oxide, a non-metallic material that renders it virtually unbreakable. This extremely strong type of dental crown resists chips, breaks, and stains. Zirconia can be color-matched to your teeth but it's somewhat opaque, meaning that all zirconia crowns are better placed in the back of the mouth or in bridges. This type of crown is cad cam milled. Giant machines are used to create these little works of art from digital files created by the technician. Typically, only the larger production dental laboratories have these expensive milling machines. The small boutique labs are forced to contract them out. the only other crown that comes close to this strength is a gold crown and they aren't so pretty.
Layered zirconium crowns:
As the name suggests, layered zirc crowns are made with layered ceramic on top of the coping. Zirconium crowns can be covered with layers of regular dental porcelain, to give them the realistic translucence needed for restorations in the front of the mouth. These versions have sturdy cores overlain with layers of delicate, reflective feldspathic porcelain. The way that the ceramist (a highly trained dental lab technician who concentrates of porcelain restorations) fabricates the crown will influence its strength and esthetics. They tend to be more susceptible to chipping than PFM crowns.
Which Type of Zirconia Crown is Best for You?
The type of crown that's right for you will depend on several factors, including where the crown will be placed along your dental arch, the condition being addressed, and your unique lifestyle and budgetary needs. For instance, all-porcelain crowns offer the very best esthetics, since the material used to make them contains silica, which reflects light in much the same way as natural tooth enamel. However, all-porcelain crowns can chip, fracture, and accumulate stains over time or if they're exposed to excessive force or stress. In addition, certain types of porcelain crowns, like those made from feldspathic ceramic, require the skills of a master ceramist and are a higher-end choice.
Zirconium Crowns
Zirconia crowns, on the other hand, are exceptionally hard and strong. In fact, they are so strong that they have been known to cause damage to the opposing natural teeth. Special care must be taken with the design to prevent excessive wear on neighboring enamel. For the most part, Dr. Fondriest prefers to place these crowns in the back of the mouth where the restoration will have to endure more force and regular use than the front teeth.
What to expect during placement
No matter what kind of zirconium crown you choose, the placement process is essentially the same. Typically, crown placement takes two office visits, scheduled a few weeks apart.
During the first appointment. Dr. Fondriest prepares the tooth by removing small amounts of enamel. Any decay or damaged portions of the tooth are removed at this point as well. Next, impressions are taken. These images are sent to our trusted dental lab. There, a trained technician creates your new restoration based on your unique oral anatomy. This process can take two to four weeks to complete, so Dr. Fondriest places a temporary crown to protect the tooth in the meantime.
Once your crown has been made, you'll be scheduled for a second appointment. During this visit, Dr. Fondriest checks the shape, shade, and fit of your new crown. If everything looks good, he bonds it into place using a high-quality dental cement. Finally, he assesses your bite and makes any necessary adjustments.
Disadvantages of the Zirconia crowns types
Zirconia oxide is not as translucent as other porcelain types. The opacity may limit their use to back teeth. Technology advances are improving the color and look of this material. Soon in the future, the appearance may be a non-issue.
When it is time to deliver these new cap, adjustments are more difficult due to the hardness of the material. It takes longer to deliver these caps than the restorations made of other materials.
Why Visit a Ceramics Expert?
There are many choices when it comes to cosmetic dentistry. It is important to have the help of an extensively trained and highly experienced restorative dentist like Dr. Fondriest. He has received thousands of hours of continuing education in prosthodontics, the specialized study of dental prosthetics. He has published many articles and book chapters. Most of his writing has focused on different aspects of creating beautiful, long-lasting dental crowns in diverse peer-reviewed publications. Finally, he partners with Matt Roberts, CDT, a world-class ceramist to fabricate the custom-designed dental crowns he places for his patients.
Learn which types of zirconia crowns is best for you
If you live in the Chicago, IL area and want to talk to Dr. Fondriest about which type of restoration will work best for your needs, contact our dental office at (847) 234-0517. We proudly serve patients from the metropolitan Chicago area as well as the Northwest and North Shore suburbs. Dr. Fondriest has also treated hundreds of patients across the United States.
Dr Fondriest is a Nationally recognized and highly sought after cosmetic dentist. He serves clients from throughout the United States