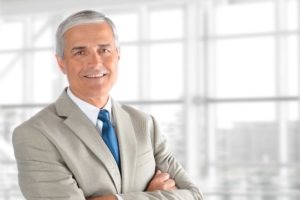 Modern prosthetic dental work can provide patients who have suffered tooth loss the chance to have their complete smile back. The restorative treatment you undergo can supply you with replacement teeth that look remarkably like your natural teeth, while also being durable and secure enough to improve your dental function. One important advancement in the field of prosthodontics is the ability to secure a prosthetic to a dental implant. Implants are surgically set in your jawbone. With their support, a restoration will be stable enough for biting and chewing tasks. The presence of an implant also benefits you because this artificial root will help support the health of your jawbone. Implant bridges are also able to stay in place permanently. While they do not offer the benefits to your jawbone that implants provide, they can be set in place without oral surgery being necessary.
Providing A Dental Prosthetic That Provides Functional And Cosmetic Benefits
There are many causes of tooth loss from accidental trauma, hypodontia, decay or gum disease. A modern prosthetic can help you rebuild your healthy, attractive smile. Using dental implants to hold a restoration will give you the necessary stability to bite and chew comfortably. This can help you add more variety to your diet, and it can be more comfortable throughout your daily life. Because the prosthetic pieces are designed to match your natural teeth, you can be excited to show off how you look when you smile.
Making Plans To Enjoy A Remarkable Smile Makeover
Your dentist is ready to help you rebuild your smile. Artistic smile design is committed to finding ways to dramatically improve your appearance, and address any issues that might affect your teeth. Because your dentist is able to provide a range of different procedures, they can find the best way to make over your smile.
Learn the many ways to restore your smile
There are many types of replacement teeth available.  At Lake Forest Dental Arts, individuals who want to address problems like tooth loss can count on great care. Our practice can offer a range of modern treatments that can have an amazing effect on your smile, and your oral health. To schedule a consultation, call our office in Lake Forest, IL, today at 847-234-0517. We also proudly serve residents of Chicago and all surrounding communities in the Chicago Metro area.