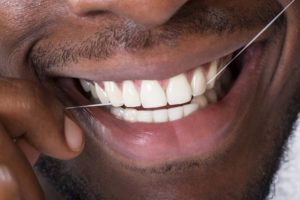 do you consciously do things to avoid gum disease? No one wants to discover that they're suffering from advanced gum disease, which is called periodontitis. Untreated this chronic condition can lead to loss of teeth, and may even heighten risk of developing other health problems throughout the body, due to the gums' connection to the bloodstream. Fortunately, caring for your gums properly can help you avoid this dangerous oral health threat, and keep your smile looking and feelings its best, in the process. Perhaps best of all, preventive dental care does not have to be complicated, time-consuming or even costly, so long as you are regularly making smart choices about how to best care for your smile.
Don't Just Brush Your Teeth; Floss!
While brushing your teeth twice a day is a good way to care for your teeth, if you are not flossing on a regular basis you could be missing almost 40 percent of the teeth's surface. This can lead to a great deal of acidic tartar buildup, which can eventually lead to both cavities and gum disease.
So, if you are not already flossing on a regular basis, make sure you add this simple step to your daily routine. It can help to reduce tartar buildup between dental cleanings.
See Your Dentist for Regular Cleanings
Another important way to protect your smile, though, is by attending routine dental checkups and cleanings. While many people think of annual visits as sufficient for protecting the smile, most dentists agree that patients need to see the dentist at least twice a year to get their teeth cleaned, in order to properly protect the teeth, as well as to prevent gum disease.
Want to Avoid Gum Disease?
Gum disease is common, but largely avoidable. Preventive dental care can help. You can schedule a preventive appointment with Dr. Fondriest by calling Lake Forest Dental Arts at (847) 234-0517. We welcome patients from the North Shore area of Chicago.