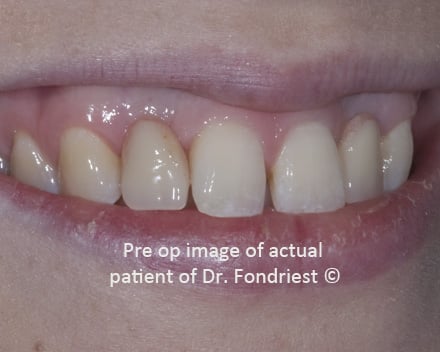 Before
Congenitally missing lateral incisor teeth

This patient was missing her upper lateral incisors. These teeth never developed and spaces where left when her baby teeth fell out. She had worn a retainer (sometimes called a flipper) that had false plastic teeth as substitutes. She had been told by many doctors that there was not enough room or "bone ridge volume" for implants. What this means is that the smallest implants available were still too big to fit between the roots of the existing teeth. She considered undergoing orthodontics for a second time to create more space. She decided that she did not want to do that again due to her family plans of relocating in the coming months. The decision was made to make two "fixed bridges" that would be permanent replacements for her missing teeth. This patient wanted us to put all of the normal surface textures and micro-blemishes found in normal natural teeth.
After
Replacing missing teeth with "fixed" PFM bridgework

Fixed dental bridges with porcelain fused to high noble metal / gold was employed to replace her missing teeth. The false teeth (called "pontics") were made to look as though they were growing out of the gum ridge. The gummy smile that existed prior to treatment was improved by a simple gum lifting surgery done by one of our partner specialists. After the gum lift and bridework were completed, there was only a small amount of gum tissue showing above the upper bridges with the largest smile. Studies show that 70% of the time, the upper lip will rise to the tops of the central incisors and not more thus displaying minimal gum tissue.
Creating natural beauty with natural porcelain surface textures and chroma gradients with dental bridgework
If you look closely at the photograph of this example of fixed porcelain fused to gold final bridgework, you will notice that the maxillary centrals (upper front middle teeth) are brighter than the lateral incisors and the laterals are brighter than the canines or eye teeth.  Normal dentitions exhibit chroma gradients, a characteristic which yields a three dimensionality to the dental arch and overall smile.  Making all the front teeth the same value or level of brightness is a mistake that many "cosmetic dentists" make.
Recreating nature with realistic surface morphology
A benefit of taking the photographs at a side view or at 45 degrees is that we see more detail in the light reflections off of the surface of the bridge porcelain.  The complicated surface morphology that the master laboratory ceramist placed is fairly representative of what exists in nature.  It literally takes hours of concentrated efforts to carve these natural and beautiful textures into the porcelain.  Only a small percentage of ceramists take the time to provide this very impactful naturalizing of their restorations.
See the before and after of another patient who got bridgework.