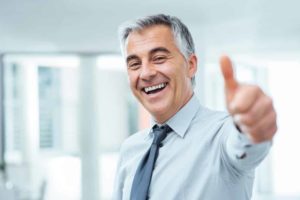 Are you embarrassed because of adult tooth loss? In fact, have you spent a great deal of time trying to hide your smile, when amongst friends and family, because of your incomplete smile? Tooth loss is exciting for many children. After all, it represents a rite of passage, and often a visit from the Tooth Fairy. But for adults, tooth loss can be a troubling thing. It can lead to difficulty chewing, and certainly embarrassment when smiling. Fortunately, that is why modern dental prosthetics exist, to help patients rebound from tooth loss with long-lasting and beautiful results. So if you are ready to get back to enjoying your life and your smile, it is time to speak with your restorative dentist about how a modern dental prostheses could help!
Is an Unsupported Denture Right for You?
Dentures, both partial and full, remain one of the most common forms of dental prostheses. That is because they provide a fast and affordable way to address tooth loss. With the use of adhesives, they can be a relatively stable option, as well.
That said, many patients find that they prefer a more sturdy form of smile restoration, namely a supported prostheses, such as a dental bridge or a dental implant.
Could a Dental Bridge or Dental Implant Be the Best Solution?
If you are looking for a more secure form of prostheses, have you considered a dental bridge? Bridges utilize crowns to help hold a replacement tooth firmly in place. By affixing crowns to the teeth closest to the gap created by tooth loss, a restorative dentist can help complete one's smile in a way that allows for better comfort and confidence.
Of course, dental implants are able to provide an even longer-lasting restorative option, and that is because only implants utilize a titanium post to help stabilize a prosthetic tooth. This post serves to both secure the pontic, or other fake tooth, and to nourish the jaw as well. So if you are looking for a great long-term solution to tooth loss, an implant could be ideal!