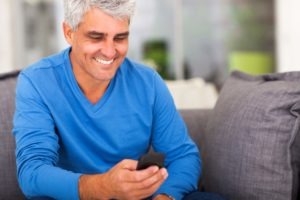 Receiving a permanent restoration to replace a lost tooth will give you back your complete smile, and make it easier to practice routine dental functions. A dental bridge can be permanently secured without oral surgery, allowing you to address a gap created by tooth loss. Your dental bridge is held in place with two dental crowns, which are set on the teeth surrounding your missing tooth called an ovate pontic. In addition to having functional value, your bridge can appear life-like, to eliminate any cosmetic concerns. When you seek help with tooth loss, you can also discuss further treatments with your dentist that can help you enjoy your best smile.
Working With You To Make Sure Your Smile Is Properly Restored After Tooth Loss
Properly restoring your incomplete smile will have great cosmetic value, particularly if your absence is closer to the front of your smile. With a dental bridge in place, you can have a natural-looking restoration that makes biting, chewing, and speaking more comfortable. Because bridges do not require oral surgery to place, this approach can be especially beneficial to patients who are not good candidates for dental implant placement due to health concerns.
Looking To Transform Your Smile? We Offer A Range Of Beneficial Services
For patients looking to make major smile changes, prosthetic dental work may be the first step in a larger effort to dramatically rehabilitate their appearance. If you want to find out how our approach to artistic smile design can help produce great changes to your smile, schedule a consultation. You can make arrangements for care that will give you back a full set of healthy and attractive teeth.
Patients who want to restore their incomplete smile can be excited to see how a dental bridge helps with their appearance and dental function. Lake Forest Dental Arts is proud to offer a range of valuable services to people interested in making real improvements to their oral health, and how they look. To schedule a consultation, call our office in Lake Forest, IL, today at 847-234-0517. In addition to working with Lake Forest families, we also proudly serve residents of Chicago and all surrounding communities in the Chicago Metro area.